Cyber security is getting highly encrypted in these times, yet there continue to be certain loopholes that can potentially damage your device, spread your personal information and cause everything that you seriously do not wish happening to your device. There have been strong reports about a possible malware spreading through WhatsApp. We all use WhatsApp on our smartphones; it is as significant as breathing air, to be really honest and which is why we all need to be aware of scams that jeopardize our safety and security.
"WhatsApp Color Change" Message Is Actually A Dangerous Malware!
There has been so many speculations about WhatsApp changing its colors. We have received hundreds of messages shared by our friends and family about obnoxious ways that sound so ridiculous to change colors on WhatsApp. Many have ignored and been familiar with it, however, now it has become more vulnerable and you can prevent damage if you are aware of this new malware creeping around.
How can you spot the malware and what should you do about it?
A message inviting you to "change colors on WhatsApp" is a malware that you must ignore and delete.
So, guys, if you already started imagining how WhatsApp would look like if it changed colors, then please note that you have to stick to the "green" color unless anything is official.
For now, this viral link asks you to click the link and share it to different people in your contact which are the so-called steps to set your favorite color on the application. However, it does nothing as such, and should you share the link with your friends, your device will be infected by a malware and it would be spread among those you shared the link with. So, not only you can lose your important data but pretty much invite your friends or family's wrath on you.
Here's how you can confirm it being a malware
In case you noticed, the prompted message tells you that the feature is available for "iOS, Android, Windows Phone and BlackBerry". It would then ask you to share it with your 12 friends for "verification".
Next, it tells you that you can get the new feature through your Desktop and in order to complete the process, you require to install an extension from the Chrome Web Store called, "BlackWhats".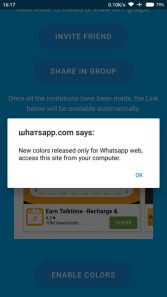 Not only you don't get any change of color in your WhatsApp application, but it infects your device with a malware. Google has rapidly taken action against it and previously the extension was rated a 4-star rating by 55 users to make you think it is legit.
So, guys, that is all you need to know. Be aware if you get any message. Just delete it and do not fall for it. Be safe and share the word!