As the Holy month of Ramzan comes to an end, another joy comes to us in the face of Eid. While Eid is a reward from Allah after spending a month of fasting as per His commands, a lot of us do not celebrate Eid the way it should be.
So what should be avoided in this year's eid?
1. Sleeping During Eid
Seriously guys??
Eid is all about celebrating the festival with your family, relatives and friends. Instead of spending it by sleeping and doing nothing, go out, visit your relatives and spread the joy of Eid. Basically, just go and collect as much Eidi as possible.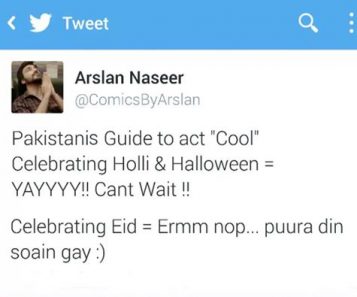 If you have no relatives to visit, go out with loved ones or friends on lunch. Distribute Eidi and food to the poor. Or maybe, you could visit the graves of your old ones and offer a prayer for them.
Make Eid different from your usual days.
2.Unlimited Selfies
We would love to see your kurta shalwar, rolled up sleeves and designer suits with that winged eye-liner, but sweetheart, one selfie would be enough.
And not to mention, avoid putting up Snapchat's dog filter on that pretty face.

3.Easy on the Food
As stated in Ramzan tips earlier as well, one needs to avoid oily food and carbs even on Eid. This is because our routines, due to Ramzan, are not as same as they were before. Attacking oily food the way America attacks oil is not a healthy option.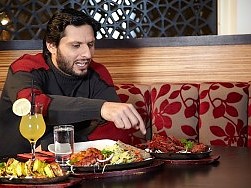 4.Getting into Any Quarrels
Ramzan was all about giving yourself a new, fresh start and asking Allah for forgiveness. If you had any feuds with someone, especially your family members or relatives, clear them out.
Clear the air by greeting them with three hugs on Eid, for it is said, "The believers are nothing but brothers, so make peace between your two brothers and beware of Allah that perhaps you may be shown mercy." (Al-Hujaraat: 10)
5.WE DON'T NEED CAKES, WE NEED EIDI
If you are a grown up who's reading this, please remember to give Eidi to us young and poor (not literally) people. DO NOT bring cakes and biscuits and other edible items as we can have them at any day of the year.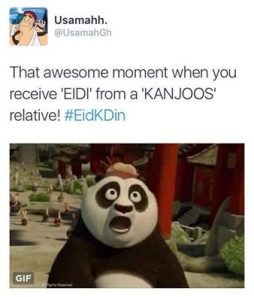 We need some money. Give us envelope wali Eidi, please?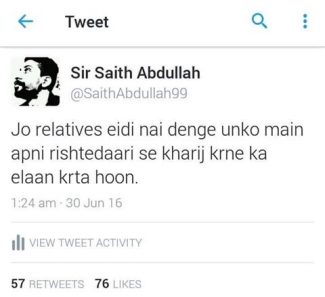 6.  Who Greets With a Handshake on Eid?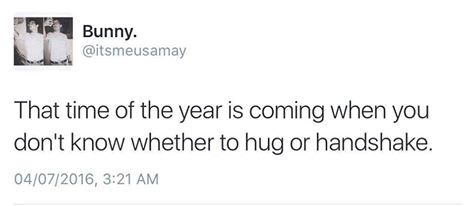 Enjoy the spirit of Eid in full swing. Let's pray that our parents don't take our Eidi this year as well…
EID MUBARIK!!