With the rest of West indulged in Islamophobia, Canada is the one country which has stood with the minorities when the rest of the world didn't. They have accepted the Syrian immigrants and have also given a safe shelter to the minorities who share the same freedom as of the majority.
What makes the country so special is how Canadian Prime Minister Justin Trudeau endorses the rights of Muslims and other minorities.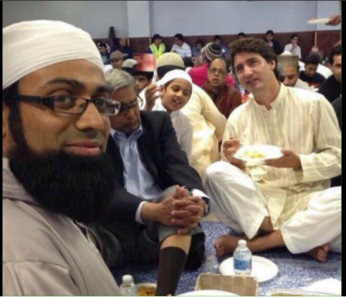 Twitter[/caption]
Basically
@JustinTrudeau celebrated Nawroz. Ate lamb in Eid. Danced "balgra" in Diiwali.Received Syrians at airport.Will take part in peace. #perfect pic.twitter.com/dbh5xcCrO1

— Zarlasht A (@DocZarlasht) May 26, 2017
What makes the PM so interesting is how people from all around the world see him as an example of a man who is abiding by the rights of minorities. Unlike countries which ban the minorities, Canada is on a road to something else.
To Wish Muslims Eid, The Country Also Issued Postage Stamps!
However, the PM is not the only man who respects the minorities and speaks for them.
Mark Holland – Parliamentary Secretary to the Minister of Public Safety and Emergency Preparedness observes the Holy month of Ramazan!
During the observation of Ramazan, the MP saved the expenses spent on food and contributed to a charity in Canada which provides food to the poor and homeless.
It indeed spreads a message of peace and acceptance. What the politician does is something we all need to learn from. He does not practice the religion, but observes the holy practice and wishes that others do the same. He is promoting his social responsibility to provide to the needy.
What seems promising here is that how politicians are setting examples. While the PM of Canada is known for all the good reasons, his fellow co-workers are following the same path and playing different roles on their own.
It is indeed lovely to see how non-Muslims come together and speak for Muslims. Perhaps we need to be tolerant enough to allow the minorities in our country to do what they preach.