Junaid Safdar's Nikah ceremony, which had been eagerly anticipated, was held on Sunday in London with all its pomp and splendor. There were no real exceptions from social media users when it came to trolling the couple, specifically when Junaid Safdar was using his phone at his wedding ceremony.
The son of Maryam Nawaz and Captain Muhammad Safdar Awan tied the knot with Ayesha Saif Khan at The Lanesborough, an elite five-star hotel on the Hyde Park Corner in Knightsbridge.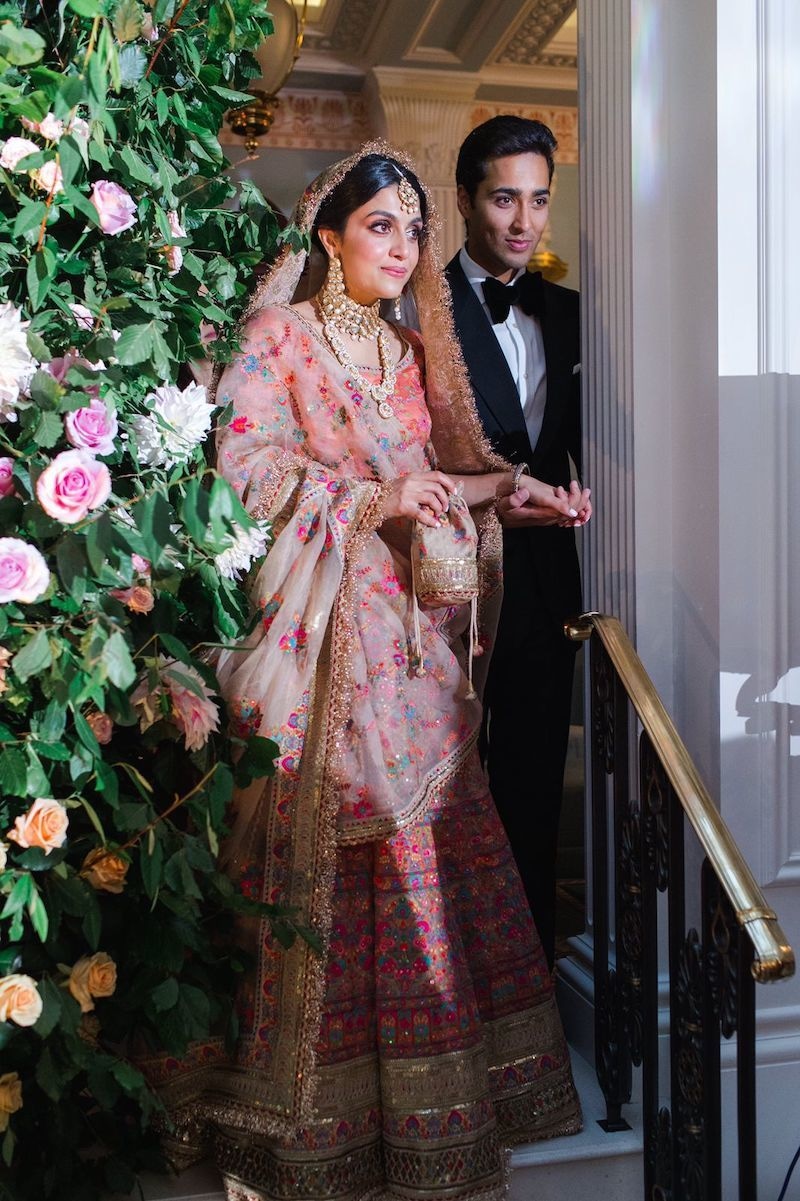 Many pictures from the wedding event surfaced on social media. Users on Pakistani social media believe that the PML-N leader's son's bride is not pleased with the wedding. As the pictures from the wedding ceremony circulated on social media on Sunday, many comments poured in.
While some users congratulated the couple and wished them well, others trolled the couple. In fact, many are of the opinion that neither the groom nor the bride is happy with the wedding. One of the wedding pictures shows the couple sitting together on stage. The bride appears to be upset in the picture while the groom, Junaid Safdar, seems pretty occupied with his phone at the wedding ceremony.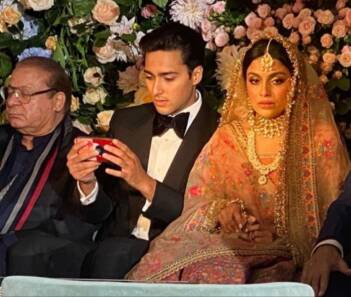 Several social media users remarked that the bride did not even smile at her Nikah ceremony. More so, they also trolled Junaid Safdar for using his mobile phone during the ceremony. On the other hand, comments like these caused reactions from others too, who schooled the trolls to congratulate the couple rather than mock and troll them.
Twittersphere has a field day with the picture
"When you find out that your mother-in-law is Maryam Nawaz," wrote one user.
Somebody had a wholesome takeaway from it too!
Junaid's parents Maryam and Captain Safdar could not attend the wedding. She had earlier announced that she would not request the government to allow her to travel to London for the ceremony. The PML-N Vice-President posted pictures from the nikah ceremony on Twitter instead and captioned them, "May God keep you safe and happy". During the wedding, Maryam and Safdar, both of whom live in Lahore, were on a video call with their son.
A source earlier revealed that the former premier had been spending a lot of time in his Park Lane flat in the UK. While also dealing with party politics, the former premier had been focusing on family affairs as well. The first thing on his agenda was reportedly his grandson's marriage.
Additionally, it was being said that Sharif arranged the marriage himself, as well as picking the girl for his grandson. Safdar has long remained the crush of many Pakistani girls, and it seems, he is finally off the market.
What do you think of this story? Let us know in the comments section below.