People take fashion as a phenomenon but in reality is serves as a language of mind, body and soul. Pakistani fashion is not just about wearing clothes but it is more of a lifestyle. It is a form of celebrating life and oneself. We know about a lot of designers serving in fashion industries all around the globe.
Pakistani fashion industry is undoubtedly the fastest growing fashion industry in Pakistan. With their professionalism and outstanding work, some of the Pakistani fashion designers have not only gained popularity in Pakistan, but they also are renowned all around the world.
Besides Pakistan, the Pakistani fashion designers are particularly famous in countries such as America, Dubai, United Arab Emirates, India, Bangladesh, Italy, Malaysia and a lot more. Let us have a look at the short descriptions of some of the top- notch Pakistani fashion designers, how they began their career, and how did they manage to reach such heights of glory?
Hassan Shahryar Yasin:
Popularly known as HSY, he is one of the biggest names in Pakistani fashion industry. He was born in Lahore and he still resides in Lahore only. This famous Pakistani designer began his career as a fashion choreographer and has been associated with the field of fashion and style since the year 1994. In the year 2000 he graduated from Pakistan School of Fashion Design.
He also maintains an affiliation with La Chambre Syndicate De La Couture Parisienne in France. HSY is not only famous in Pakistan alone, but he is also stands amongst world's most credible designers. He is known as the king of Pakistani fashion industry. He has contributed to the fashion industry by being both choreographer and a fashion designer for many shows.
In 2000, right after graduation HSY launched his very first fashion label by forming a bidal and formal wear couture house. Later, he introduced a jewelry line by his name.  He is considered to be the bridal couture expert in Pakistani fashion industry. HSY has around 14 outlets operating worldwide, in countries such as Saudi Arabia, USA, UK, UAE and Pakistan. Recently, HSY has also started hosting a show 'tonite with HSY' which is telecasted on the TV channel HumStar.
Asim Jofa:
Who doesn't know Asim Jofa! He is one of the pioneers in introducing luxury and premium lawn in Pakistani fashion. He began his journey in the fashion industry carrying the legacy of his forefathers as a jewelry designer; after 12 years he started dress designing.
Later, he formed a highly exclusive diamond boutique. This Pakistani fashion celebrity has been certified in design by Central Saint Martins. He has achieved worldwide appreciation his bridal, party wear, summer, winter, and pret collections. He was also awarded as the best designer in 2012 by the International Asian Fashion Awards.
Not just in Pakistani fashion industry, but also in countries like London, Canada, US and UAE, Asim Jofa's Signature Pret Line is well appreciated. Asim Jofa's handcrafted magnum opuses are getting air in the fashion industries all across the globe.
Deepak Perwani:
Deepak Perwani is not just famous as a Pakistani fashion designer only, but he is also an eminent actor. He is one of the most well-known members of Hindu Sindhi Community in Pakistan. His collections are the epitome of style and elegance.
Read Also: Mahira Khan Wasn't Recognized At Paris Fashion Week
Pakistani fashion industry is blessed with the most amazing varieties of clothes designed by him. At first he started to design luxury formal dresses and his bridal collection gained instant success. He has also participated in several national and international fashion shows and has name awards to his name.
Fahad Hussayn:
Born in Faisalabad, Fahad started his career as a Pakistani fashion designer from his home by designing clothes for his family members. After completing his O/A levels from Beacon House Faisalabad he joined Beaconhouse National University to study textile designing.
His collections of clothes are contemporary, traditional and have plain cuts. Fahad Hussayn is the youngest designer in the Pakistani fashion industry and seems to have huge potential. His area of expertise is bridal wear and his designs represent art, contemporary motifs and zari work. This young Pakistani fashion designer is also planning to launch men's and kids wear in near future.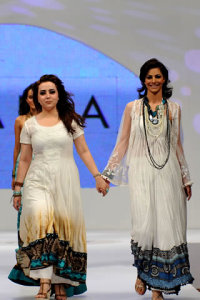 Maria. B:
The dress collections of Pakistani fashion designer Maria B is one of a kind, stylish and modern and are made as per the latest fashion trends. Maria. B designed a splendid collection of lawn suits/ dresses in 2014 for the fashion loving females. The ever gorgeous Maria B.
Also introduced simple lawn prints with graceful necklines which added the wow factor to the simple outfits. Maria B. is famous for its unconventional 3 suit traditional shalwar, kameez, dupatta design. Maria B has various labels such as M.KIDS, M Girl, M Brides, Maria B Cotton, Linen, Evening Wear, Maria B Lawn, Casual collection and a lot more.
Bunto Kazmi:
She is considered to be one of those top designers in Pakistani fashion industry whose collection remain highly in demand throughout the years and is highly ranked in the Pakistani fashion industry. Bunto Kazimi takes inspiration from Mughal Empire hence her outfits frequently reflect the Mughal era.
Bunto Kazimi's designs represent Pakistani traditions on national and international platforms. The most captivating fact about her bridal collections is that they are exclusively designed and are exceptionally easy to carry. Bunto Kazmi knows the art of enhancing the beauty of a dress by playing with color schemes.
Sana Safinaz:
Sana Safinaz is a joint collaboration of the most famous Pakistani fashion designers Sana and Safina Munir. This duo has been serving the Pakistani fashion industry for more than 25 years now. The couture, bridal and lawn wear by Sana Safinaz is highly in demand of Pakistani market these days. Sana Safinaz is a brand which is globally recognized.
Zara Shahjahan:
Fashion graduate of National College of Arts (NCA) Lahore, Zara Shahjahan began her fashion designing career in 2004, right after her graduation. Zara Shahjahan is one of those Pakistani fashion designers who successfully learned from the fashion industry.
She is an utterly talented, stylish Pakistani fashion designer who is famous for her formal attires. After the huge success of Zara Shahjahan's pret wear she has now introduced her own brand which goes by the name 'Coco'.