Videos and photos of Israeli police brutally suppressing Palestinian Bedouins in the Naqab have been circulating on social media, as the #savethenaqab campaign gained momentum in the face of increasing Israeli efforts to forcibly expel Palestinians from their homes and lands.
Over the past week, dozens of Palestinians in the Naqab (Negev Desert) in southern Israel have been injured and arrested. Israeli police cracked down on protests against a forestation campaign by the Jewish National Fund (JNF). It is threatening the livelihood of Bedouin communities in the area.
The protests are focused on the al-Naqe area of the Naqab. It is a fertile area of land in the desert and a home to around 30,000 Palestinians living in a cluster of several Bedouin villages.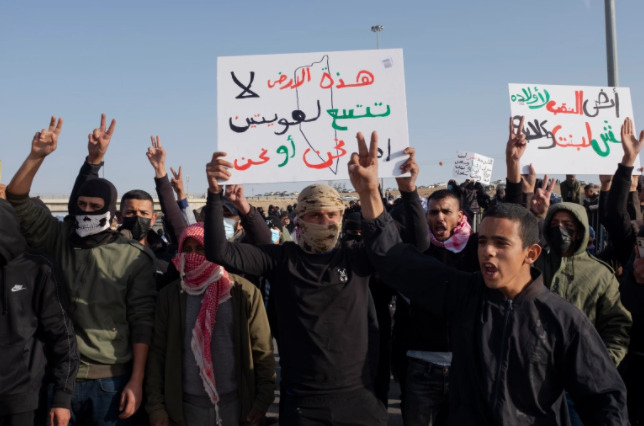 Since December the JNF, a quasi-governmental agency that works to promote Jewish settlement in Palestine, has been razing Palestinian lands and uprooting trees belonging to Bedouin communities in the al-Naqe area, in order to prepare the area for forestation.
The JNF's campaign in the Naqab, which is taking place under the full supervision and assistance of the Israeli police, has sparked widespread protests by the Palestinian Bedouin communities in the area. They say the forestation campaign is just another effort by the state to dispossess them from their land.
The protests have been met with violent suppression by Israeli forces. Videos and photos on social media have shown Israeli forces teargassing and violently detaining protesters, as well as demolishing tents in the area.
Arresting minor girls and boy
Middle East Eye reported that over the past few days, Israeli police have arrested at least 35 Palestinians from the Sa'awa andal-Atrash villages in the al-Naqe area.
Al Jazeera reported that more than 80 Palestinians, including minors, have been detained since the protests began, with the "vast majority" still in detention.
Local media also reported Israeli police setting up checkpoints and blocking the entrances and exits to villages in the area in order to prevent people from attending the protests. Meanwhile, protests have swelled in recent days, which have sparked solidarity protests in other Palestinian cities in Israel.
Despite the fact that many of the Bedouins are living on the ancestral homelands, while others were internally displaced after 1940, Israel views them as "trespassers" on their land and does not recognize their ownership over the land. Due to their "unrecognized" status, Israel does not offer the Bedouins living in these communities any services and they are excluded from state planning.
Israeli authorities earlier razed and demolished part of a Palestinian cemetery in occupied East Jerusalem. The atrocities against the Palestinians began during Ramadan last year, and the world saw how Israelis celebrated and rejoiced the attacks. 
What do you think of this story? Let us know in the comments section below.