After having heard from iconic women like Sharmeen Obaid Chinoy (Academy Award winning documentary filmmaker), Sima Kamil (Retail & Consumer banking head, HBL) and so on we can conclude that all successful women had the opportunity of having beside them, a mentor, who helped them overcome challenges and fulfill their goals and aspirations. As a matter of fact, studies show, mentoring helps in building self-confidence as well.
Thus, it is heartening to see an initiative like AWE that is working towards making effective mentoring available to experienced female professionals in the Pakistani corporate industry.
WHAT IS AWE?
AWE, or in its full form, Advancing Women Empowerment, is an initiative that aims to inspire women to achieve their personal and professional goals. AWE plans to do this by providing opportunities for networking, information sharing, mentoring and mutual support.
The program was was initiated and is sponsored by Unilever Pakistan. The company is one of the very few of its kind in Pakistan that show a firm and strong commitment to enhancing gender equality and diversity within their corporate structure.
It is the brainchild of, and spearheaded by, Ms. Asiya Zaidi, who is the finance director at the company. Appended below, is the list of some of the most accomplished Pakistani professionals who will be mentoring via the initiative.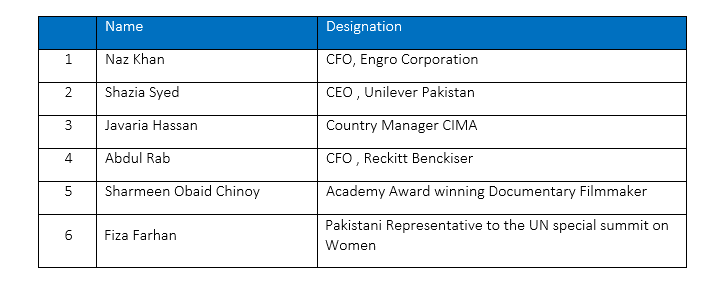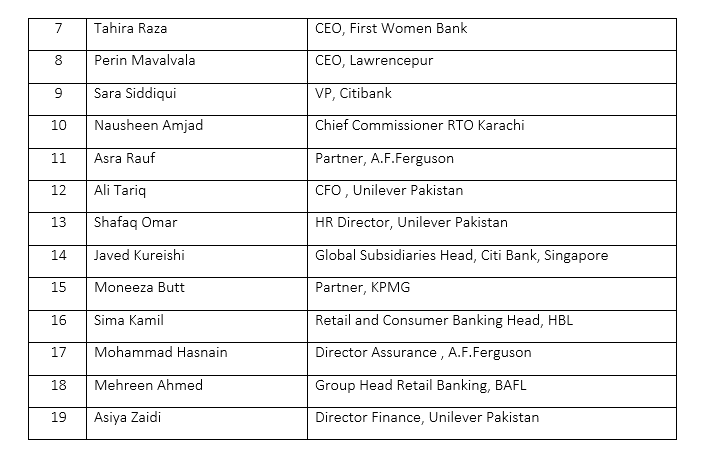 Pakistan is a country plagued with the issue of gender disparity. Naturally so, the problem has taken refuge in the corporate sector of the nation as well. We live in a country where only 1 in 25 women obtains degree level education and less than 15% females are employed in non-agricultural sectors and thus the lack of females at workplace doesn't come as a surprise.
A little digging helped us discover the root causes of the problem which are as follows:
1. Workplace Harassment
The Thomson Reuters Foundation expert poll of 2011 named Pakistan as the third most dangerous country for women to reside in. Naturally, workplace harassment is a common issue faced by females across the value chain of organizations with 90% harassed from home to office or at their work.
2. Wage Gap & Glass Ceiling
Pakistan ranks 66 out of 75 countries where women face a stubborn wage gap in their earnings compared to men (Human Development Report, 2006). The gap also exists in the boardroom where female representation is only 4.6%.
3. Hostile Work Environment
In private companies where "late sittings" are the norm and agile working from home is frowned upon, women, especially working mothers, are discriminated against because of their inability to conform. Leaving punctually is either misconstrued as lack of ambition or the inability to cope with work pressures and women are labelled as employees who are not "team players".
This raises a question in our mind – if Pakistani corporate industry is so unconducive to helping women thrive, how have so many Pakistani women left an indelible mark in their respective fields of expertise? This is where AWE comes in by making a safe working environment for them.
WHY SHOULD YOU REGISTER FOR AWE?
One might wonder what this initiative will do that makes it worth registering for? Well, it does a lot.
It creates a support group for female finance professionals to help overcome challenges they face in their professional lives.
It ensures effective mentoring for workplace issues.
It'll help you join a circle where you can seek professional and personal guidance whenever required.
It will develop a strong network including like-minded and senior leaders who are influential in bringing about policy changes to make workplaces more conducive for women.
It will help you be a part of a system where members can turn to for motivation and learn from others' experiences.
WHERE DO YOU SIGN UP?
If you want to be part of this amazing program, you can log on to www.awe-pakistan.com and fill out a short form to become a mentee. You will then be contacted by someone in the AWE team and assigned a mentor and taken through the details of the program. Even though only female finance professionals are eligible to apply for the program right now, one must remember that it's only in the pilot phase.
As soon as it kicks off properly, women all over the country will be able to register for it regardless of age or industry. So keep your hopes up. Women empowerment is about to reach a whole new level!