Last night was the disastrous performance by Afghanistan. Fixed and non-serious attitude by the Afghanistan players. The way Indian players played out of nowhere and scored over 200 looked like "money played well".
From the first innings Afghanistan's behavior overall looked different from their previous matches, people thought they will give hard time to India but it turned out as usual that everyone expects.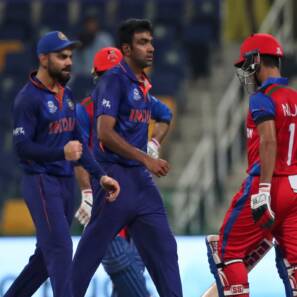 After the match, social media platforms filled with tweets and #fixed hashtag were trending in Pakistan. Pakistani celebrities also took charge and didn't hold back to express their feelings regarding the match. Because the whole cricket world knows what exactly happened.
Afghanistan lost the match & showed how to act
India thrashed Afghanistan with a big margin, but couldn't hide the reality of it. Pakistani Canadian YouTuber Zaid Ali tweeted, "Well paid, India! Oh, sorry. I meant well played!"
Singer Momima Mustehsan raised an important question based on Afghanistan's previous performance, she wrote, "Is it just me or does it seem like Afghanistan isn't too interested in fielding today? The very different attitude from all their previous games."
Not only celebrities, but politicians also joined the hashtag trend. Senator Faisal Javed Khan, "Spoiling the spirit of the game. This is not the first though. Whatever they do – their malpractices won't work – they won't be able to make it to the next stage as it's already curtains for them. This attitude leaves sports dead & destroyed."
Fahad Mustafa also responded to a tweet, "Well paid, India," with the actor writing, "This sums it all [up]."
Some tweets exhibited the reality of Afghanistan players. one of the users said, "Afghan players cried when they lost to Pakistan and They were Laughing last night when they lost to India ..a huge Sign That it was a Fixed Match.
Well paid India ..Face without mouth this is called namak haram team."
Another user raised the question of Afghan players' IPL involvement. "Much now depend on the next two matches of New Zealand as India can only join the race if NZ loses any of the two but the way Afghanistan played against India has raised serious questions. Interesting to see how many Afghan players will play in the next IPL."
Whatever happened it was disgraceful for all the Afghan fans out there. Pakistan has beaten Afghanistan but the way they performed was much better than this one.
What do you think of the story? Tell us in the comments section below.