Lahore was tragically hit by a terrorist attack a few days ago. Many people lost their lives while many are injured, admitted to hospitals. We are saddened by the catastrophe that has come to the unfortunate families of the victim and to our people who have been devastated by such attacks.
It wasn't enough that news started circulating about the Pakistani Super League season 2's finale to no longer held in Lahore. It is a security threat while the concerned parties have the right to fulfill their prior concerns on all grounds. It has hit with an unfortunate call and we cannot more wretched about it.
If Lahore is not supposed to host the PSL finale then usually Dubai would remain the last resort. Just today, Mayor of Karachi, Mr. Waseem Akhter suggested an idea of PSL final to held in Karachi.
If it happens then it is going to be the best thing to happen in recent times for Karachi and here is why:
Karachi is the iconic city, biggest of Pakistan and perhaps the liveliest. Major events in the country are held here and why not the finale?
Imagine the number of tourists and opportunities for our local people to entail with it.
Security is much controlled, thanks to our law enforcement agencies.
Karachi was the 31st most dangerous city in the world prior to Gen (r) Raheel Sharif taking charge. It went from 31st to 6th after the commendable control of law enforcement agencies.
There has been a substantial fall in crime and terror which used to loom at large previously. Now, citizens feel much safer than they ever did before.
Considering that, the law enforcement agencies will take charge in adopting strict security measures once again which they successfully utilized up til now.
National stadium will have an electrifying crowd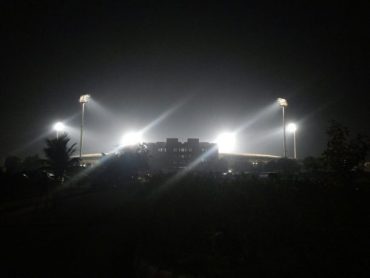 Why not let National Stadium host the most anticipated match of PSL?
It would be flogged with the best crowds. It would be a historical moment and every Karachiite would be proud of it!
It will be in the best interest of Karachi!
Any city to host such a major event will go through significant advancements in all terms. Karachi will lighten up again. The vitality of Karachi will revive again and we are going to be having a sort of entertainment we have been longing to have for so long.
The overall condition of the city would improve which every Karachiite aspires to have.
International cricket matches could begin to have in Pakistan
It could be the turning point for the rise of international cricket in Pakistan. Should a final in Karachi is held successfully and set remarkable standards, the Pakistan Cricket Board could be in the driving seat of pestering about international cricket teams playing series with Team Pakistan here.
It would be seriously amazing to have the PSL finale in Karachi. How many of you people support it?