With the novel outbreak pushing millions into unemployment and poverty, the crime rates have surged in the country. One of the recent CCTV footage surfacing on the internet showed another robbery taking place outside a house in Gulshan-e-Iqbal, Karachi. A man mugged a lady outside her house.
The incidences of street robbery have topped the list of street crimes reported in Karachi city since last year. Criminal activities have become an everyday activity in the city of lights. During the first three months of 2021, Karachiites were entangled in armed robberies and snatching at gunpoint. No district of the city remains safe from the reach of criminals.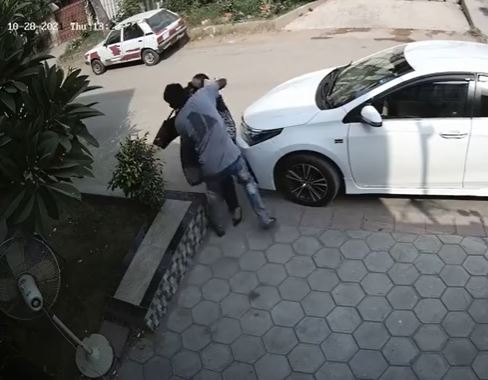 In the footage that emerged recently, the robber can be seen approaching a woman as she is about to enter the house. While the victim resists, he not only slaps her but also punches and snatches a gold chain from her. The next thing we see in the footage is the robber riding away with another man on a motorbike.
Perhaps, it appears as though the robber and his accomplice waited outside the woman's house to catch her off guard and rob her. The incident reportedly took place in Gulshan-e-Iqbal.
Here is the CCTV footage
It is pertinent to mention here that criminal activities, robbery, in particular, have risen to record levels in the city ever since the COVID-19 pandemic took over. Every now and then, videos of robbers looting some innocent citizens in broad daylight.
This increase in street crime and robberies comes as a result of the incompetence and failure of the government, police, and law enforcement agencies. The current situation should be taken seriously and the government should provide protection to the people of Karachi. Not only that but it should also take practical steps against the elements involved in crime.
Earlier, a suspected robber looting a citizen near Power House Chowrangi of Surjani Town was caught and tortured by local residents, whereas, his accomplice managed to flee from the scene. The Karachiites thrashed the criminal whose attempt to snatch the bike and mobile failed.
Another CCTV footage emerged previously showing a robber mugging a shopkeeper in Karachi. However, it was not the kind of robbery that you get to hear of. In fact, seeing how 'politely' the robber mugged him will leave you rather baffled, and amazed at the same time.
What do you think of this story? Let us know in the comments section below.