The viral pawri girl Dananeer Mobeen, who has become the talk of the town is back with a new singing video clip that wins hearts. Looks like she has once again won the hearts of social media users who are absolutely loving her melodious voice.
Pakistanis are going crazy over the girl's video since it vividly depicts the 'burger' people of our society. This viral girl is certainly like no other. One of the happiest, full of energy, delightful, energetic, and hilarious girls we have come across recently!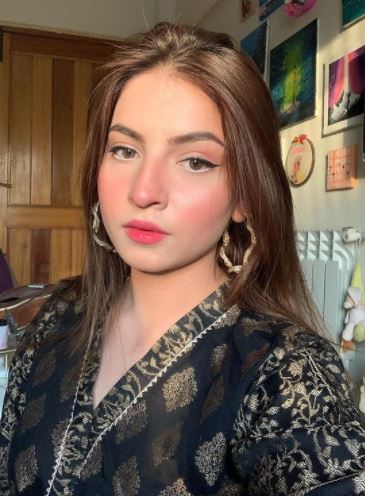 "Ye humari car hai. Aur ye hum hai. Aur ye humari pawri horahi hai". By now, you must have definitely seen this viral video. Not only has the video gone viral but Internet has been flooding with various memes, with a few recreations of the video made by celebs and users.
Mobeen, also called Geena, is an influencer on Instagram, as well as a content creator. She hails from Peshawar and resides in Islamabad. Moreover, she often creates videos mimicking the 'burgers'. So, her viral video shows her vacationing in the northern area of Pakistan while saying her famous phrase, "hamari pawri horahi hai."
As the pawri continues, Mobeen shared a short video in which she sang one of her favorite songs, Tera Mera Rishta Purana, from Emraan Hashmi's 2007 film Awarapan.
Here is the video, enjoy!
Wow! The pawri girl has definitely taken the Internet by storm and won hearts through her singing! From her vocals to her expressions, everything seems just on point. Needless to say, not only is she blessed with good looks and humor but also a beautiful voice.
A number of people continue to recreate her viral pawri video. As can be seen, the girl has set a new widespread trend! From celebs to hundreds of social media users, everybody is enjoying pawri.
The 'pawri' meme has become such a hit that it even crossed the border! So much so that the famous Indian music producer Yashraj Mukhate made a remix of 'pawri horahi hai'. He previously made one on a now-infamous line from Bigg Boss: "Tumhara kutta Tommy, humara kutta kutta".
Aren't you all just loving the girl's vibe? Such a high-spirited girl, full of vim and vigor! Looks like a new social media sensation is in the making followed by the Lahori girl Nimra Ali who became viral a few months back. One thing is for sure, and evident i.e. this pawri girl is going places!
What do you think of this story? Let us know in the comments section below.