Hareem Shah, who earlier sparked widespread speculation about her husband's identity, recently sat down for an interview and spilled the beans on how she met him.
The infamous social media sensation gained fame at an outrageous pace. Shah often makes the headlines but never for the right reasons, to say the least. With millions of followers and views on her videos, she successfully became a public figure.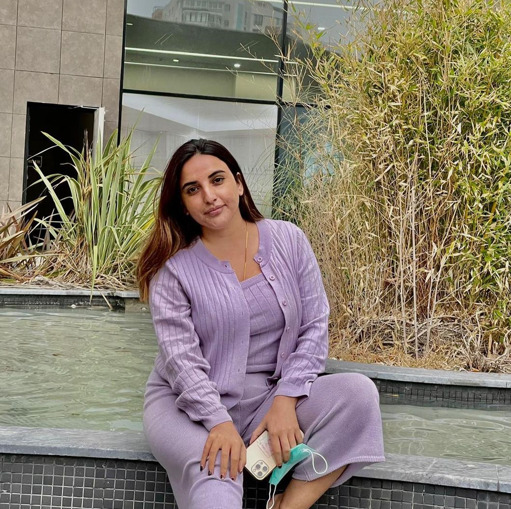 After confirming the rumors of her marriage, the TikTok star made sure to keep the details about her husband under wraps. She claimed to unveil the details about the wedding and her life partner soon.
Interestingly, the news came only days after she sparked rumors of an engagement with a photo of her hand with a diamond ring. "Alhamdulilah" read the caption of her post. Soon, there was hearsay about Shah getting engaged.
"I will reveal his identity soon after I will get the permission," Shah had stated earlier. "As I have told earlier that my husband is married and as soon he will take permission from his wife and tell his family, we will announce our marriage."
When she revealed the face of her husband in Sept, she remained mum on the details. But in an interview with Urdu Point recently, Shah spilled the beans on how she met her husband.
Love marriage or arrange marriage?
Speaking about how they got married, Shah's husband Bilal Shah revealed that they are blood relatives, adding that he belongs to Mansehra. "We had a love-arrangement marriage," he said.
Adding to the story, Shah said that they have been married for months now. "We did not meet a lot before marriage, nor did we contact much by phone, but a few interactions resulted in marriage, and it was my family's choice for me to marry him," she said.
"He is good-natured and innocent, and I am tired of bad boys who do drugs and smoke," she added. "Also, he does not backbite. I like that about him."
You can watch the complete interview below:
Shah previously asked people to stop linking her up to every other person's name. Names of various married politicians circulated on social media claiming them to be Shah's husband whose name. From Saeed Ghani to Syed Zulfiqar Ali Shah, many speculations were made.
"Please stop sharing random people's pictures with mine," said Shah in a video, while also disclosing that she has had no relationships in the past.
What do you think of this story? Let us know in the comments section below.