Singer Asim Azhar and the co-frontman of Strings Bilal Maqsood recently treated fans with a video of them jam session together. Yes, looks like two of Pakistan's biggest names in the music industry teamed up for a jam on Wednesday night!
From what we can tell, Azhar and Maqsood seem to be working on a special project together. It certainly has us questioning what it could be.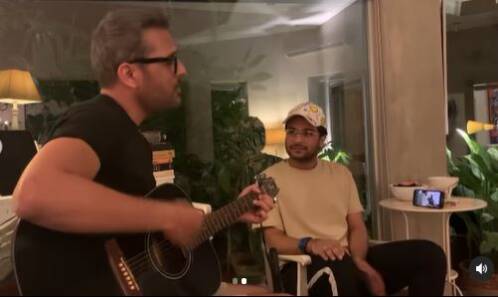 "He came for work but was sweet enough to entertain all of us," Bilal Maqsood wrote about Asim Azhar on Instagram as he shared a jam session video of himself and Azhar singing Strings' hit song Soniye. In another video Maqsood shared, Azhar also sang Shuja Haider's song Nawazishein Karam.
Azhar also uploaded Maqsood's video to his Instagram story for his followers to enjoy. "I didn't know Bilal Maqsood doesn't like to sing in front of family at home," wrote the singer. "But I requested him to sing my favorite Strings song, which he did, and I did too! Thank you Bilal Bhai for always being so amazing!"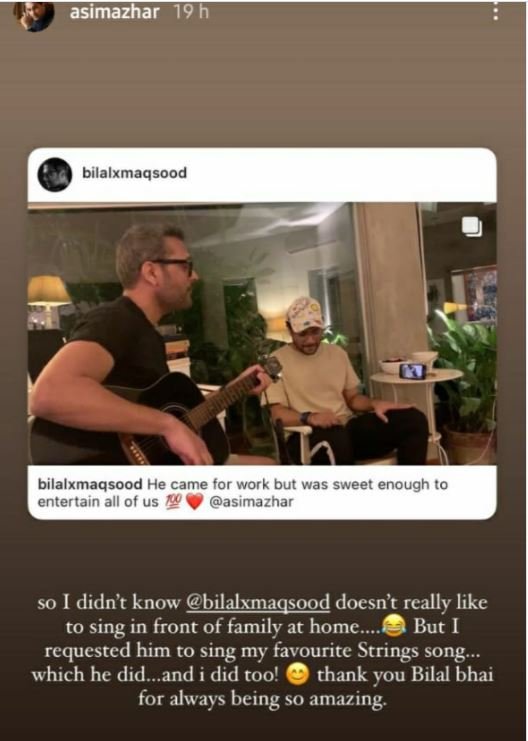 Lots of fans and followers complimented the videos, including Maqsood's fellow Strings members, Bradley Dsouza and Aahad Nayani.
Have a look at the videos – swipe right!
The last time we saw Maqsood perform music was before Strings announced they were parting ways. So, whenever fans see him sing, they can't contain their excitement. He is a guitarist, composer, and founding member of Strings.
Back in March, the pop band declared its break up on social media. The band came in 1992 with the song Sar Kiye Yeh Pahar. Subsequently, the song got popular nationwide, but their success did not live for too long and they broke up.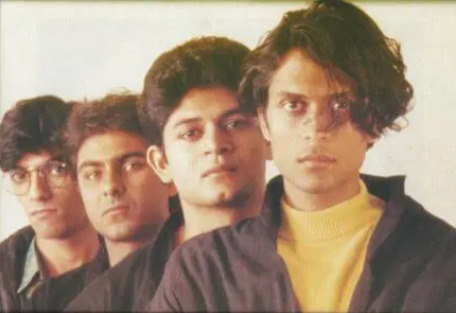 After nearly 8 years, the band came back and never looked back. They came with the song Duur which played on every Pakistani channel, radio station and the band again got popularity. Till now the band had produced 4 albums, which consist of countless songs that still people love to listen to and gives nostalgia. Fans were heartbroken to see the band parting ways. However, no one knows the reason behind it yet.
Maqsood made it to the headlines last month when social media was abuzz with the video of Junaid Safdar singing at his wedding. While Maqsood too appeared captivated by Safdar, who beautifully crooned an evergreen Bollywood song, he had something bitter to say about it.
"Some of the flowers in the background might be from my tax money. But I have to give this guy full marks for his singing," the singer said. However, he received his fair share of thrashing from the showbiz fraternity.
What do you think of this story? Let us know in the comments section below.