Some Pakistanis love to troll for literally no reason. They think abusing and moral policing someone is their right. May it be our politicians, celebs, cricketers, or even common people, none is safe from their venomous two cents of 'wisdom.'
Former cricketer Wasim Akram seems to be done with social media bullying and hate. He is an asset of Pakistan and yet some ignorant people find time to abuse him every now and then.
However, Akram on Saturday recorded a special message for his all the abusers on social media and, man…his message was no less than a killer yorker!
Apparently, Akram uploaded a video on Instagram earlier about swimming. But, 'normal people' swim without clothes on, No! Bizarre, we know.
However, soon after he shared the video, some people started criticizing him for not wearing any shirt or piece of cloth.
Anyway, hitting back at his trolls hard, Akram shared another video on Twitter. Akram said that he had to make the video for trolls and rude people before everyone says do not reply to them or just ignore them.
Watch it before we comment on it.
"I know that people share their opinions on social media accounts but I would like to say that only cowards misbehave. Your behavior reflects your family background," said Akram. The legendary cricketer added sarcastically that next time he would swim next time in a three-piece suit.
"Next time I'll wear a three-piece suit, and if I don't like it, I'll wear a ghaghra," he added.
Here's how some of Akram's friends, family and true fans reacted to the video
Wife Shaniera Akram also has a suggestion about what he must wear while swimming. Epic!
Wasim Akram schools a troll for moral policing his daughter
Akram recently schooled a desi troll for moral policing his daughter. He was seen taking a walk with his daughter. And, seeing the young child wearing shorts was near to blasphemy for Pakistanis.
A troll seeking this opportunity as a great way to criticize Akram posted a comment about dressing his daughter appropriately.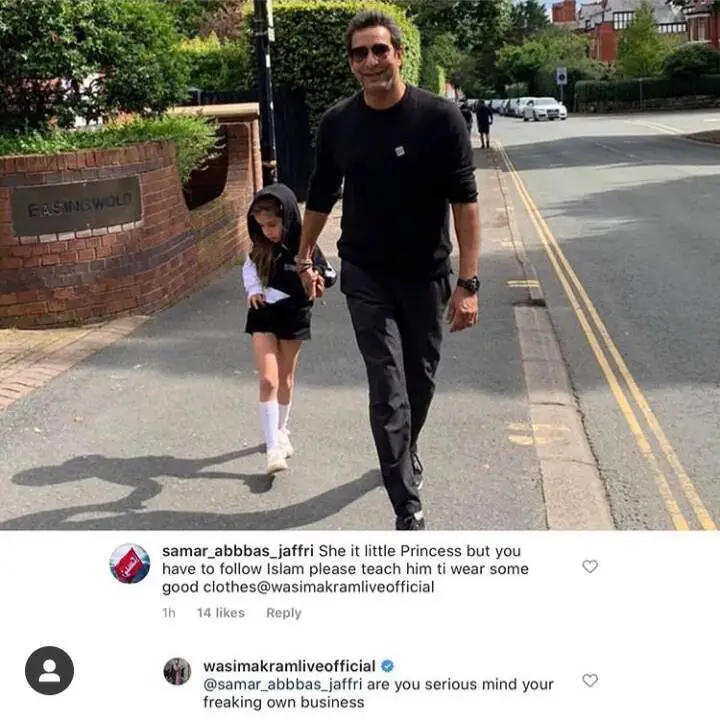 The girl was wearing a shirt and shorts in the picture. Akram couldn't bare a word being said about his beloved daughter. Hence, the outcome was indeed straightforward and right on point.
Some toxic and uneducated trolls need to understand the importance of minding their own business. How hard it is, guys?
It's ridiculous to ask someone to wear clothes while swimming because he is a Muslim. Do Muslims take shower with clothes on? We are glad, people like Wasim Akram are shutting down trolls for all the right reasons.
What do you think of the story? Tell us in the comments section below.