Waseem Badami is known for his bluntness – the news anchor does not fear anyone when he wishes to question the most controversial politicians. Speaking of which, the anchor himself got caught in quite a fiasco in the past few days.
From his relationship whilst being married to him doing low tricks and being caught on the recording, fans of Waseem Badami weren't quite sure that he is capable of doing such acts.
Keeping all the accusations aside, the relationship he shared with Junaid Jamshed was something which the entire nation witnessed during the transmission of Shan-e-Ramzan.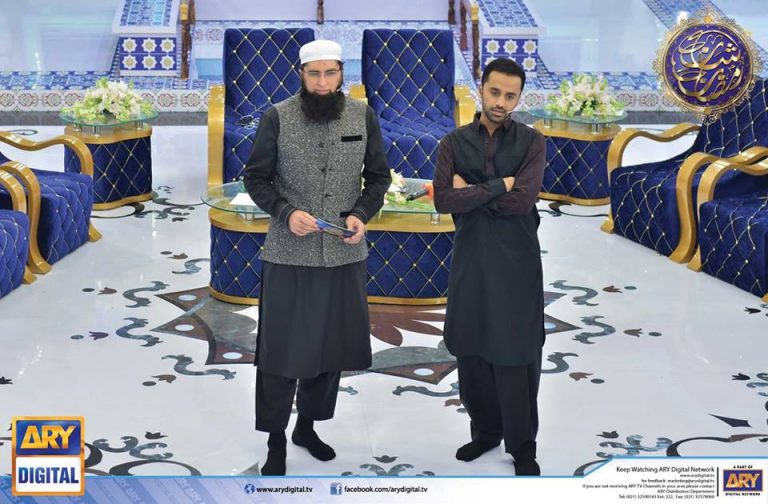 As Waseem Badami himself said on numerous occasions Junaid Jamshed was and remains to be his mentor. The two shared a lovely bond of friendship, which was visible during the transmissions of the show. While things for Badami changed after he lost a friend and a mentor, it seems that he is following Junaid Jamshed's footprints by launching something similar to what J. offers – skincare products.
Naming his brand as WB (initials of his name), the brand was launched on the 14th of May, 2017 in Dubai. The unveiling was left for the fans to guess, but when Nelaam Munir uploaded this video on her social platforms, fans figured out what the product is all about:
Thanks Neelum Munir for your kind wishes for our brand
WB. BEAUTIFUL ORGANIC NATURAL YOU pic.twitter.com/r3dPMbkQ6R

— Waseem Badami (@WaseemBadami) May 13, 2017
@WaseemBadami@WBStores@arydigitalasia It was wonderful time to meet Waseem Badami & discussions about WBStores in Dubai pic.twitter.com/xe395ObO7u

— Zeeshan Imtiaz (@ZeeshanImtiaz2) May 14, 2017
The products displayed in this video show the specifications of what WB will be offering:
@WaseemBadami this is for you… Plz must watch… Its all about your brand.. May God give you more success
Ameen pic.twitter.com/z9ynwx6HyY

— Hadia Javed (@HadiaJaved3) May 14, 2017
In association with Hemani, WB offers herbal skincare and beauty products – with the likes of slimming oil, hair oil, henna and various others.
Here's wishing Waseem Badami all the best for his new venture. Hope to have it soon in Pakistan as well!