Recently, an image appearing to show an Indian flag at a political rally in Karachi went viral. Many people shared the image multiple times on Facebook and Twitter.
The image, however, has been digitally manipulated. Moreover, the original photo shows no Indian flag waving in the crowd.
The image was published on Facebook on October 22, 2020. Have a look at it.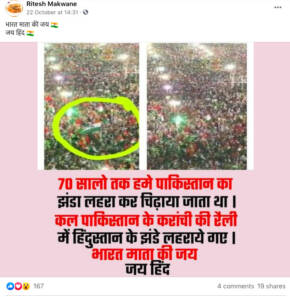 "For 70 years we were teased by the Pakistan national flag, yesterday at a rally in Karachi, an Indian national flag was raised. Victory to mother India," reads the image in English.
The post's caption translated as, "Hail Mother India / Hail India"
Meanwhile, similar claims on Facebook shared the same images in many places. Two politicians of India's ruling Bharatiya Janata Party also shared the image.
The image with the Indian flag is FAKE
A reverse image search on Google found that the original photo shows no Indian flag raised in the crowd. Meanwhile, Pakistani English-language newspaper Dawn published the image on October 19, 2020.
Moreover, Dawn's photo said, "Supporters of opposition parties gather at Bagh-i-Jinnah in Karachi for PDM's second rally."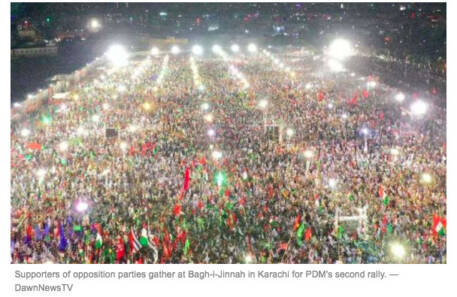 Pakistan Democratic Movement (PDM), is a coalition of opposition political parties. These parties have united against the government Prime Minister Imran Khan.
The photo shows PDM supporters gathering on October 18, 2020, for a rally in Bagh-i-Jinnah, a historic park in Karachi. 
Below is a screenshot comparison of the image. The viral misleading post is on the left and the original photo is on right.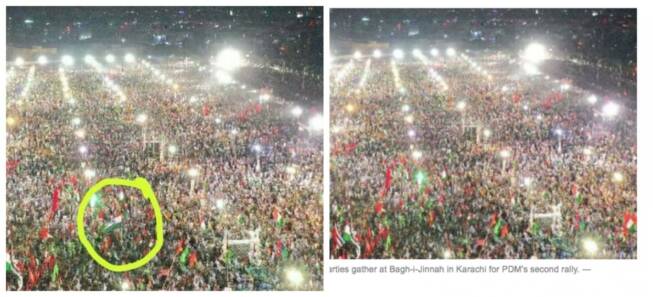 Pakistan Muslim League-Nawaz (PML-N) published similar photos on Twitter via its official account. Meanwhile, the party's Chief Maryam Nawaz had also shared the image.
Maryam's husband retired Captain Mohammad Safdar was arrested after the same PDM rally in Karachi.
What do you think of this story? Let us know in the comments section below!