Members of the National Assembly once again stooped low on Tuesday as they threw budget books at opponents and used foul language. Scenes of a riot in the lower house of the parliament were no less than a battleground. Abuses on each other by govt and opposition in NA were witnessed, but, Murad Saeed stole the show.
On the second consecutive day, the opposition leader Shehbaz Sharif's speech on the budget was muzzled by treasury benches. They gathered around the opposition leader's desk, blowing whistles and using foul language against him. Despite intervention from a helpless speaker Asad Qaiser, they also used budget books as weapons.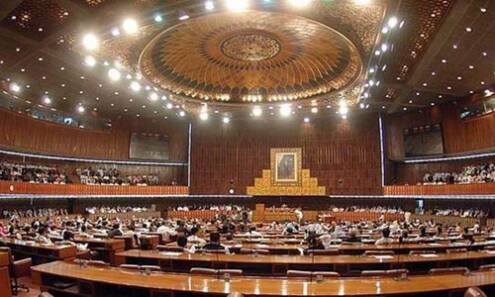 While Sharif continued his speech, treasury members began a commotion. Further chaos erupted when PML-N lawmaker Ali Gohar Baloch chanted derogatory slogans against the ruling party. A few PPP members stood beside Sharif during his speech. However, senior party leaders, including Bilawal Bhutto Zardari, remained silent.
NA turns into a battleground
As the nation watched in disbelief the despicable scenes being streamed on TV channels and social media, the situation escalated as budget books flew from both sides toward the other. Social media videos captured PTI's Ali Nawaz Awan using abusive language. Govt's Murad Saeed standing on the desk, throwing budget books at the opposition while the chaos and abuses in NA continued.
WARNING: Foul language used. Viewer discretion is advised.
Meanwhile, Shireen Mazari, Ali Amin Gandapur along other MNAs began shouting. They chanted slogans like chor, chor (thief, thief), daku, daku (robber, robber), and "TT, TT", a reference to the term "telegraphic transfer" often used for money laundering.
The ruling party lawmakers Faheem Khan, Jamil Ahmed Khan, Saifur Rehman, and Abdul Shakoor Shad were also on the frontlines. Moreover, from the opposition, Shah Rohail Asghar, Murtaza Javed Abbasi, Chaudhary Khalid Javed were more active.
The situation came to a point that the speaker called sergeants at arms from the Senate. Even so, both sides continued throwing budget books with the same frequency. As a result, Malika Bokhari and a couple of sergeants were injured.
Despite the suspension of the session, members continued to throw documents and other articles at each other. It was only after the hall's lights were switched off that they stopped. Over an hour of suspension followed, and the speaker returned to announce the adjournment of the sitting till 2 pm today (Wednesday).
An investigation will now be conducted into the matter.
Opposition members disrupted Friday's budget session as well. They hefted desks and chanted slogans against PM Khan, who steadily unveiled the PTI's third budget. Meanwhile, the PTI leadership shamelessly misbehaved and laughed throughout the opposition protests.
Story Courtesy: Express Tribune
What do you think of this story? Let us know in the comments section below.