Privacy is the ultimate thing that everyone wants in their life and it's highly applicable to celebrities. Despite fans being madly in love with them, they are not allowed to invade their privacy and disturb their personal life.
But looks like fans won't understand it at all and deliberately misbehave and invade privacy.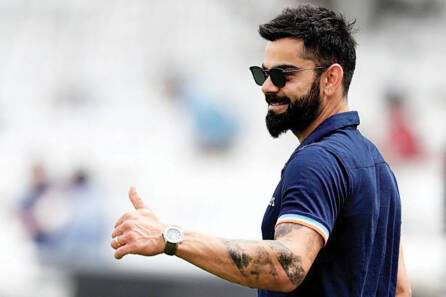 Just like recently, it happened with none other than Virat Kohli's privacy was invaded by fans who entered his hotel room, made videos of it, and shared those videos on social media.
Virat Kohli is surely very uncomfortable with fans crossing limits and has drawn a very clear line.
Virat Kohli Is In Rage After His Privacy Invaded
On Monday, Virat Kohli took to his official Instagram account and wrote "I understand that fans get very happy and excited seeing their favorite players and get excited to meet them — I've always appreciated that.
But this video here is appalling and it has made me feel very paranoid about my privacy. If I cannot have privacy in my own hotel room, then where can I really expect any personal space at all??
I'm NOT okay with this kind of fanaticism and absolute invasion of privacy. Please respect people's privacy and not treat them as a commodity for entertainment."
In the video, the intruders entered the room with the camera and roamed all over the place. They showed Kohli's shoes and belongings in the room.
It looks like the video has been made by members of the hotel staff as they seemed to be wearing name tags and grey uniforms.
No doubt, Virat and his wife Anushka Sharma are very big on privacy matters. They don't even let the media take pictures of their daughter who received rape threats last year and things went messy.
What do you think of the story? Tell us in the comments section below.