The war of words between the two renowned actresses of the Pakistan entertainment industry, Ayeza Khan and Amna Ilyas has been the talk of the town for a while now. But what started off this dispute? Let's walk you through it!
It all began when an old clip of Ilyas made rounds on social media in which she pointed out how the former Pakistani model Aaminah Haq has gained weight and become fat in a rather ghastly manner.
At first, Ilyas denied that it was her. Then later, she posted a rather dramatic video on her Instagram to clarify that she did not body shame anyone. Instead of apologizing to the senior model, the Baaji starlet unapologetically shared how she has always been a bully.
More so, Ilyas narrated all the instances from her childhood to reveal that body-shaming was not the only thing she was guilty of- since she was going to be judged for her past anyway.
Netizens continued to bash Ilyas over her hypocrisy and double standards. Turns out, she is not only a hypocrite but also a shameless bully. Several commented on the clip demanding an apology, with many calling her 'arrogant' for not owning up to her mistakes by saying 'I'm not her'.
In addition to this, the Mere Paas Tum Ho actress Ayeza Khan also jumped on the bandwagon and criticized the model in the comment section. Khan extended her best wishes to the model-cum-actors Ilyas. Moreover, stating that it took a lot of hard work for Ilyas to build her career, Khan advised her to stop indulging in such controversies.
Amna Ilyas fired shots at Ayeza Khan & asked why she unfollowed her?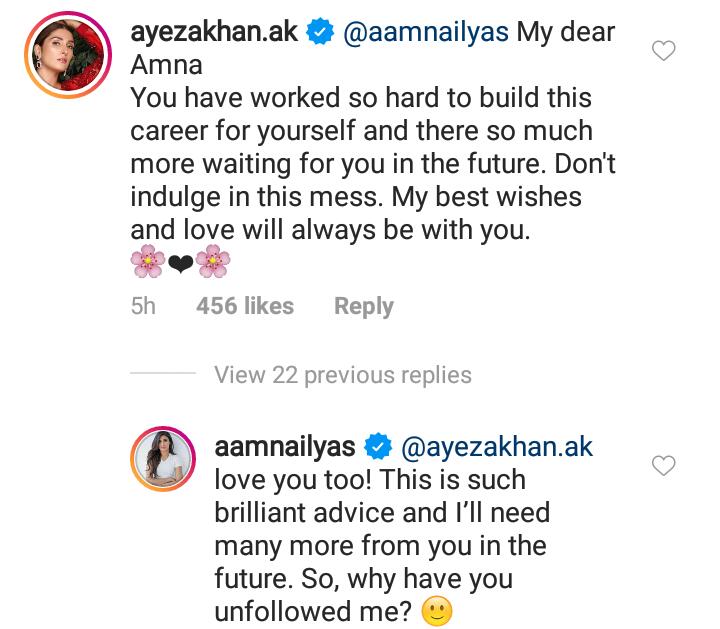 It is also crucial to mention here that before all this drama, Ilyas took a dig at Khan and made a video where she covered her face in flour. Apparently, the video was to throw shade at Khan for supporting whitening creams and featuring in their ad.
Ilyas did not mince her words and blatantly called out Khan for her hypocrisy. In the whitening cream ad, the Meray Pass Tum Ho actress credits her success to the fairness cream. Netizens criticized the actress for promoting whitening creams for the sake of money and popularity.
While taking a playful dig at the whitening cream ad, Ilyas in her video, said, "Know yourself? Do you even know the person in front of you in the mirror anymore?! God!"
However, at that time, Pyarey Afzal star did not respond to or comment on the mockery. But now it seems as though she unfollowed Ilyas after it. But well, it looks like the verbal-war has not ended yet.
What do you think of this story? Let us know in the comments section below.