Early life and education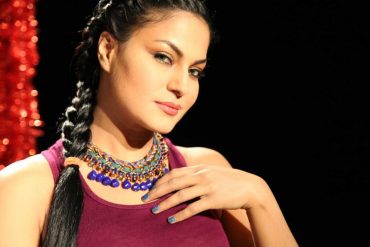 Pakistani film star and model, Veena Malik was born on 26th of February, 1980 in Rawalpindi, Pakistan. Some sources believe that she was born in Lahore instead, and was brought to Rawalpindi in her early days. Her father, Malik Mohammad Aslam served as a doctor at a hospital run by the military. It is believed that she was initially named, "Zahida Malik" on the insistence of her grandmother, but the parents rather kept Veena as her first name. During her early life, Veena was mostly under the care of her mother, Zeenat Malik, and grandmother. Her father spent days away from home and his busy schedule brought a little time for his family and newborn daughter. Veena Malik's grandmother nurtured from her early years to teenage until she died.
Veena Malik attended school and holds a Bachelor's of Arts in Sociology, Psychology and Persian.
Early career: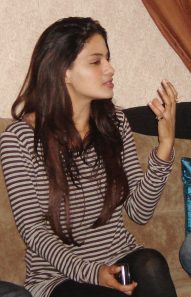 Veena Malik eyed a spot in the Entertainment and Film industry of Pakistan. She openly pitched her desire to join the outlets to her family. Her grandmother encouraged her to pursue her wish in the prospect, however, the rest of the family hesitated. Her father's only concern was the ongoing prospect of Pakistani film industry which was in an obliterated shape and on the other hand, the idea that the film industry was not suitable for "girls" genuinely bothered him about the safety and security of his daughter.
Veena sought opposition by her family initially. They tried to make her understand that the industry out there is "cruel" and aspiring artists from humble backgrounds are looked down upon conservatively. However, her grandmother stood firm in her support and eventually persuaded Veena's father and mother to let their daughter join the industry.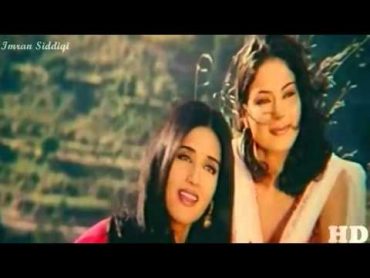 Veena Malik started out in the film industry hub that was Lahore during that term. Lollywood needed new artists and the likes of Veena Malik met Jarar Rizvi and Mukhtar Ahmed during 1999. They landed Veena a chance in the film, "Tere Pyar Mein". This was Veena's debut film and shortly after gaining success in it, she was considered for more projects.
Career breakthrough
Lollywood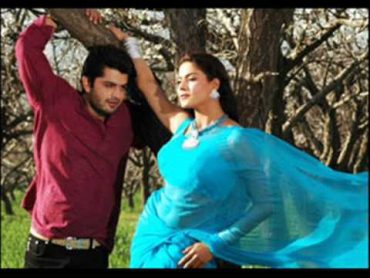 Shortly after her debut in "Tere Pyar Mein", offers for Veena started raining. In 2002, Veena starred in "Yeh Dil Aapka Huwa" and in "Sassi Panno." These were the films where she made a name for herself and emerged as a rising star who could just grace the Lollywood industry. Later on, Veena was featured in female-centric roles in Koi Tujh Sa Kahan that was released during 2005. Followed by in 2007, she appeared in another film called, "Mohabbatan Sachiyaan" – this was a hit on and shot her to imminent fame. Besides, Veena Malik has appeared in "Kyun Tum Se Itna Pyar Hai", "Kabhi Pyar Na Karna" and "Ishq Be Parwah".
Bollywood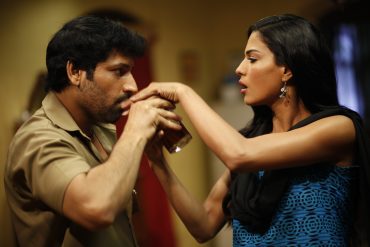 Veena Malik was not only a sensation in Lollywood. She has performed across the border in Bollywood and bag a credible name in the industry. She made her Bollywood debut in a comedy film called, "Daal Mein Kuch Kaala Hai". Followed by, Veena Malik was featured in "Zindagi 50-50", "Supermodel" and "Dirty Picture: Silk Sakkath Maga". It was a box office hit. Then in 2014, Veena appeared in a horror film known as "Mumbai 125 KM 3D."
Media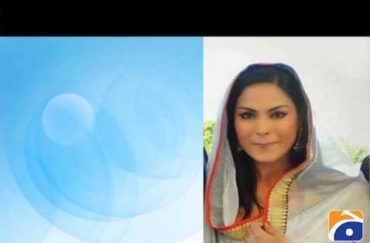 Veena hosted a show called "Prime Gupshup" that was aired on Prime TV during 2002. She was engaged in a comedy centered role during the hour-long show and was often seen impersonating famous actors. Veena had her Media breakthrough after she was featured in a major role in GEO TV's show, "Hum Sab Umeed Se Hein". She was largely seen doing comedy and mimicries.
Awards & Honors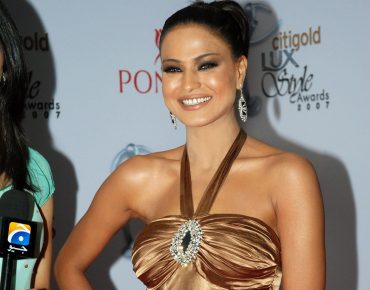 Veena Malik has won several awards. She won Lux Style Awards for Best Actress for her film, "Koi Tujh Sa Kahan", "Mohabbatan Sachiyaan". She also won a Nigar Award for Best Supporting Actress for the film, "Yeh Dil Aapka Huwa". In 2007, Veena Malik was awarded during the Lux Style awards for being the Most Stylish celebrity of the evening.
Veena also holds the Guinness World Record for getting maximum kisses on her birthday in 1 single minute. Veena Malik was ranked no. 26 in a list of FHM India's "100 sexiest women" alongside Megan Fox, Angelina Jolie, Shilpa Shetty, Sonam Kapoor, Kim Kardashian and Paris Hilton.
Personal life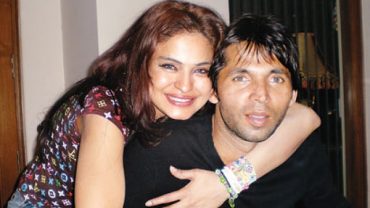 Veena Malik was first married to renowned Pakistani cricketer, Mohammad Asif. It was a controversial step and she was surrounded by a heap of trouble in her marriage with Asif. Veena does not reflect her relationship with Mohammad Asif in good terms at all. In fact, she was once seeing proclaiming the following words about Asif: "He's not good looking, he's notorious … he has nothing. My relationship started under different circumstances. I was engaged to a good looking actor (Babrik Shah). But I saw a lot of negativity in him (Asif). He was very talented but he had nothing, he didn't have a single penny. I wanted to help him and that's how we became friends. Then he trapped me … God knows I was sincere to him. He had cases against him in India and Dubai; I hired lawyers and media managers for him. I hired trainers who would wake him up every morning to exercise. I knew he was cheating on me, but he denied it. I hired an agent and investigated him."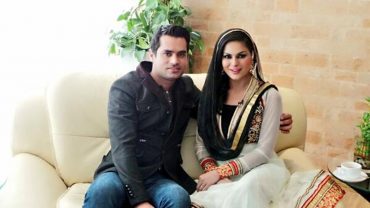 She is now married to a businessman named Asad Khattak. Their wedding took place in Dubai during 2013. Although, her marriage is looming around a number of controversies once again, but things seem a lot better in this relationship now. Latest reports suggest that Veena seeks separation from Asad Khattak, the reason being his husband being violent and abusive with her. However, both the couple and Maulana Tariq Jameel were invited during ARY News show, the 11th Hour hosted by Waseem Badami. Matters settled between the couple and they are seeking a new beginning once again with the help of Tariq Jameel.
Controversies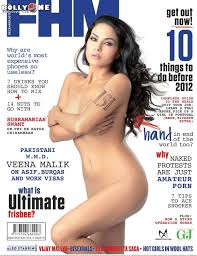 Veena has been surrounded by a lot of controversies. Her cover image on FHM was the most famous of all. She appeared nude having an "ISI" tattoo on her arm. However, Veena disregarded any claims of being "nude" during the photo shoot. She did claim that she was "topless" but was not completely nude. She sued the magazine over the infamous images. She was also dragged in a case for blasphemy with her husband. They were sentenced to spend 26 years in prison by a Gilgit court in an accusation of airing a program that was blasphemous. GEO TV and Jang group were also involved in the case, while Veena and her husband's image was immensely tainted.
Philanthropy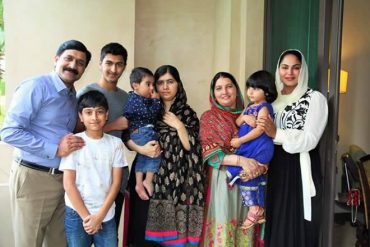 Veena Malik has engaged in many charitable works. She also worked as a representative for WHO (World Health Organization) for 2 years. She also endorses a Pakistani NGO that works for the interests of Orphaned Children – "SOS Children's Village".