Asad Bashir Khattak, the ex-husband of popular film actress Veena Malik, on Thursday issued a defamation notice of Rs500 million to her for damaging his reputation and 'unlawfully' taking his children custody to Pakistan from UAE.
Khattak took to Twitter yesterday to accuse Malik of smuggling children to Pakistan illegally. He said that he endured everything for the sake of children but now it is time to bring her shameful identity before all.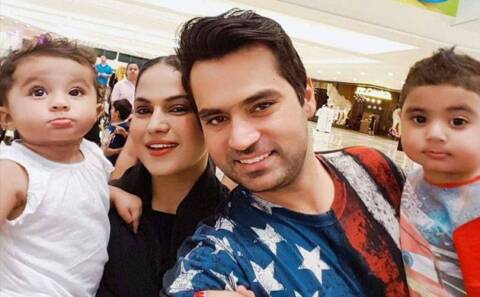 According to the details, the Pakistani actress and former host has been served with a Rs 500 million notice by Khattak for not letting him see his own children for over a year despite the court ruling in his favor. Taking to his Twitter, Khattak revealed he was forced to take legal action. In fact, even the Dubai court ruled in his favor, but Malik escaped.
According to Khattak, despite all of thishis family, including him, was harassed, and his career was ruined. Malik is not only trying to assassin his character but also trying to malign him. However, he added that the greatest asset of a man is his offspring. She has taken that away from him as well.
In addition to this, he disclosed that both his children are US nationals. She not only betrayed him but also tricked the Dubai government into bringing the children to Pakistan.
He adds, "Now all these things have to be answered in court. How two American citizens were smuggled from Dubai to Pakistan, where is the Pakistani government?"
Who made their (children's) passports and when? Asks Khattak
Sharing his children's identity documents on Twitter, Khattak requested the Pakistan interior ministry and FIA, and other agencies to take immediate action against Malik.
In addition to this, he requested the authorities to put her name in the Exit Control List (ECL), and rescue his children Abram and Amal.
He questioned Malk's decision to bring his children to Pakistan and asked, "Who made their passports and when?"
Khattak revealed Malik's real name is Zahida and that he has divorced her. Moreover, even the court gave him the right to meet the children. He emphasizes that he has the right to all kinds of legal actions.
The notice gives the Pakistani actress 10 days to tender an unreserved apology, resolve the dispute amicably, or face court proceedings.
Veena Malik also breaks her silence
On the other hand, Malik has broken the silence on the matter. Taking it to Twitter, she declared that she has the patronage of keeping her children according to the law and Sharia. In the tweet, she has also attached a photo of the conciliation agreement. The agreement mentioned that Veena Malik (mother) has custody of the children and not Asad Khattak (father).
"The Second Party (mother) shall have custody of the children (Amal and Abram).
Veena's former husband rejected her claim and shared another document.
It is pertinent to mention here that Veena Malik and Asad Khattak had tied the knot in 2013. However, they parted their ways in 2017.
What do you think of this story? Let us know in the comments section below.