More than 2,000 Sikh pilgrims entered Pakistan from the Wagah border crossing on Tuesday to attend the annual Vaisakhi harvest festival beginning today, Wednesday.
The main ceremony of Vaisakhi is a New Year's celebration as well as a critical day in the formation of the Sikh religion. It will be held at the Gurdwara Panja Sahib shrine in the town of Hasan Abdal outside Islamabad on Thursday. Thousands of Sikhs will perform the cleansing ritual of ashnan, or bathing.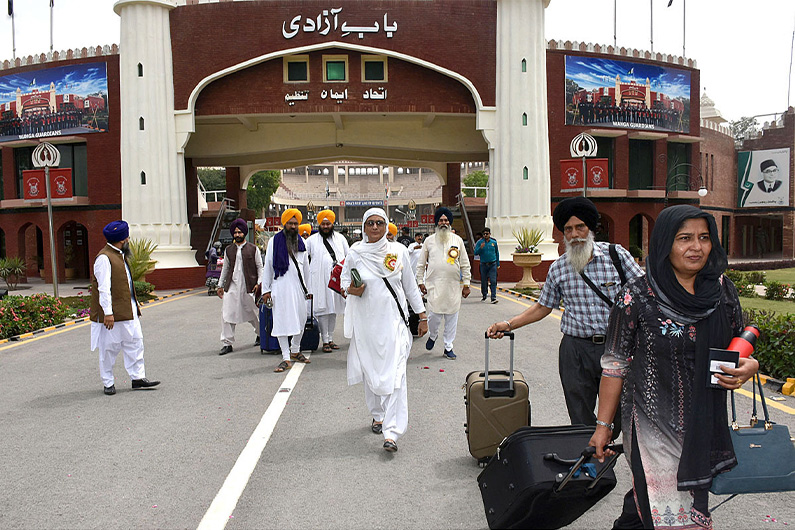 The shrine is one of the holiest sites of Sikhism. The founder of the religion, Guru Nanak, is believed to have imprinted his handprint on a boulder at the shrine. Vaisakhi is also meant to mark the day when Gobind Singh, the 10th and final prophet, established the discipline of Khalsa, through which the faithful can aspire to the ultimate state of purity.
Many Sikhs see Pakistan as the place where their religion began since the founder of Sikhism, Guru Nanak, was born in 1469 in a small village near Lahore.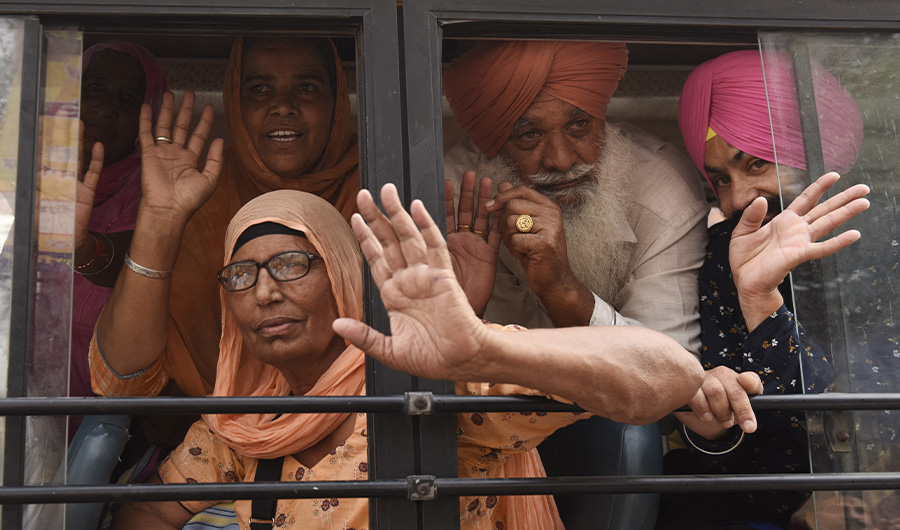 "Whenever we come to Pakistan, the land of our gurus, we feel very happy and relaxed. This time too, we have come here with a lot of love for the people of Pakistan," Sardar Arvinder Singh, the leader of a Sikh group that arrived in Pakistan, told media at the Wagah border crossing. He added that he was thankful to the Pakistan government for issuing visas in such large numbers.
Delhi Gurdwara Management Committee chief Sardar Sukhbeer Singh said Pakistan and India shared the "same culture" and Sikhs always "felt comfortable" in Pakistan. "The arrangements made by the Pakistan government for us are impressive," he further added.
Visas issued to 2,200 pilgrims
The Pakistan High Commission in New Delhi this year issued visas to 2,200 pilgrims out of whom 2,044, including women, crossed into Pakistan via Wagah to attend the festival on Tuesday.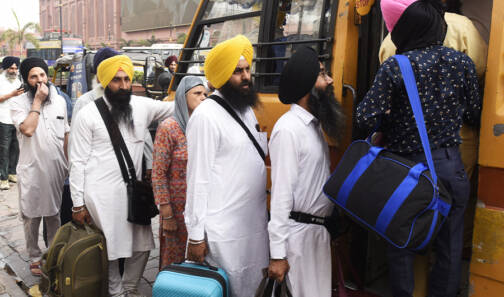 After having food at Wagah, the pilgrims left for Hasan Abdal on special buses and trains with escorts from the Railways Police, district police, and other law enforcement agencies. Around 400 Railways policemen have been deployed for the security of the pilgrims.
Earlier in March, over 150,000 pilgrims were expected to attend the largest Hindu pilgrimage in Pakistan. It was an annual festival at the cave temple of Hinglaj Mata in Balochistan, which was held after a gap of two years due to the coronavirus pandemic. Pilgrims arrived from all over Pakistan, adorned in decorative red and gold headscarves and saffron headbands
Read More: This Is How Pakistan Has Proudly Protected Its Non-Muslim Heritage Sites Since Inception
What do you think of this story? Let us know in the comments section below.