Ushna Raees, 3rd year architecture student of Indus Valley School of Art and Architecture, Karachi, Pakistan wins the ARCASIA Student Competition 2015. Natthavat Kamronrittison of Silpakorn University, Thailand & Pratik Lohani of Kathmandu Engineering College, Nepal bagged 2nd and 3rd position respectively.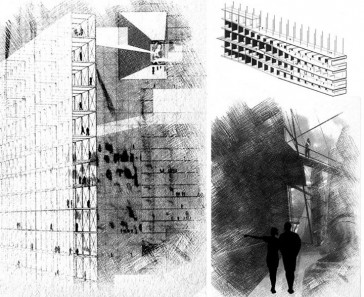 Ushna Raees's prize winning entry – Concept: Scaffolding
The ARCASIA (Architects Regional Council Asia) Students Architectural Design Competition was organized by The Association of Siamese Architects (ASA). The Competition invited all 3rd and 4th year students of architecture institutions around the globe (accredited / recognized by the respective institutes of architects in the ARCASIA countries). The main aim of the competition was to provide a platform to students from ARCASIA countries to participate in ARCASIA activities.
METAMORPHOSIS : ARCASIA STUDENT COMPETITON 2015 result is announced. Congratulations to the winner Ushna Raees from…

Posted by Arcasia on Thursday, October 1, 2015
The three winners will be invited to ARCASIA Forum in Ayutthaya, Thailand (13th -15th November) to attend the award ceremony and other ARCASIA Forum activities.
Congratulations, Ushna! Keep making us proud!