Believe it or not – the royal wedding made everyone miss the love they never even had. Everything about the royal wedding was beautiful. From breaking the traditions to the simplicity they adored and of course, the couple's love story – people all over the world were talking about the royal wedding of Prince Harry and Meghan Markle.
Pakistanis were pretty involved in the wedding too and why not? We are all suckers for the celebration and the union of love, isn't that right?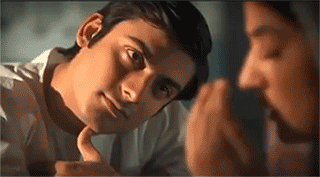 So anyway, moving past the point, last year in Pakistan another extravagant wedding took place. The "it-couple" Farhan Saeed and Urwa Hocane tied their knot in full celebrations as well.
For a while, the couple became one of the most talked about the duo in the entertainment buzz because of their wedding and the celebration.
While Reminiscing about her Wedding, Urwa Hocane Made a Comparison Pakistanis Thought Was Way too Extra!
In a post shared on Facebook, Urwa Hocane made a collage of "similar" moments shared in both, her wedding and the royal wedding.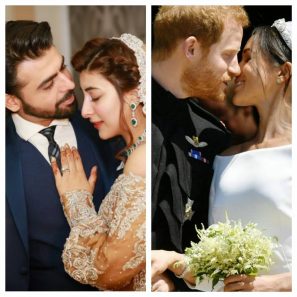 And Here's More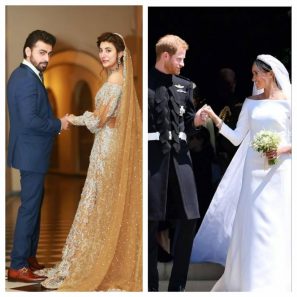 And Here's the Caption She Posted with the Pictures:
She is right tho – her wedding did trend on all platforms and Pakistanis were pretty hooked to their celebrations too.
Pakistanis Were Shocked to See the Sort of Comparison Urwa Had Made
when urwa hocane turns urwa cocaine?#RoyalWeding pic.twitter.com/6zjFNXaGCT

— Khattti_meethi_baatein? (@Khatimethibat) May 20, 2018
So Urwa Hocane compared her wedding to the #RoyalWedding claiming it trended like wildfire much like their own in 2016. I'd like to waste this tweet on her.

Behold! The Palace of Chichawatni presents the Duke and Duchess of Tando Adam pic.twitter.com/RGB3UY1fTg

— Myra Zafar (@MyraZafar) May 21, 2018
And the Comments on her Post Couldn't Get Any Worse…
Okay…well…LOL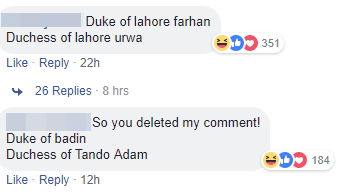 D33p Analysis Bro…

Oopss…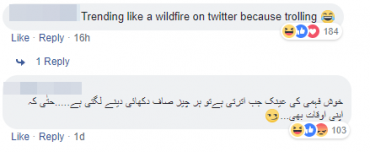 Okay this IS Funny!

Among All the Hate Urwa Was Getting, One Comment Made a Lot of Sense

And the Admin of Urwa's Page Again Made a Comment After All the Hate it Received
Maybe people need to be easy with the trolls and everything…it was a normal post but if someone from your circle would've done the same, you'd be commenting "cute" and other chummy stuff.
Let people enjoy their love, c'mon!