In response to the two owners of the high-end eatery 'Cannoli Café Soul' of Islamabad who humiliated their employee for his failure to speak English, an event has been arranged. To protest against the Eurocentric ladies, an Urdu Mushaira (a poetry recital) is to be held outside the notorious restaurant Cannoli Café Soul today.
Islamabad's restaurant has been under fire after an appalling video went viral on social media. In the video, the women condescendingly ask the manager Awais Altaf to speak a line or two in English. More so, he manages to respond but only for the women to mock and humiliate him for his 'broken language'.
The women – who proudly introduced themselves as Uzma and Dia – can be seen making classist remarks towards their manager Awais, who apparently has been working for them for the last nine years. On the other hand, the manager may not know English very well, but he certainly displayed more manners, politeness, and humility than those women.
Pakistanis are having none of it. The event organizers invite the citizens to participate in an Urdu Mushaira outside Cannoli Café Soul where the unfortunate incident took place — in Islamabad today (January 23).
Check it out!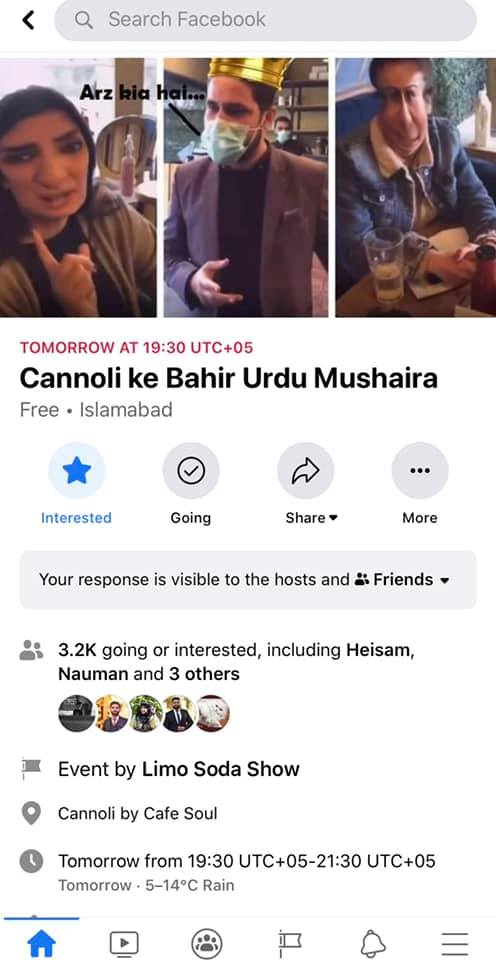 The event's guidelines include
"IMPORTANT ANNOUNCEMENTZ:
All Shayrs has 2 b in Punjabi or Urdu.
Most criative shayar wins Jalahowapenus BURGER
NO gup shup or banter against restoraan ownrse
Siraikiz NOT allowedz
Free entries 4 beeconhoes studantz?!
NO Ahmed Faraz sasti shayri
Studie whole Wren nd Martin English graamer bookz for suprise english quiz
Alcohol, Drugs and JF-17 Thunder Naswar is strcitly prohitbited. (only for sale incide restoraan)"
(Note: Pliss, don't mind the deliberate grammar mistakes in the language. LOL!)
Earlier, Shaniera Akram shared her two cents on the matter and slammed the owners for their insensitivity and inhumane behavior towards their manager. In addition, she spoke up about the familiarity of being 'put on the spot to speak another language'. She also challenged them for an 'English' competition.
Subsequent to facing a crapload of backlash, the café owners shared a statement on Instagram defending themselves. However, things did not cool down after their tone-deaf apology. Also, mind you, the number of grammatical errors made by these so-called English experts in their apology letter is just so ironic!
And, the merciless trolling continues…
Meanwhile, people are trying to reach out to the manager in order to help him get out of his toxic workplace, and find a new job. In addition to this, many job offers have been pouring in for the victim.
The social stigma attached with the limited Pakistani population that had the privilege of attending English medium schools continues taking pride in the language which is not even theirs. So, will you be attending the event?
What do you think of this story? Let us know in the comments section below.