Despite an alarming surge in Covid-19 cases in the current second wave, and the emergence of the new coronavirus variant in the country, some universities are adamant to take exams on campus and put the lives of their students and teachers at risk. Air and Jinnah university has been refusing to follow any SOPs and conduct exams on campus, Why? What is the urgency?
Earlier, Sindh education minister Saeed Ghani had said that after evaluating the coronavirus situation, it did not seem possible that educational institutions would reopen in January 2021. Meanwhile, a few universities in Pakistan take the decision into their own hands and urge students to appear for exams in person.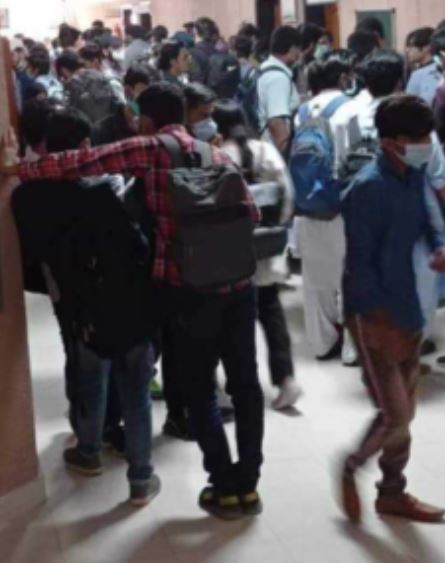 Is the pandemic over? Certainly not. While schools and colleges across the country are adhering to the guidelines of the government, universities have blatantly decided not to comply with government regulations.
When the educational system switched to the virtual form owing to the global pandemic, many universities not only increased the pressure from introducing different illogical policies but also expected a lump sum amount in return too regardless of conducting online classes.
As of now, they continue giving students a hard time by going against the government's orders. A couple of universities have decided to reopen amidst the surging coronavirus cases.
Yesterday, we learned about the Foundation for Advancement of Science and Technology (FAST) University's decision to open its Karachi and Lahore campus from January 11th. However, turns out, it is not the only one. Air University in Islamabad, and Jinnah Sindh Medical university and Hospital are also to conduct exams on campus refusing to follow SOPs.
Blatant violation of the government's order
Do the lives of students not matter? These universities have clearly not thought through the consequences of such irresponsible decisions. Do they not see the devastating impact it would have on the lives of students?
According to the details, these universities are to conduct examinations from January 14th on campus. The management must look into it. More so, these universities need to realize that following COVID-19 standard operating procedure (SOPs) and the government's order is way more important than any exam.
It is pertinent to mention that even earlier when certain educational institutions opened amidst the pandemic, none were seen following COVID-19 SOPs. In fact, a clear violation of the SOPs order was seen back then with no social distancing.
It is essential that all educational institutes across Pakistan comply with the government regulations for the COVID-19 pandemic. PM Imran Khan has also urged the nation to strictly follow COVID-19 SOPs. Not only is Pakistan's second wave of infections is increasing significantly but the new variant has also surfaced.
What do you think of this story? Let us know in the comments section below.