Walking down the memory lane, who knew Pakistanis would witness the facilities of convenient cab services in their own country? While public transportation means in Pakistan are largely used, nobody ever thought of having cab services that could ease our daily drives to universities and workplaces.
By now, Pakistanis are well-aware of cab service Careem. With the promising ease they have offered to students and other professionals in Pakistanis, Careem is a life-savior for many. However, things are never too plain and simple in Pakistan, right?
Government Decided To Ban Careem And Other Cab Services In Pakistan
Hell broke lose on Pakistanis when Punjab government decided to impose ban on Careem and other cab-hailing services operating in Pakistan. Allegedly claiming to be illegal, the ban was first imposed in Punjab.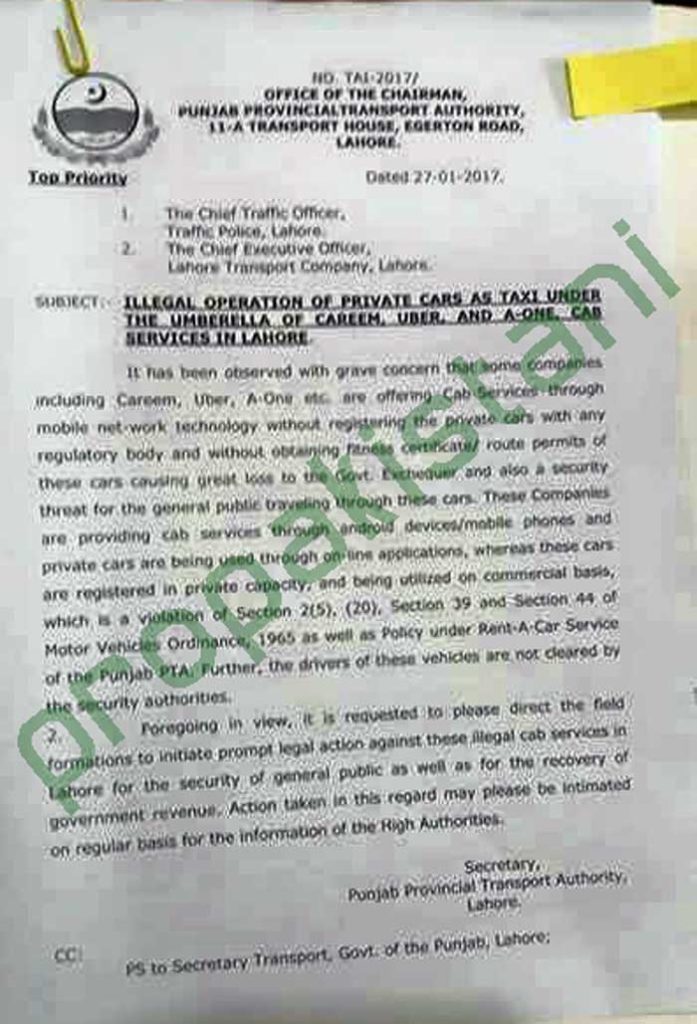 Later in that afternoon, Karachi government followed the same path, putting a ban on Careem in Karachi.
While the announcements were floating everywhere, Pakistanis were pretty furious on these absurd steps by the government.
Bik Hee Gai Hai
Uber and Careem declared illegal in Punjab. That is one of those news when you feel the Aunty was right – YEH BIK GYI HA GORMINT.

— Mazher Arshad (@MazherArshad) January 31, 2017
I Can Vouch For This Myself
And yes I'll play the womancard here-Do they realise how Uber/Careem ve revolutionised lives of countless women by providing safe transport?

— Maria Memon (@Maria_Memon) January 31, 2017
LOOOOL
#Careem and #Uber banned because their billboards did not have gigantic pictures of Shahbaz Sharif on them.

— Sheikh Fahad (@sheikhfahadsays) January 31, 2017
Yep Yep
Apparently these buses have cleared the fitness & safety test but Uber & Careem are illegal & banned. pic.twitter.com/aMDHOgvZvN

— Osama. (@ashaqeens) January 31, 2017
Conclusively, the reason behind this ban was that the cab services didn't meet various requirements of the government. Without realizing how beneficial Careem is and how cheap, affordable rides they offer to the consumers, the government did what they always do. However, all of this didn't end here, folks. While the targeted cab-hailing services are still operating in Pakistan, Careem decided to play this fiasco in their own way.
#GoCareemGo
The usual marketing trends prevailing in the business world highlight on the flattering and positive side of the brand. Careem however, has proved how badass they are! Showing how extremely affordable they are, they went the rebellious way and made tagline of "Go Careem Go – Itni Saasti Savaree Nahi Chalegi."
Pakistanis loved how rebellious this marketing gimmick by Careem is:
LOVE THIS!
unsent texts // #GoCareemGo version ✨ pic.twitter.com/Nom9IsnP3u

— Noor Unnahar (@Noor_Unnahar) February 15, 2017
LOLOLOLOLOLOL
President Mamnoon Hussain just got his license…

annnnd that escalated quickly ????????????#GoCareemGo pic.twitter.com/A0jlqNTLLL

— Moochar (@AsliBinLaden) February 16, 2017
Absolutely!
Saw these boards in #Islamabad /pindi. Such impressive tagline with clear message to *coughs.. itni sasti savaree nahi chalegi ???? #GoCareemGo pic.twitter.com/drwvA15RmL

— Nabeha Latif (@Nabehal) February 16, 2017
Smart, Rebellious and Badass Too!
I've been spotting #GoCareemGo billboards like these around the city. Smart advertising, @CareemPAK! pic.twitter.com/EeXqxyH8Yh

— Bajwa (@MaryamTariqB) February 16, 2017
Also, THIS!
I haven't met a single captain who is unhappy with the Careem.#GoCareemGo

— Arnold ShalwarNikker (@DaPakiGuy) February 16, 2017
Yeppp
not to break others hearts or something but I LOVE CAREEM AND THEIR MARKETING thx #gocareemgo pic.twitter.com/4ZpnzWeSsi

— Areeba Siddique (@areebasiddique) February 16, 2017
Whole New Level!!
Level of Sarcasm/Brutality/and authenticity just taken next level! Brilliant!#GoCareemGo ????????✌ pic.twitter.com/7wsnFO2bCW

— DuaaTM • (@PeculiarDTM) February 13, 2017
In terms of marketing, Careem is literally slaying! And in terms of services, all we can say is that the ease they provide to people especially to girls is something to appreciate. But then again, 'they' don't really care about it, do it? Go Careem Go!
Read Also: Foodies, Careem Just Launched Its Food Delivery Services In Karachi!