Pakistani vloggers are doing great things for the country, especially for its tourism. We can't deny that Ukhano vlogs have an influence on the youth more than anything else. If a blogger is doing a challenge or visiting a place everyone becomes eager to do the same. That's been a culture in the west for ages but it has traveled to Pakistan too a few years back.
Ukhano YouTube Travel Spree With Eva Zu Beck
So recently we saw Ukhano vlogs the famous YouTuber, on a traveling spree with Eva Zu Beck who is also a YouTuber from Poland. Ukhano or Umar Khan is one of the Pakistani vloggers who are the youth's favorite nowadays.  He has been making travel vlogs for over a year and Pakistanis love for him has been constantly growing strong.
Eva Zu Beck has been promoting tourism in Pakistan by exploring undiscovered beauties of the country. The whole nation has been lauding her efforts every time she expresses her love for Pakistan's gifted beauty. Be it the people or landscapes.
This time the collaboration between both of these famous vloggers caught more attention because the traveling spree involved TREKKING ON K2! The second highest mountain after Mount Everest. Isn't that the coolest thing for a vlogger to do? The whole nation was excited to see when would he finally reach K2.
Also Read: Best Travel Vloggers In 2018 Who Promoted Pakistan's Tourism!
It was a really long journey of climbing mountains, constant walking, and extreme cold. However, Ukhano vlogs kept us all updated via his Instagram stories. The stories were running a count on the number of days he is spending on the trek. Well, it finally came to an end today with 6 days of constant trekking.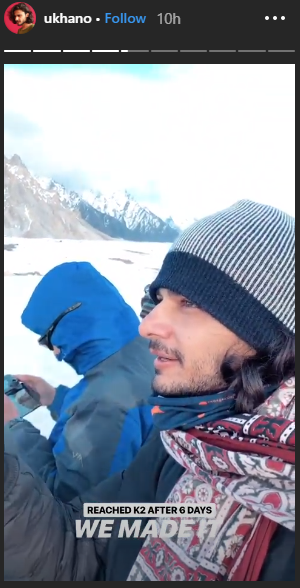 His Trekking Experience
He has been sharing little details of the trekking like when a local was trekking in a chappal. While Ukhano and his team were wearing boots and were all layered with clothes. The man was also carrying their luggage wearing simple shalwar kameez. It was evident that trekking is no big deal for the locals.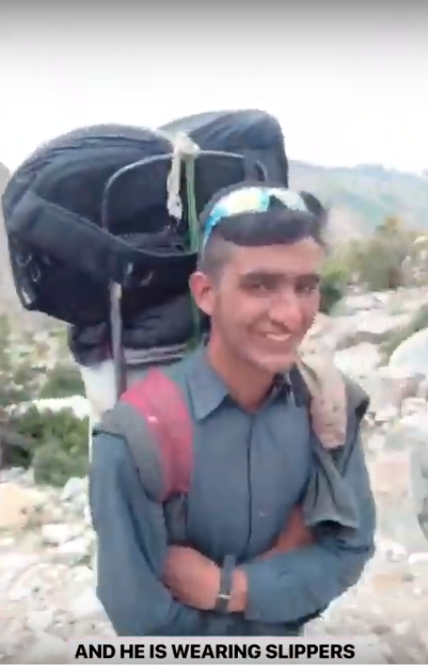 The whole path to the top was rocky and narrow. However, the vloggers were still motivated and kept on going. They stayed in camps and explored the beautiful landscapes on their way to the destination.
Ukhano vlogs also mentioned in one of his stories that his left knee was fatigued and he wasn't sure if he could continue any further. But to our surprise, he made it past 6 days and at day 6 he was standing on K2.
His vlog will provide a good insight about trekking on K2. Because there is barely any content related to K2 on YouTube.
Also Read: OMG! You Can Have A Dreamy Destination Wedding In Pakistan And Totally Forget About Having To Travel Abroad!
He also met the Spider-man: Far From Home supervillain Jake Gyllenhaal on reaching K2 who was shooting for his upcoming movie. Now that's what you call a pleasant surprise.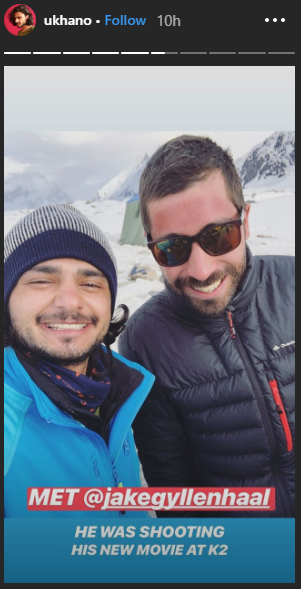 We hope, we get to see more of such amazing adventures by more vloggers like Ukhano. So we could virtually be a part of their journey and explore the beauty of Pakistan with them. Or maybe even get motivated enough to travel ourselves.
The government is predicting tourism to contribute ₨1 trillion by 2025. The efforts of the local and foreign vloggers could play a great role in achieving the target if they keep providing the world with such beautiful content about Pakistan.
What do you think about the impact of travel vlogs on Pakistan's tourism? Let us know in the comments.
Also Read: This Pakistani Travel Vlogger DJing At Nanga Parbat Is The Coolest Thing You'll See!!