Several integral institutions of Pakistan are currently under the grip of controversies and corruption. It is safe to say, that the educational sector wasn't spared either; playing with the future of millions of students.
The educational standard to date stays neglected and the quality of professors has plunged, leaving students distraught and often suicidal. Several top tier universities made it to the headlines but sadly for reasons that were not closely linked to achievements or breakthroughs of any kind; considering a large amount of talent existing in our country.
Who are to blame? The system? Management of these universities? What could be the root cause? These are the questions that need probing into by the concerned authorities.
This time, UET (University of Engineering and Technology) Lahore took center stage on social media as its management released a statement regarding gender segregation in their cafeteria, sparking outrage.
A ban was imposed on girls and boys sitting together in cafeterias and according to this official notice, a 'suitable partition' was to be made to segregate them. Until then, the canteen was to remain closed.
In a world where countries are making historic scientific breakthroughs, Pakistan is busy focusing on things that are not even a problem in the first place. The country is in shambles; the infrastructure of not just the cities per se, but that of every possible organization from law and order agencies to educational institutions; everything is in dire need of improvement.
This ban infuriated everyone and social media quickly got into action.
Darul uloom e engineering lahore. pic.twitter.com/UChbyQBh2G

— Awais Masood (@AwaisMasood) September 7, 2019
It is being claimed that the notice was withdrawn only after everyone showed their disapproval on social media. A great question was raised asking why the universities do not aim towards preparing their students for the real practical world and try to socially handicap them instead?
Why don't these universities prepare their students for the actual world which is out there!? There is NO segregation in jobs/practical life, so why stunt their growth and socially handicap them? If anything, it is such a counterproductive step. Focus on education ffs.

— Usman (@PseudoPsychotic) September 9, 2019
Another points out the involvement of male egos behind such a ridiculous measure.
"How to arrange a canteen seating plan" – courtesy of VC UET Lahore, who probably thinks gender segregation will soothe his male ego!

Why oh why oh why do we have nutty professors? https://t.co/HGkzSrbixU

— Faria Salman (@FariaSalman1) September 9, 2019
Ignorance and negligence; both have become the norm.
Ignorance at its best – UET Lahore

Having such radical frame of mind we really don't need enemies from outside.

This reminds me of Jamiat in Punjab Uni who allows only Nazim and Nazima to interact with each other with a sisterly view but they often tie their knot after studies https://t.co/2hhcMsZU2K

— Saqib Raja (@Quaidian4ever) September 8, 2019
Not all were in against the ban and supported it. Considering a vast majority of this country is conservative, it was expected to have a few supporters that agree with the idea of segregation to the point that one even suggested that there should be separate campuses even.
This should be done all over the country many ppl dont let their daughters goto unis bcz of co-edu although thy want their daughters to be educated. Govt shld make separte unis for women & run by women mangmt. Appreciate UET lahore for this v shld start a trend this good step.

— Engr. Sajjad (@bakbarkhel_) September 9, 2019
The notice has been withdrawn by the management.
A new letter has been issued by UET Lahore that says the notice was issued without the approval or knowledge of the Vice-Chancellor and hence, is invalid.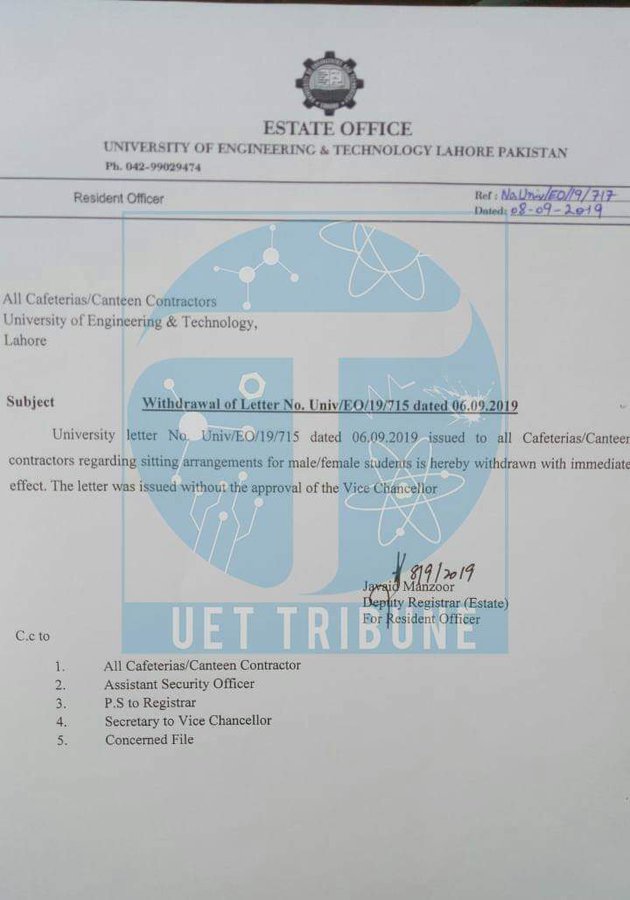 Via TwitterThis was definitely a good call by the management of one of the best universities of Pakistan. However, it definitely was shocking to see the matters they chose to take action against instead of focusing on the various serious issues related to the standard of education they are providing, the mental health of the students and countless more plaguing the universities of Pakistan.
Have anything to add to the story? Let us know in the comment section below!