UBL has emerged as a frontrunner in digital banking innovation, setting new benchmarks within the Pakistani banking industry. Driven by the belief in technology's transformative potential, UBL has made substantial investments to develop cutting-edge digital solutions. With an unwavering commitment to meeting the evolving needs of their clients in the digital era, UBL strives to make banking accessible, convenient, and secure for individuals across the nation, irrespective of their geographic location or financial circumstances. By harnessing the power of digital innovation, UBL continues to spearhead the future of banking, revolutionizing the industry.

Some of the exceptional services that UBL provides to its esteemed customers include UBL Mobile Banking, Aas Pas feature, Metaverse, Digital Cheque facility, Investment opportunities, UBL Asaan Digital Account for simplified banking, and top-notch customer care. These offerings demonstrate UBL's dedication to ensuring a seamless banking experience that caters to the unique needs of its valuable clientele.
UBL: Setting the Standard with Award-Winning Digital Solutions
UBL's unwavering dedication to digital innovation has earned it esteemed recognition in the industry. For three consecutive years, Asiamoney has acknowledged UBL as the 'Best Bank for Digital Solutions' in Pakistan, underscoring its commitment to excellence. In addition, Euromoney has acclaimed UBL as the "Market Leader of Digital Banking" in Pakistan, honoring its exceptional achievements in digital innovation. These prestigious accolades are a testament to UBL's relentless pursuit of delivering cutting-edge digital solutions that redefine industry benchmarks. With a proven track record of excellence, UBL continues to shape a progressive future through its award-winning digital offerings.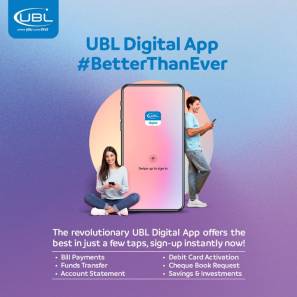 UBL Mobile Banking: Banking Made Easy Anywhere, Anytime
UBL leads the digital banking revolution with its advanced mobile banking app, redefining convenience in banking. The innovative app grants customers effortless access to their accounts, enabling seamless payments and fund transfers directly from their smartphones, without limitations of time or location. With this cutting-edge tool, managing finances on the go becomes effortless, eliminating the need for physical visits to bank branches. UBL Mobile Banking empowers customers with unparalleled convenience and complete control over their financial matters, enhancing their banking experience in the digital age.
User-Friendly Navigation: Clean and easy-to-use interface with a well-organized layout for seamless app navigation. The bottom navigation bar grants quick access to key features, including account information, transactions, and bill payments.
Consistent Design Language: Minimalist design approach ensures a clutter-free user experience. Focuses on delivering relevant information and features while avoiding unnecessary distractions.
Personalization: Customize the app's interface with various themes and color schemes. Personalized recommendations and insights based on transaction history enhance user engagement and satisfaction. UBL Digital App offers an intuitive interface, consistent design, and personalized experience.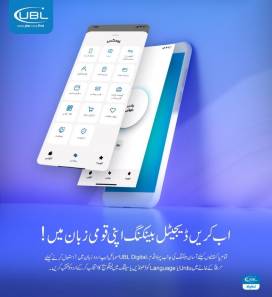 UBL Digital App: Enhancing User Experience with Urdu Language Inclusion
UBL Digital App recognizes the importance of language diversity and inclusivity by introducing Urdu language support, catering to Urdu-speaking users who prefer their native language. Users can seamlessly switch between English and Urdu language modes for a personalized experience.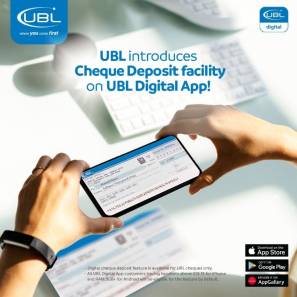 Digital Cheque Deposit: Redefining Banking Convenience
UBL introduces a groundbreaking digital innovation with a digital cheque deposit feature, revolutionizing banking convenience. Customers can now deposit UBL to UBL cheques from the comfort of their own homes, eliminating the need for physical visits to bank branches. This streamlined process expedites cheque clearance, making banking more accessible and convenient for customers. UBL continues to reshape the future of banking with its innovative digital solutions.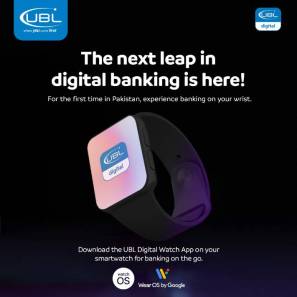 App Watch: Take Charge of Your App Usage with UBL
UBL introduces App Watch, an empowering feature integrated into their mobile app, giving users complete control over their app usage. With App Watch, customers can conveniently perform financial activities, including fund transfers and balance checks, on the go. This innovative solution allows users to effectively manage their app usage and gain a comprehensive view of their finances. UBL remains committed to delivering cutting-edge solutions that enhance user convenience and financial management capabilities.

Aas Paas: Unlock Exclusive Discounts and Deals with UBL
UBL is dedicated to enhancing the customer experience, and they proudly present Aas Paas, an exclusive feature that brings a plethora of discounts and deals to customers' fingertips. Through Aas Paas, users can conveniently access exclusive offers from various outlets, including restaurants and clothing stores, all within their mobile app. This seamless integration of savings elevates the shopping and dining experiences, enriching the digital banking journey for valued customers. UBL is committed to providing unmatched benefits and ensuring a rewarding banking experience.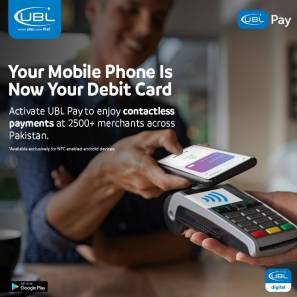 UBL Pay: Redefining Mobile Payments and Transactions
UBL Pay revolutionizes mobile payments and financial transactions, eliminating the reliance on physical cash or cards. With a simple tap using the NFC feature on smartphones, users can effortlessly complete transactions without app logins. This seamless and secure experience empowers users to manage their finances on the go and embrace the advantages of a cashless society. UBL Pay leads the way in transforming payment methods, offering users control and efficiency in their financial endeavors. Step into the future of mobile payments with UBL Pay.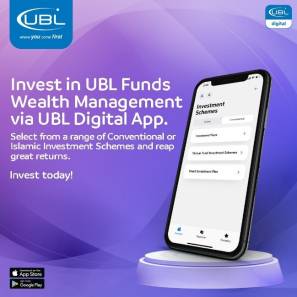 Savings and Investments: UBL Empowers Your Wealth Growth
UBL recognizes the significance of financial management and wealth growth, providing a comprehensive range of solutions to meet customer needs. Through the mobile app, customers can conveniently access options such as mutual funds and term deposits, enabling them to maximize their returns. UBL is committed to simplifying financial growth for our valued customers, offering accessible and tailored savings and investment solutions. Take charge of your financial future with UBL's wealth-building offerings.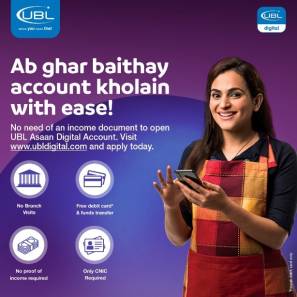 UBL Asaan Digital Account: Simplifying Account Opening for Ease and Accessibility

UBL understands the significance of accessibility and convenience in banking. The UBL Asaan Digital Account provides a simplified solution designed to streamline the account opening process. With minimal paperwork and zero fees or charges, customers can effortlessly open a basic account, making it especially beneficial for those seeking a hassle-free banking experience or facing limited access to traditional banking services. Embrace the ease of banking with the UBL Asaan Digital Account.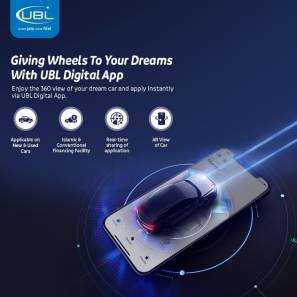 Augmented Reality Auto Loan: Discover Your Dream Car in Virtual 3D
UBL Digital App presents an innovative augmented reality Auto Loan feature, transforming the car-buying experience. With this cutting-edge functionality, users can explore and visualize different car models and features in a virtual 3D environment. This immersive experience empowers informed decision-making by providing a realistic and interactive preview before making a purchase. Furthermore, the feature offers real-time financing information and estimated monthly payments, simplifying the car-buying process. Unveil your dream car like never before with UBL's augmented reality auto loan feature.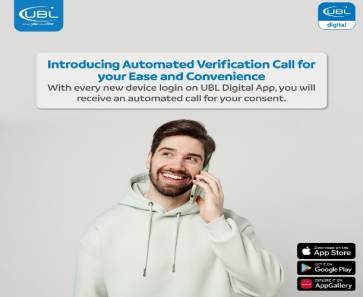 UBL Shaping the Future of Digital Banking in Pakistan
UBL is at the forefront of a digital banking revolution, introducing cutting-edge digital products that enhance accessibility, convenience, and security in banking. As a pioneer in the industry, UBL is proud to drive the future of digital banking, setting new standards and delivering innovative solutions.
These examples offer a glimpse into UBL's extensive portfolio of digital solutions. They take pride in their position as a frontrunner in Pakistan's digital banking landscape, continuously pushing boundaries to meet the evolving needs of their customers. To learn more about UBL and its comprehensive suite of digital banking solutions, visit https://www.ubldigital.com/. Stay updated by following them on social media.