I personally keep a keen interest in experiences that hold a potential of attending my sense of adventure. These experiences can simply come in any form of exploration. When something is great, it speaks of a potential experience that boasts of an adventure for those who are lucky enough to live through it.
Many buildings stand tall in Karachi's skyline which we have seen built from ground zero in the last 10 years. These landmarks indicate about Karachi being the economic hub of Pakistan and where opportunities harbor for people in abundance.
High altitude landmarks are the norm today. The one's to stand out reflect a contemporary style statement and successful strategy behind it. The United Bank Limited's head office in the I.I. Chundrigar road, Karachi is definitely one.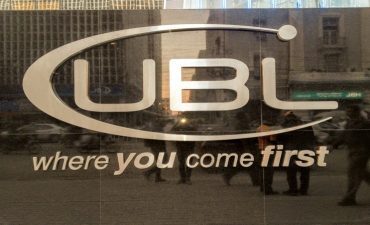 Kissing the skyline of Karachi in style, it is a structure to simply adore!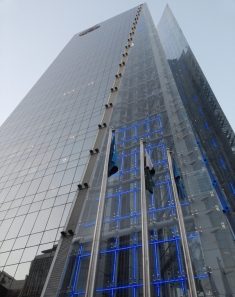 United Bank Limited was kind and generous enough to call us up for a tour of their prestigious head office. We took pleasure and sought immense excitement in exploring the mega structure that already holds a significant reputation.
In fact, it trended for days on Twitter after its inauguration on 19th of December, 2016.
Ever since people of Karachi contained a keen desire to visit this structure for once and tour it. We were fortunate enough to live the experience.
We were accompanied by Muhammad Farooq Khan (Manager – Website & Intranet) and Fatima Siddiqui (Assistant Manager – Corporate Affairs) who led the tour and guided us along.
What is the idea behind such a mesmerizing structure?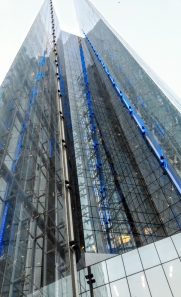 Imagine you did not already search for what the head offices of some of the mammoth companies like Apple and Google look like. One thing is certain, you would never imagine that both the mammoth companies would operate from a middling hub that it call its head offices. You will definitely wonder of a grand structure to harbor it all.
One thing is certain; you would never imagine that both the mammoth companies would operate from a middling hub that it call its head offices. You will definitely imagine a grand structure to harbor it all.
So, what should come to your mind when you think of the United Bank Limited of Pakistan?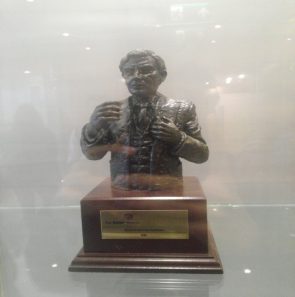 Indeed, UBL is one of the leading banks in Pakistan. Its reputation and benchmark of service have granted it a reliable notion in the hearts of customers. The landmark speaks well about its prestige and success it has accumulated along the years of operation.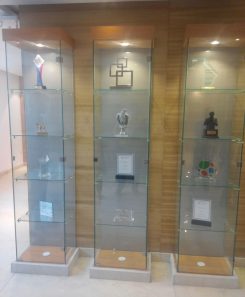 It is built around the idea that boasts its prestige. It stands tall in the skyline and when you look at it, the impulse showers on you quickly of the years and years of hard work, resilience and commitment each and every member of staff in the past and present has put through in allotting the bank the status of what it has today.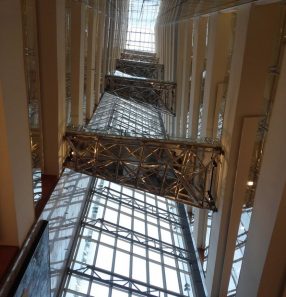 The iconic landmark is built around the strategy to captivate customers and clients, compelling them to scramble towards believing the prowess of UBL.
UBL has managed to communicate its status and credibility, not with words, but with the notion that their head office screams about.
Quick facts and features of the building
Let's round-up the UBL head office in some interesting facts and features of it:
22-storey glass structure

300 feet in height

2 towers (North & South), internally connected with 5 bridges

5 basements

First building in Pakistan to have Animation Lights (imported from Turkey) on its facelift

8 elevators *(including a super fast, panoramic elevator)

Library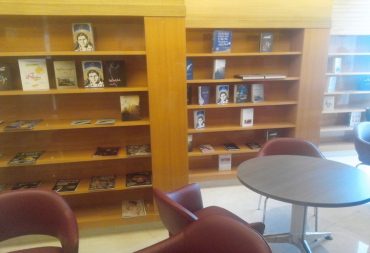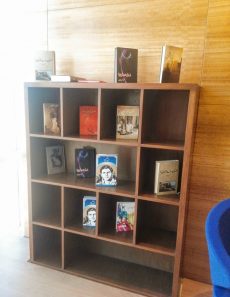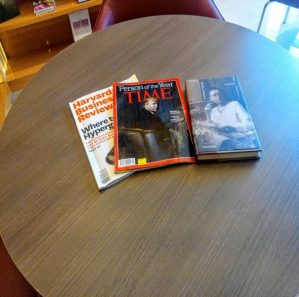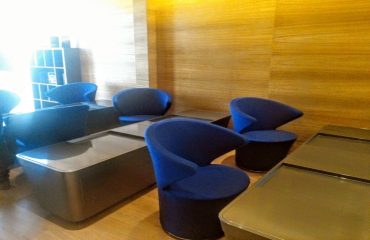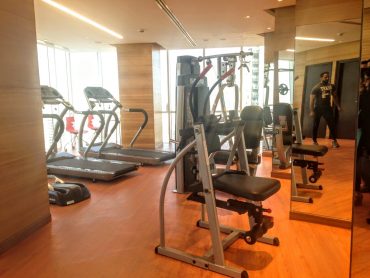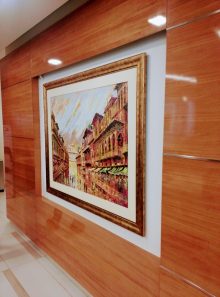 Cafeteria accommodating over 180 people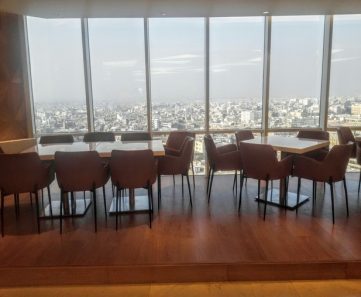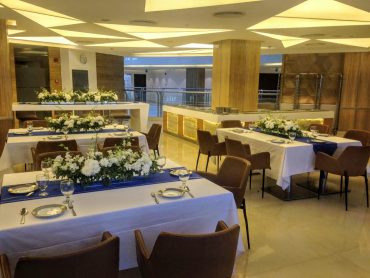 *Panoramic view from the ultra fast elevator
Takes you from ground to 17th floor in a matter of seconds…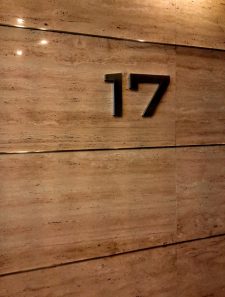 Interesting add-ons: gym, cafeteria, and the library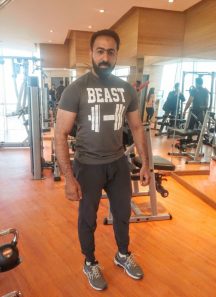 Meet Jahangir, the gym trainer at the UBL head office. He incorporates his genius in training the bank staff who are always looking to fulfill their fitness objectives. He makes sure the employees remain immaculately fit and healthy.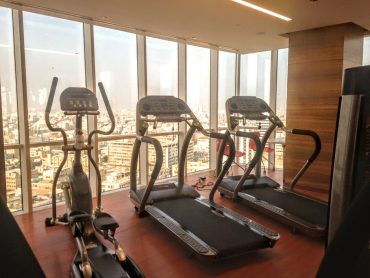 Healthy employees are happy employees; UBL realizes it and considers it liable not to compromise the work satisfaction of its employees.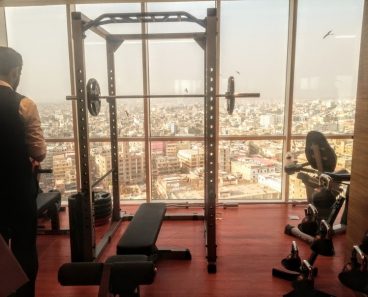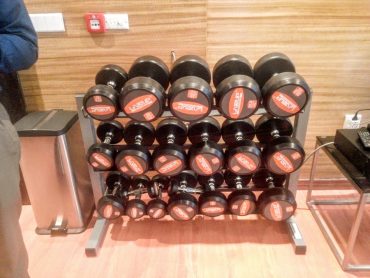 What is it like to work there?
Every morning you wake up, make your way through the town and reach your workplace that looks like this: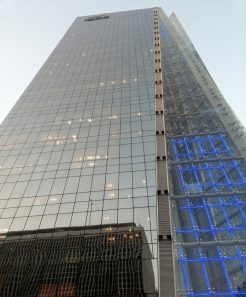 You enter the premises, make your way around and are constantly peppered with the unique features and environment this building offers.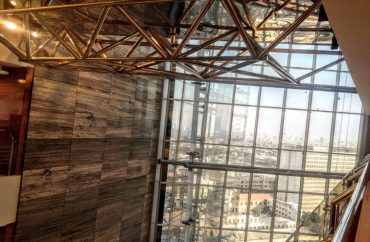 Being a glass structure, it redefines transparency to its utmost extent. Allows sunlight; makes nature your part of the day. You are not carried away by the corporate environment, there is one world within that is always a part of you where ever your go.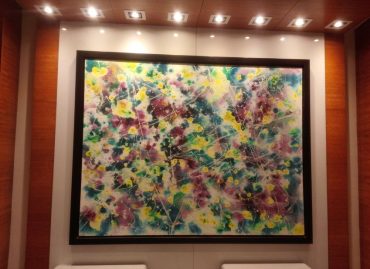 Iconic views always tease you. You cannot help but spellbind and experience the beautiful glimpses of sunset and the fascinating views from every floor.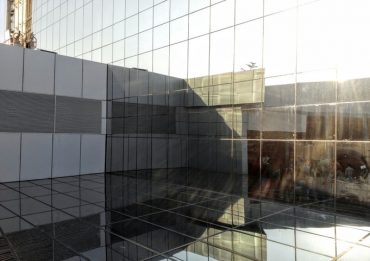 The catharsis and healthy nourishment your workplace brings you to neutralize the exhaustion of business and balancing out your energy is nothing like anything or anywhere in workplaces in Pakistan.
Views from the building
Watching the sunset is a treat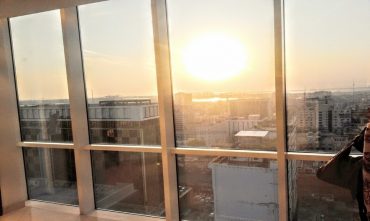 SERENE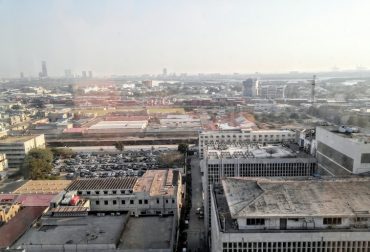 RELAXING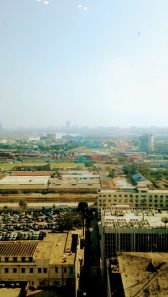 3 words to sum up our experience: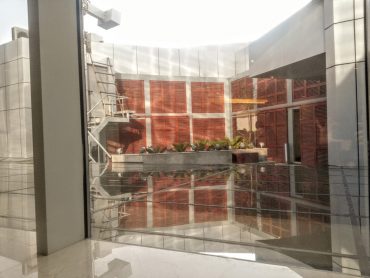 I'd say, "cathartic, overwhelming and tranquil".
We thank the United Bank Limited and its staff for considering us touring and having the slithering experience of their new head office. I would like to heap praise on the hospitality and cooperation of the bank. It was a memorable experience that led the opportunity to learn immensely.