The literary narrative as an art work central to our culture is definitely dying before our eyes. There is little we are doing anything about it in order to save it.
Pashtun culture is known well for its poetry and expressive writers who created the rich literature history of Pakistan before and after the sub-continent partition. However, it seems like not just the people of Peshawar, but even KPK has stopped valuing the importance of reading and continuing the legacy our forefathers created.
So apparently, bookstores are now closing down due to lack of business and costumers. Peshawar is home to one of country's rich literature and some finest authors and poets. The fall of literature age was expected since the start of digital age however; to see it happen before our eyes puts us all in shame.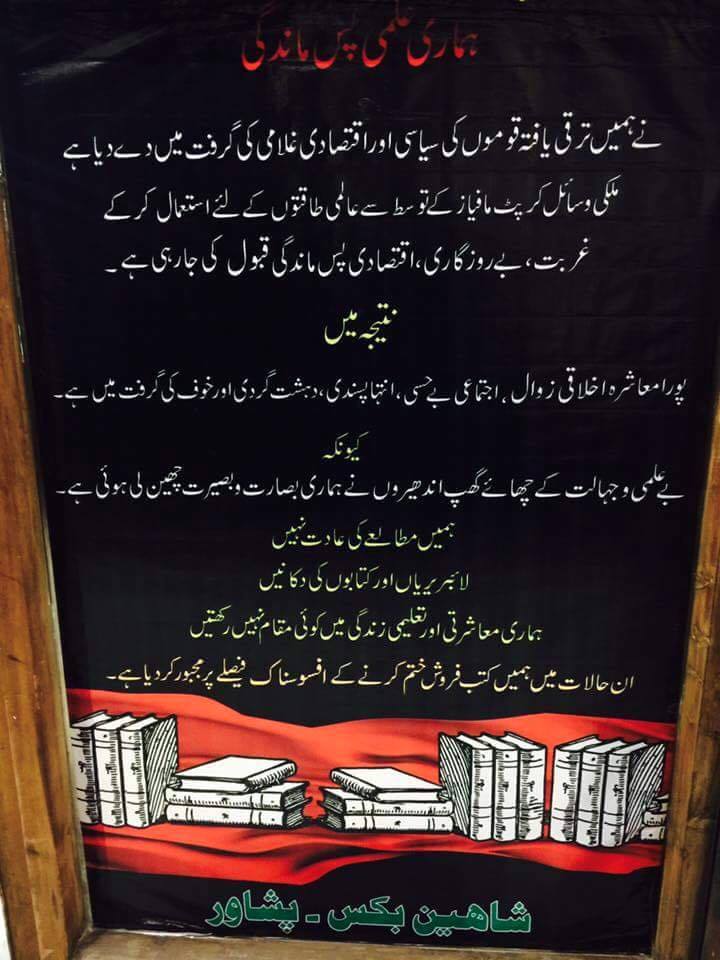 The 20th century poets expressed discrimination, freedom, ignorance and modernity of Pakistan that made the Pashto culture extremely rich and people from all around the world loved reading one of the rare languages.
Saeed Books also closed Peshawar.Depressing sight.Saeed Books was oldest book shop in city.No1 left in city to read? pic.twitter.com/lOmy3XeO4g

— Rauf Klasra (@KlasraRauf) August 25, 2016
It was already sad enough to see that the violence in the Pashtun-inhabited areas of Pakistan and in Afghanistan holds a significant impact on the social and cultural life of this race. The new terms and themes like drones, missiles and suicide attacks are now dominating the Pashto literature, especially in terms of poetry as a way to express the destructive nature of the operations.
Saeed Book Bank is among the largest bookstores in the country. With the main branch in Islamabad, it offers millions of books from all around the globe. Just walking inside one of its bookstores, you are hit with information and knowledge that no amount of web browsing may ever provide. It closed years ago due to family issues, which made Shaheen bookstore as the only bookstore to keep the legacy of literacy.
More bookshops closing down in KPK.
shdnt PTI govt guys visit shops&help shopkeepers from public taxes to continue? pic.twitter.com/bbxSxYbhA8

— Rauf Klasra (@KlasraRauf) August 25, 2016
Two bookshops closed down in Peshawar. Read what owner of one shop wrote at shop gate after closing it
Heartbreaking pic.twitter.com/0xz61gfyZx

— Rauf Klasra (@KlasraRauf) August 25, 2016
It is truly sad to see what's happening to Pakistan's rich culture that once we were proud to talk about. Our poets and writers were devoted their soul to produce material that was loved by the nation. Did we continue their legacy? I am afraid not.