People of Karachi have another thing coming after the heavy monsoon rains that rocked the city and created havoc. If you have water standing in your area or right in front of your house, then best to stay inside because two gigantic monsters are out there probably swimming their way from one area to another. A desi Crawl movie in the making? We hope not. But keep a look-out Karachites, you never know where they might poke their head out and attack!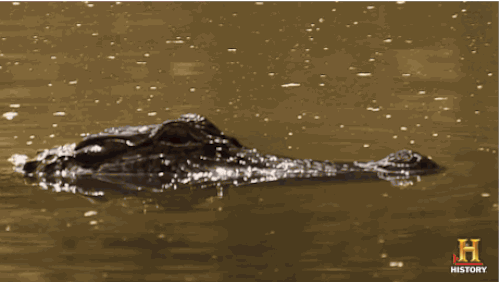 A total of seven of these crocodiles escaped a farmhouse in Steel Town after the wall confiding them broke down due to heavy rain. How convenient, but worry not as the management informed the police in time for the wildlife workers to come and recover five of them.
Unfortunately, the remaining two are on a run. The search for the two continues and they could be anywhere by now.
They See Us Rollin' They Screamin', We Be Coming At Them Wide And Hungry! 
YES, this is exactly what you should do if you spot one. Scream at the top of your lungs and RUN. RUN FOR YOUR LIFE! Although the city may not offer them much greenery to hide behind as they wait to attack an innocent civilian but Karachi has enough heaps of trash for them to easily disguise themselves reducing their visibility to the Karachi folk. Also, let us not forget the mega swamp Karachi has become since the past few days. Since they can survive easily on land as well being semi-aquatic, you need to keep one eye on the ground and the other on those large puddles.
Best Habitat For These Guys.
On a serious note, keep your children indoors and exercise maximum caution; especially in the night. We hope and pray that the authorities track these two crocodiles down as soon as possible before anyone is severely injured. Keep a lookout and report on sight!
Leave It To The Pakistanis To Find Humor In Every Situation. The Crowd Is Thrilled At The News! 
You sure buddy? You are not Imran Khan catching all the corrupt leaders. These are big crocs!

Rawr?

You never know! Pakistanis are very resourceful. Haha.

So that's it, folks! Keep your self safe and your children safer. Hopefully, these two adventurous crocs are traced and captured. Spread the word around. Much love!
Also Read: This Man From Balochistan Is On A Mission To Save Pakistan's National Animal 'Markhor' And The Govt Is Not Helping!
Have anything to add to the story? Let us know in the comments below!