Our society narrows down certain activities as to be conducted by men or women only. There was a time when a male fashion designer in Pakistan had to go through a lot of questions by the media and so forth. Additionally, male students who opt for artistic fields are also questioned as these fields are considered to be 'feminine'in our society.
Regardless of seeing the jewelry designing industry filled with numerous male names, there are people who believe it is not a manly profession. Given so, Ahmed Shoaib and Danish Naveed are doing whatever it takes to showcase their talent to the world.
At just the age of 21, these two undergraduates decided to peruse something else alongside their education.  Keeping their dreams ahead of the societal norms, the two have now started their own label called Kohar.
When Parhlo got in touch with the men behind Kohar, here's what they had to say regarding the stereotypes created by the society:
"During the initial planning for the launch of our brand, we did face this question a lot of times from different media people. However, I failed to understand the logic behind this question. Keeping the fact in mind that all the workers in the jewelry field are men, so considering this the entire process was way easier for us if we were women.   As it is easier being men sitting in those markets for long hours and getting all our work done in front of us to ensure the quality of our product and to ensure that each and every stone used is of high quality. This way feel we wouldn't have been able to do if we were women.

Further, as far as the general public is concerned, we luckily did not have to face this problem and rather were supported by our families, some very known designers and friends."
"The idea of starting our own brand has a really interesting story behind it, the basic inspiration was the beautiful handcrafted family heirloom pieces we had," said Ahmed while narrating why they started Kohar. "The other motivation was to revive the old trend of handcrafted jewelry and to divert people from the trend of mass machine made jewelry and also to act as a support system for those talented karigars who had lost their work due to the fall in hand crafted jewellery demand. Secondly, our forever interest in history arts and culture helped us design pieces that would revive historical culture and be different to help act as USP for our product."
"Each and every piece of our collection is inspired by nature, history, and culture and we want to revive it by this mode of artistry."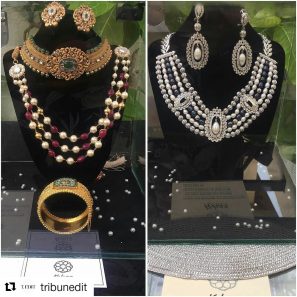 It is interesting how people from all walks of life are now putting their talent ahead of everything else, including stereotypes. Kohar is, indeed, an interesting foundation of jewelry works by two extremely creative men.