The hatred between Yasir Hussain and Turkish stars coming to Pakistan knows no bounds. In fact, Hussain, somehow made it his life mission to badmouth Turkish stars since the famous Turkish drama serial Diriliş: Ertuğrul started airing in Pakistan.
However, apart from Hussain, Zhalay Sarhadi and Shaan Shahid were also not happy with the international stars coming to Pakistan; but Hussain like always crossed a line when he referred to them as 'international garbage'.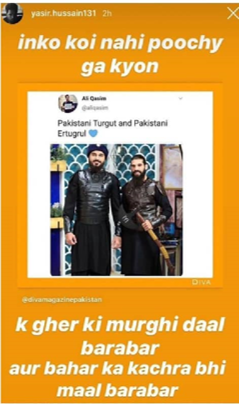 Although this isn't the first time Hussain has been harsh on social media, it seems the Twitterati have had enough! Hence, Hussain is now a top trending issue on social media and Twitterati is making sure to cancel him.
Many people on Twitter have already started to call him out for his racism and unethical attitude.
Some have even made fake accounts of Hussain, while some are calling him out on being unpopular and feeling insecure.
Trolls are not coming slow against Yasir Hussain!
In line with that, people are not so forgiving; in fact the trolls have reached a new level of harshness by the minute!
Hence, some people are using this opportunity to make memes about Hussain.
The trolls are getting harsher and cruel with the passage of time and we wonder will the Twitterati ever spare him?
Although it is to be noted that Hussain was also schooled by video jockey Anoushey Ashraf, right after his insensitive 'international garbage' comment.
People are becoming unforgivable by the minute. Some are saying that the reason why Hussain has shown so much hatred towards Ertugrul stars because he feels threatened.
All in all, we don't know when this banter is going to end! Even after taking back his words, it seems that this was the last straw. We wonder how Hussain can now redeem his image.
What do you think of the story? Tell us in the comments section below.