Sri Sri Ravi Shankar, of the Art of Living Foundation which focuses on  relieving  individual stress, societal problems, and violence, made several not-so-nice comments when discussing Malala Yousafzai's Nobel Prize win.
He was noted to have said to reporters, "Iss larki ne kuch bhi nahin kiya", and that the Nobel Prize had no value, which is why he rejected it in the past.
But apparently, since then, Sri Sri Ravi Shankar has changed his mind, saying he will accept the award if offered. 
But that didn't stop the twitter trolls from digging up some dirt on the Spiritual Guru!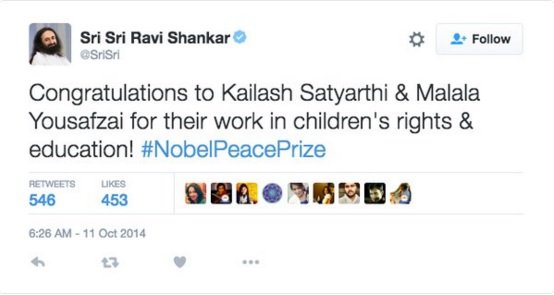 The users clapped back, calling him out on his statements!
Was Malala deserving of Nobel Peace Prize when Sri Square congratulated her?https://t.co/9tKQoUEt4t

— Against_Pseudos (@Against_Pseudos) May 4, 2016
With his jealousy for 18 yr old Malala, 59 yr old Sri Sri has once again proved: No amount of 'Art of Living' can make you a better person.

— Shirish Kunder (@ShirishKunder) May 3, 2016
Some people, however, were in agreement of the Guru's Statement
Totally Agree with @srisri on this..There r way many ppl in Pakistan who have gone thru worst at hands of terroristshttps://t.co/Cdc6ljmxWf

— Intolerant Indian (@ROFL_India) May 4, 2016
Either way, clearing this little misunderstanding will probably be in your best interest Sri Sri Sahib!