When it comes to the rights of the minorities, Pakistan isn't quite fulfilling in providing them. From the minorities of religion to the minorities of gender, we are not really kind when it comes to treating the minorities. The white part of Pakistan's flag signifies minorities, and yet we have forgotten about them.
While we blame the government body for not taking appropriate actions, perhaps the problem lies within. The society collectively doesn't stand strong enough for these minorities who hold basic rights in our country. What makes everything even worse is when public figures refuse to make any statement regarding the minorities. Stooping to the lowest, while these public figures don't fulfill their duties in this aspect, some of them use their issues to mock.
Something like this is what TV anchor and columnist Moeed Pirzada did on his Social Media account
The journalist, while mocking the male class who make fake IDs on Twitter using females used the image of the third gender, and made fun of their biological identity.
Here's what he tweeted
To all those men who assume fake female ID's on Twitter: Why so many of you want to be Hijra's or transvestites? 😂 pic.twitter.com/hvkig2ugFF

— Moeed Pirzada (@MoeedNj) July 13, 2017
To this tweet, given how this man holds a lot of importance in the political aspect of the television industry, Pakistanis were furious for all the right reasons. Using the 3rd gender as an insult to shame men is not acceptable!
Extremely Insulting
R u looking down upon transgender&thinking that a male is superior to trans?If yes u r sexist&need awareness&empathy. If no delete the tweet

— meena gabeena (@gabeeno) July 13, 2017
Absolutely
What a sexist little man you are! Using the third gender to shame men. Despicable! pic.twitter.com/2S8k6ViyfZ

— Sadaf Alvi (@TheGrumpyDoctor) July 13, 2017
Genuine
Sir aap genuine chootiyay hain ya jaan kay kartay hain? https://t.co/scbmzM6aZy

— Saad (@WingayDandd) July 13, 2017
Proof that Education doesn't Eradicate Immature thinking
This guy has done mbbs & even masters in media and internet regulations & he is on intenet passing derogatory remarks on transgenders. Smh https://t.co/Hs2BzeAWkl

— Waleed Nasir (@waleednasir00) July 13, 2017
Shameful!
Despicable!!! What is the matter with you? What is wrong with being bron a third gender? WHY use that gender as an insult? Apologise please

— Kamran (@KamranRafique) July 13, 2017
Ameen!
Despite all the filth that comes out of a man's mouth, there is always one that defines him. This is what defines @MoeedNj. Allah hidayat de https://t.co/bSa7TrcdWe

— Tony Khan (@anthonypermal) July 13, 2017
With the image and tweet up for almost a day, the very "respectful" anchor has still not removed it or issued an apology.
Now Let's Just Look at the 50 Year Old's Education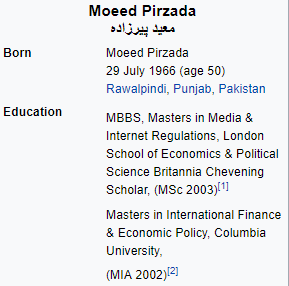 It is indeed despicable to see how the local public figures make such statements and think it is okay to mock something as sensitive as this particular manner. Given how these figures have more insight into what's happening in the country, instead of doing something productive, they do the polar opposite.
Moeed Pirzada, you need to make a public apology for you have not only stooped to the lowest bar but have also hurt the sentiments of the same class who does not even get the basic rights in the country.