India's atrocities in Kashmir have surpassed all limits of brutalities and human rights violations; killing and harassing citizens. Indian-occupied Kashmir has been a disputed territory for decades, where generations after generations fought for their freedom from the cruel grasp of India that denied them basic rights or treated them as equals.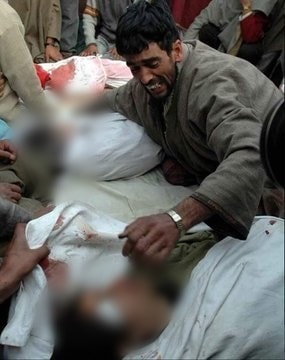 The tensions however escalated further recently when the Indian government deployed thousands of additional troops in the valley, shutting down schools and colleges, house-arrested prominent political leaders, canceled major Hindu pilgrimage to Kashmir, ordered tourists to evacuate immediately and suspend internet services including telephone networks.
This is Jammu.

Imagine #Kashmir right now. pic.twitter.com/dthMSNmknS

— Muzzammil Ayyub Thakur (@M_A_Thakur) August 5, 2019

Several anticipated the worse to happen to the innocent civilians considering the 30 years of violence suffered by the Kashmiris while many predicted the Indian authorities scrapping off Article 370 completely taking over the area by any means and so they did, including passing the decision to split the state into two Union Territories: Jammu and Kashmir with an Assembly and Ladakh without one.
"Your Democracy Is Dying"
"Darwaza Kholo, Hamm Urr To Nahi Jayenge, Tumhari Jamhuriat Ka Janaza Nikal Raha Ha" – Heart wrenching video of house arrested Senior Freedom Fighter of Kashmir Mr. Syed Ali Geelani. A big Shame on India!#Kashmir #IndoPak #TimesOfKarachi

Gepostet von The Times of Karachi am Sonntag, 4. August 2019
The entire world finally saw India for what it really is; a Hindu extremist nation that has no place for the minorities. PM Modi and the Hindu nationalist Bharatiya Janata Party long opposed the article 370. Why?
"Because the article allowed the state a certain amount of autonomy – its own constitution, a separate flag and freedom to make laws. Jammu and Kashmir could make its own rules relating to citizenship, ownership of property and fundamental rights. It could also bar Indians from outside the state from purchasing property or settling there."
Luckily, the Muslim leaders are not sleeping on this.
The issue of #Kashmir is a problem of humanity, human rights and freedom which the world needs to recognize. The atrocities and oppression on the people of Indian Occupied Kashmir are being highlighted by international media.#StandWithKashmir #KashmirBleeds pic.twitter.com/V9CnKOTvxL

— Govt of Pakistan (@pid_gov) August 5, 2019

Prime Minister Imran Khan Reached Out To The Muslims Leaders And They Responded. 
Imran Khan instantly took notice of Indian government revoking article 370 on Monday and called it "illegal" and that this would "destroy regional peace and security", of whatever it is left at least.
He called premiers of Turkey and Malaysia and informed him about the recent unfair developments in Kashmir. They assured Khan of their complete support in this matter.
The Malaysian Prime Minister Dr. Mahathir bin Mohamad said that Malaysia has been closely monitoring the entire situation and would remain in touch. Turkish President Recep Tayyip Erdogan also shared the concerns and gave his word on Turkey's steadfast support.
Kashmir is NOT an integral part of India. #کشمیرکاسودا_نامنظور pic.twitter.com/lJBzq64Hrs

— Kashi (@Kashimeo92) August 6, 2019

Entire Pakistan Has Risen For Kashmiris Including Renown Celebrities. 
Have we conveniently blocked what we don't want to address? This is beyond lines drawn on sand, it's about innocent lives being lost! Heaven is burning and we silently weep. #Istandwithkashmir #kashmirbleeds

— Mahira Khan (@TheMahiraKhan) August 5, 2019
Kashmir has been bleeding long enough, it is time to start a world-wide protest to pressurize extremist Hindu government of India to put an end to Kashmiri blood-shed.
Why the hell is the world not opening its eyes to what's happening in #kashmir! #kashmirbleeds and no major news channel is talking about it. wby isn't the UN talking about the brutality?? #SaveKashmirSOS

— Ali Rehman Khan (@alirehmankhan) August 4, 2019
Absolutely!
Bathing in Ganges will not wash away , the blood of the martyrs of Kashmir. #kashmirbleeds . pic.twitter.com/z2XYOBAbPF

— Shaan Shahid (@mshaanshahid) August 4, 2019
The time is now. Their generations have seen enough injustice.
There are only people and there is only humanity. Flags, borders, power are a game for the elites and where ordinary people die. Politicians and their children don't go to war. We must all take a stand against this crime against humanity. It is time to stand with #Kashmir.

— Armeena Khan (@ArmeenaRK) August 4, 2019
What Modi and his followers are going to do next is unknown but it doesn't bear any good news and hopefully, Imran Khan's efforts of calling out an international intervention will suffice to end the decades long suffering of innocent Kashmiris.
Have anything to add? Comment in the section below!