Industry couples surely don't get along and separate within a few years because of various reasons. And some might come out with some shocking stories that alarm others and are heartbreaking.
Just like Syeda Aliza Sultan's story ex-wife of no another angry man in the Pakistani drama industry Feroze Khan recently submitted serious domestic violence evidence in a court of being allegedly abused by him.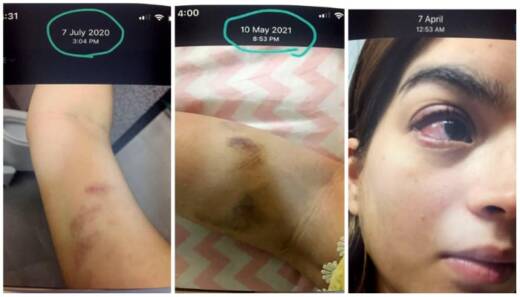 The images spread out all over social media which sparked chaos among the celebrities and everyone came forward in support of Aliza. Osman Khalid Butt, Mushk Kaleem, and Mansha Pasha among others stood right beside Aliza.
Celebrities Lend Their Supports Syeda Aliza Sultan After Submits Violence Attack:
As per the sources, "Aliza submitted harrowing evidence of alleged abuse at the hands of Feroze in the court, along with several medical reports, dating back to 2020 and 2021."
Aliza also submitted pictures of her getting bruises became a major twist in the case, as Aliza's earlier claims of being subjected to 'severe physical abuse by the actor.
"I'm sorry people attacked you when you spoke your truth," actor Mariyam Nafees shared on Twitter. "I'm sorry people knowingly stayed quiet. I'm sorry you had to go through this. Stay strong. We're with you. Allah is with you.
In another tweet, she added, "Blunt injuries to both arms, back, and chest. Oh, God! Why do we raise our voices only when they're dead? Why do we blame them when they manage to escape?"
Desensitized Society:
Osman Khalid Butt, too, shared his stance on the matter and tweeted, "I hope and pray you to get the justice you deserve, Aliza."
He went on to share, "The MLO report Aliza presented as evidence states: 'Blunt injuries on both arms, back, chest and face.' I know we're an incredibly desensitized society but read that again. Let it sink in."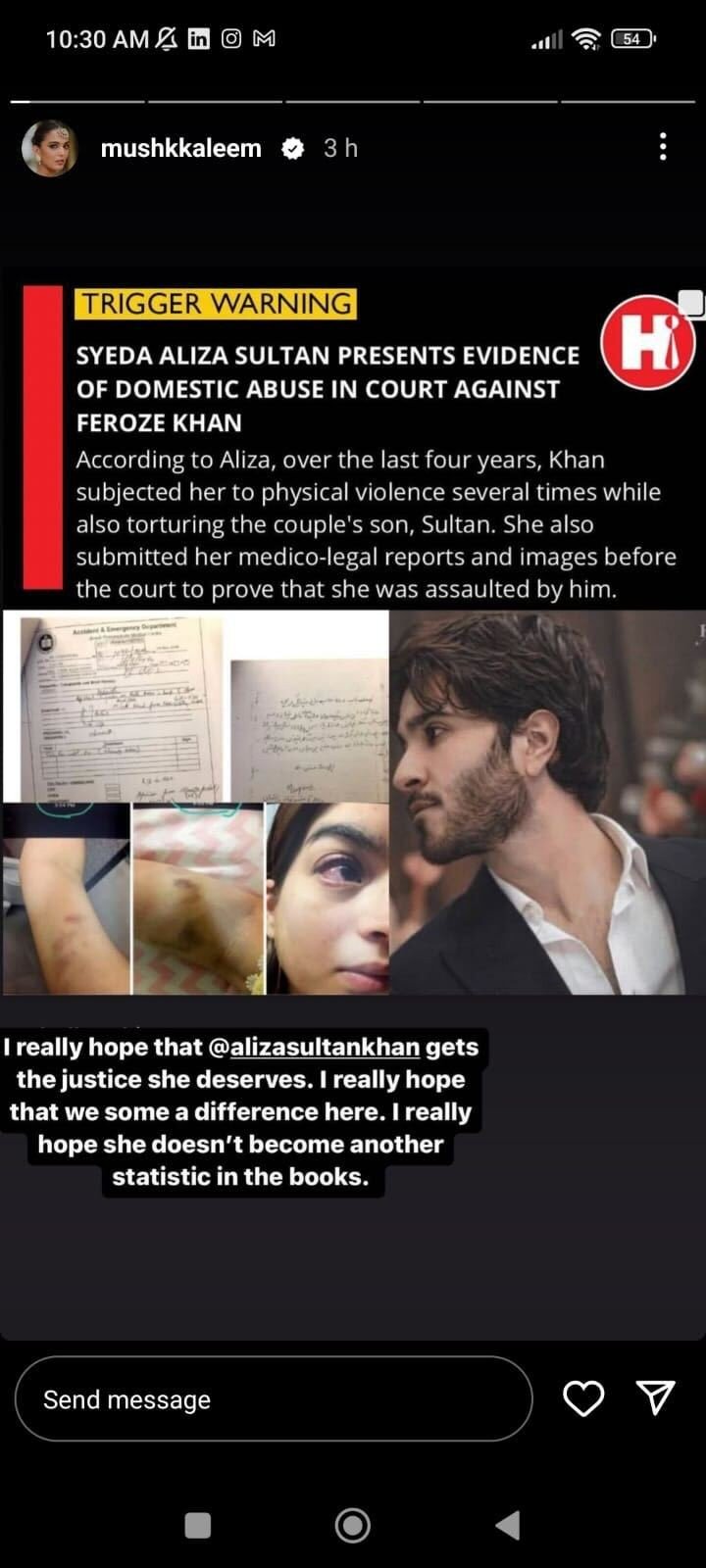 Supermodel Mushk shared, "I really hope that Aliza gets the justice she deserves, I really hope that we make some difference here. I really hope she doesn't become another statistic in the books."
She added, "I don't think people understand how hard it is for women, especially young mothers to come forward and publicly share their stories of abuse against men in power, especially their partners.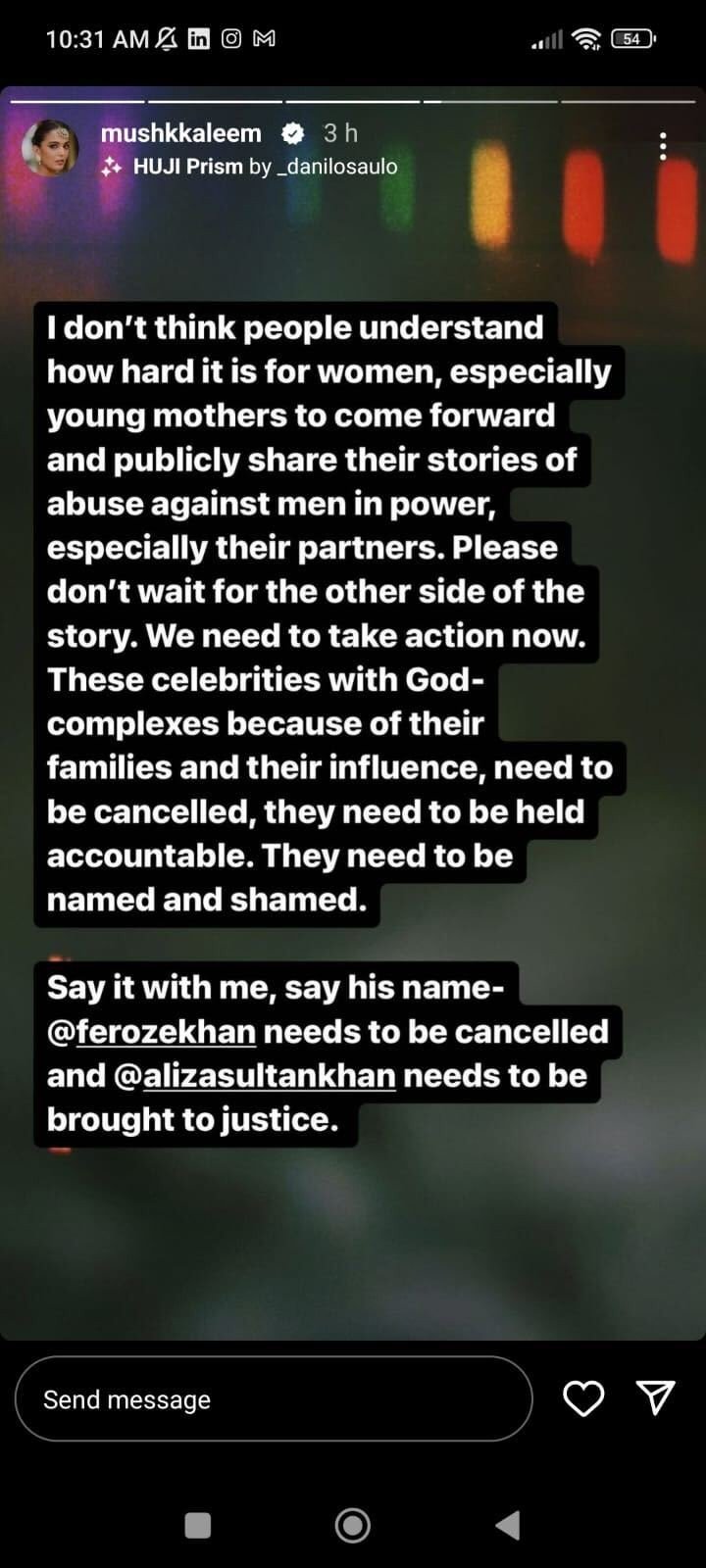 Please don't wait for the other side of the story. We need to take action now. These celebrities with God complexes because of their families and their influence, need to be canceled, they need to be held accountable. They need to be named and shamed."
Mushk, then named Feroze and added, "Say his name. Feroze Khan needs to be canceled and Aliza needs to be brought to justice." Armeena Rana Khan shared, "Ladies, for goodness' sake, stop putting up with abusive husbands. Back away the moment they start showing violent tendencies doesn't matter if you have kids or not. The Creator will provide for you."
Feroze Khan has already been famous in the industry for his angry characters. Last year, he again came into the limelight when his violent scene in Aye-Musht-E-Khaak horrified viewers.
What do you think of the story? Tell us in the comments section below.