The 66 year old ex-police officer, Jon Burge is reported to have overseen the torture of 118 Black men who were under the custody of Chicago police over 30 years ago.
Jon Burge served only three and half years in a prison having minimum security. He walked conveniently out of the federal prison as a free man after serving the sentence.  Jon Burge was given an early release into a halfway house in Tampa, Florida.
Moreover, Jon Burge was given full police pension amounting $4,000 per month. He was also getting pension while he was behind bars.  The Illinois Attorney General Lisa Madigan could not get it overruled.
---
Read: Gabriella Calhoun: Black Student Beaten by Cops Fights The Police Department and Wins
---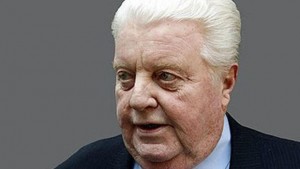 Anthony Holmes was one of the prisoners Jon Burge personally tortured with electric shock to make him confess to a murder Anthony Holmes says he never committed.
Anthony Holmes, (who is in his 70s now), spent 30 years in prison as a consequence of confessing to the murder.  According to the media, while talking about Jon Burge, Anthony Holmes said: "At least he's got a pension; we came out of there with nothing."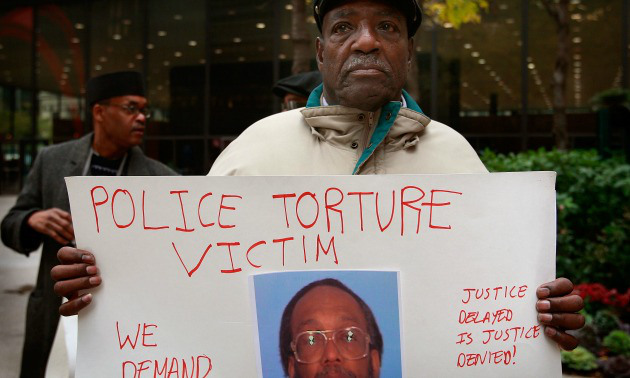 While some of the sufferers who were wrongly imprisoned as a result of the police torture in the era of Jon Burge have received millions of dollars worth of settlements. While other prisoners like Anthony Holmes and Darrell Cannon, are still struggling for their rights. In 1983, Cannon was wrongly convicted of murder. He went under brutal torture; with an electric cattle prod, he was viciously shocked in the genitals, beat with a flashlight and put an empty shotgun into his mouth and pulled the trigger, until he confessed. He was imprisoned for 24 years, but he managed to get dismissed of the murder charge and was released in 2007.
20 of Jon Burge's victims are still imprisoned. Out of 118 Jon Burge torture cases 65 are currently being heard by the Illinois Torture Inquiry and Relief Commission. In 2011, Jon Burge was convicted of perjury (lying under oath) about police torture. Reparations fund of $20 million was called by some members of the Chicago City Council. The amount was estimated to be roughly the amount Jon Burge and his 'midnight crew' of detectives cost Chicago taxpayers over the years in legal defense fees and settlements. The tax-payers of Chicago had to pay more than $120,000,000 for their revolting torture on 118 Black men. The breakdown is shared as under: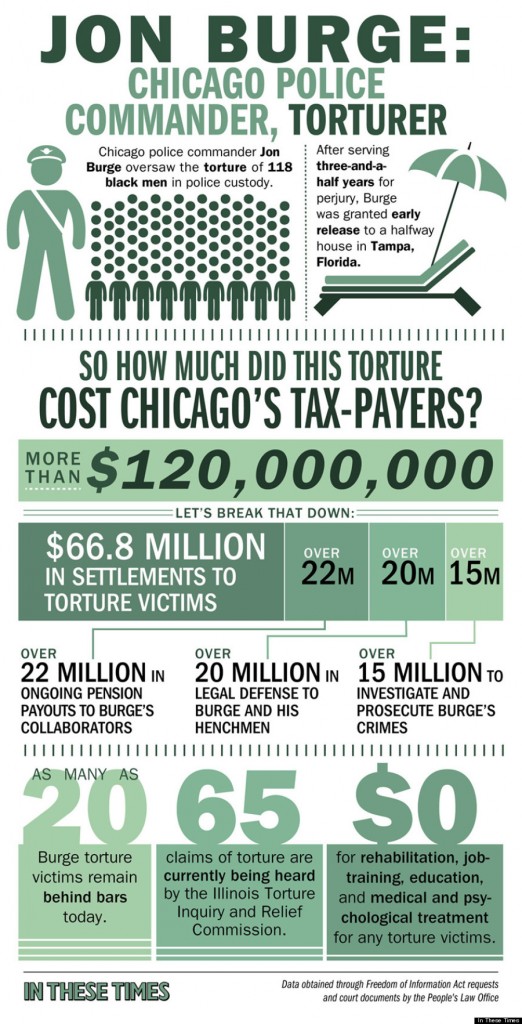 $66.8 million to torture victims
Over $22 million in ongoing pension payouts to Jon Burge's collaborators
Over $20 million in legal defense to Jon Burge and his henchmen
Over $15 million to investigate and prosecute Jon Burge's crimes
$0 for rehabilitation, job-training, education, medical and psychological treatment to torture victims