Do you like dressing up, but your favorite brands are marketing clothes at a very high price? Top clothing brands in Pakistan 2023 have high significance as they are not more economical than luxury.
Top clothing brands of Pakistan are working to bring the finest to the women, kids, and even men of the country!
Therefore numerous top clothing brands in Pakistan sell stylish and elegant dresses. However, most women's clothing brands in Pakistan have such qualities, which every woman would fancy trying.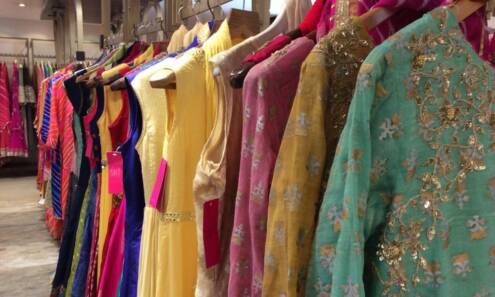 Firstly, every woman intends to wear the best clothes which come within the means.
That is why every woman views affordable clothing brands that sell amazing clothes. Thus we have performed the analysis and created a list of the top clothing brands in Pakistan that are quite affordable for every woman.
These Pakistani brands' names are everything that you need to know.
Top Clothing Brands of Pakistan 2023
Hence, here are the top clothing brands in Pakistan, which could be best for every lady to get fancied up on a budget.
Zellbury
Limelight
Khaadi
Generation
Zeen Woman Wear
Orient textile
Sana Safinaz
Beechtree
Bonanza Satrangi
Gul Ahmed
1. Zellbury
Zellbury is usually at the top of the list because it is the most reliable and affordable clothing brand in Pakistan. They have a comprehensive range of unstitched and ready-to-wear dresses that are super comfortable.
2. Limelight
Limelight is one of the favorite women's clothing brands in Pakistan in the same way, which offers unique Eastern and Western wear collections at affordable prices. The unstitched collection has, however, beautiful prints that any woman will fall for.
3. Khaadi
Khaadi emerged to be a successful clothing brand in Pakistan, which is highly affordable. They have multiple collections such as unstitched, formal wear, and more. On the other hand.
Being Pakistan's one of the best clothing brands doesn't make them clean. Back in 2021, Khaadi redesigned its logo and netizens were not pleased at all.
4. Generation
Most people love Generation in Pakistan due to their limited yet versatile pieces. If you can't find your style anywhere, you will surely get something at Generation. Generation never fails to experiment and deliver new styles each season. Generation is solely a women's brand that takes a lot of pride in accepting femininity.
5. Zeen
There is nothing better than getting branded clothes in Pakistan as they have fantastic fabric quality. Zeen is yet another top clothing brand in Pakistan known for its color palette and supreme prints.
Zeen never fails to stun customers with a massive selection of classy yet delicate prints. At Zeen, every woman can get brilliant stuff to wear and a selection of ready-made clothes.
6. Orient
Orient Textile is a relatively new and unique brand that holds a real connection with Pakistani culture. Each season, Orient Textile brings original fresh prints representing Pakistani culture's essence through vibrant colors and geometrical prints.
Similarly, Orient has gained immense popularity and is now among the top clothing brands in Pakistan.
7. Sana Safinaz
Sana Safinaz is one of the oldest brands in Pakistan, and it deserves a position within the top 20 clothing brands in Pakistan. Most importantly, the fun prints and bright colors make buyers splurge.
8. Beechtree
Every fashion freak lady must have heard about this brand. Beechtree is a new brand, yet it still has created significant value for itself. Geometrical lines and fun, bold colors are their specialties. They focus on designing clothes for women precisely.
9. Bonanza Satrangi
Bonanza Satrangi designs clothes with a feminine touch, and they aspire to empower women to make them feel good within their skin. It is one of the top clothing brands in Pakistan. In addition, Bonanza Satrangi caters to women, men, and kids.
10. Gul Ahmed
At the same time, how can we forget Gul Ahmed, one of Pakistan's most popular clothing brands ever? Gul Ahmed is specifically known for its extraordinary fabric quality and unique cuts in readymade clothing.
Lastly, Fashion is even more fun when you have to pay a very reasonable price for it. These amazingly talented Pakistani brands certainly offer stunning clothes at a fair price.
We have mentioned these 10 top clothing brands of Pakistan, whose stores you can visit to get beautiful dresses at a suitable price.
What do you think of the story? Tell us in the comments section below.