We have seen 2020 turning into a drastic year for the majority of people. Many of them lost their jobs and faced terrible crises including the textile department. But some of the clever founders of clothing stores focused more on online shopping in this pandemic. And therefore we would like to appreciate such top 10 women's online clothing stores in Pakistan – who have reached the heights of success whether in this pandemic or through their hard work.
They have shifted their kingpin towards online marketing and worked on bringing better online strategies for their buyers.
The barrier that was formed due to the strict lockdown – (thanks to Covid'19) of staying away from the crowded places, wearing a mask, and keeping your hands sanitized was minimized by taking excellent precautionary measures from some of the top clothing stores in Pakistan.
Then we have seen this shift followed by many other clothing brands as well.

We found it an excellent opportunity for shopaholics – "shop as much as you want, with just one click!"
Isn't it exciting? You can get anything from your favorite stores without worrying about the long queues, without fearing to get infected, and without getting the FOMO for the sales! How wonderful!
If you are searching for best selling online stores, then hop on with us – and read this blog because it is definitely for you! <3
Top 10 Women's Online Clothing Stores In Pakistan.
We are listing below some of the top women's online clothing stores in Pakistan because we are not sure when will we get over this pandemic, but we can surely not miss out on our favorite clothing stores, sales notifications, and dresses for occasions!

Presenting the top 10 women's online clothing stores in Pakistan for you –
Khaadi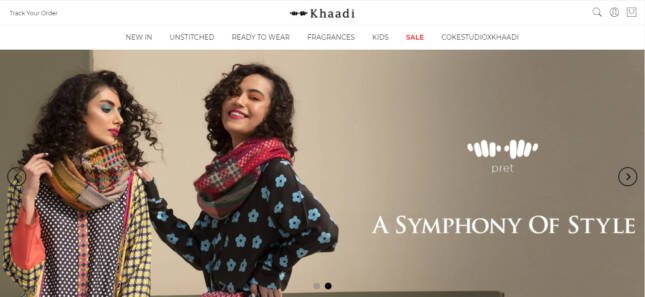 One of the topmost leading fashion brands 'Khaadi.' This brand was founded by Shamoon Sultan in 1998. In 1999, its first store was then opened in Zamzama. The founder and CEO worked really hard to make his dream come true. Today this brand is not only in Pakistan but its stores have spread far and wide across the world.
Khaadi has ready to wear collection, where they offer the finest pret, bottoms, and separates. A wide range of unstitched collection and vibrant kid's collection as well.
Nishat Linen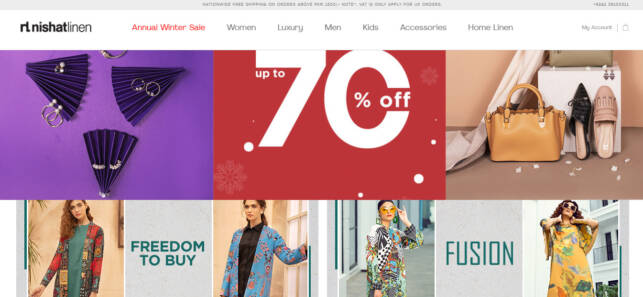 A Pakistani clothing brand that was founded by Naz Mansha. It offers a variety of ready to wear, unstitched clothes for men, women, and kids.
It also has a vast range of classy accessories that will make you the star of events. So, search for Nishat Linen now. Buy the best fabric. Carry it and slay all day!
Sana Safinaz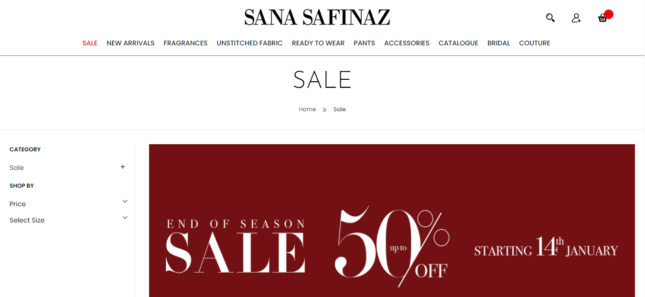 Sana Safinaz, the luxurious business of all times was established in 1989 with just a few thousands of investment, by two of the strong yet loveliest ladies Sana Hashwani and Safinaz Muneer.
They have worked the hardest and raised their business bar to its heights. Both the designers are getting the skyscraping fame and setting their business all over Pakistan and across the borders!
Visit their site, select the time of clothes or accessories you would like to have and just one click! You will receive your parcels within few days.
Gul Ahmed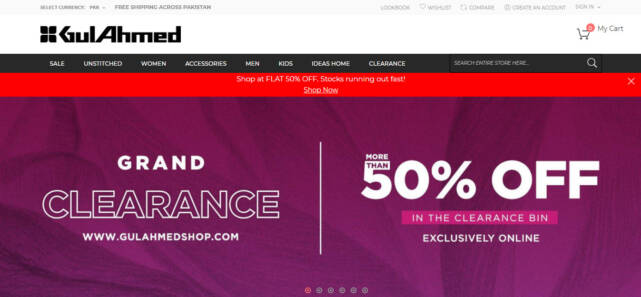 Haji Ali Mohammad the founder of Gul Ahmed textiles might never have thought his company would reach the heights of success. But here we are now, seeing Gul Ahmed becoming our inspiration.
From printing, weaving, embroidery – all are done very neatly and with a proper check. They believe style and fashion go hands in hands and therefore Gul Ahmed has always provided the best to its customers.
Check online store and order as much as you want – they have exciting sale offer on almost everything. You can find Stitched, unstitched clothes for women, men, and kids with exciting accessories and a lot more for home decor. The list of top 10 women's online clothing stores in Pakistan would be incomplete without including Gul Ahmed.
Alkaram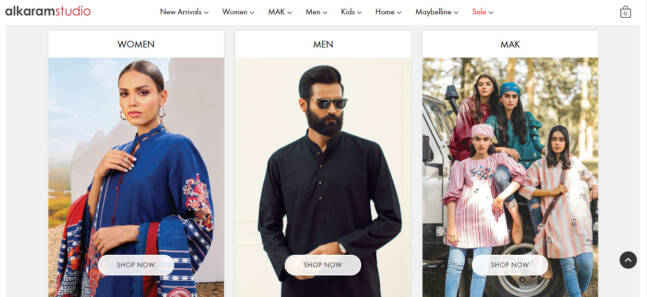 Alkaram Studio was founded in 2011. Within such a short period they have grown a lot. A Pakistani fashion brand, that sells ready-to-wear, unstitched, and haute couture.
Alkaram Textiles believe in the concept of creativity and giving language to style. They have also started working on home-ware needs and home-textiles.
Alkaram Studio is located in various parts of the country. Without bringing another thought into your mind, hurry up and go explore their online store to know more about their products and their prices.
Asim Jofa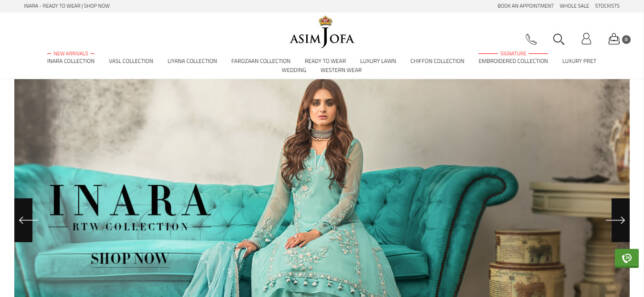 Asim Jofa has been one of the most prominent names in the fashion world. First, he started from a jewelry line. He established his kingdom and became famous for his highly exclusive diamond boutique.
Later he made a name in the fashion industry and was awarded as the best designer brand in 2012. Although his brand is a bit pricey it is worth it. Head over to the online store of Asim Jofa and see fabulous dresses. Order away before you start drooling!
HSY Studio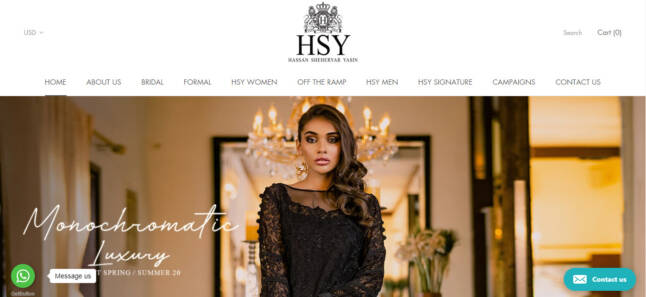 HSY Studio – by Hassan Sheheryar Yasin has developed a unique and traditional design, reflecting the ancient and rich cultural designs. Showing the pure aesthetics of ancient times.
Hassan Sheheryar is considered the New King of Couture – with the most extraordinary collection. Looking forward to wearing something traditional? Then check out the online HSY studio.
Ethnic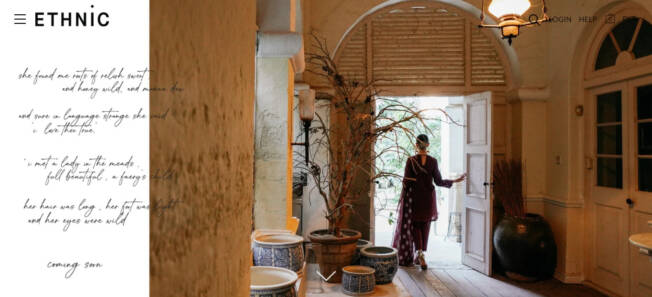 Ethnic by Outfitters was launched in 2013 – the most awaited brand of women's, offering varieties of clothing. It is for both men and women and has vibrant and detailed prints with the best fabric.
If you are looking for something chic and trendy, head over to their website and keep an eye on the upcoming sales because we assure you – they got the best and reasonable pieces and we are sure you would love to shop! The top 10 women's online clothing stores in Pakistan include Ethnic for sure.
Bareeze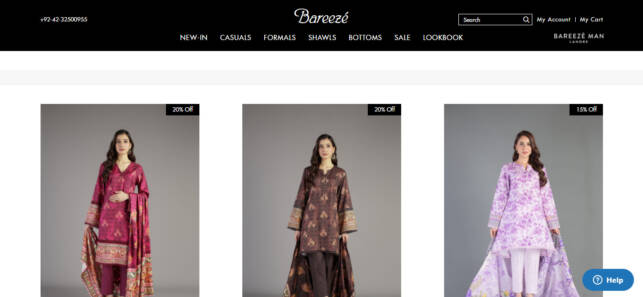 Founded in 1985 and run under the CEO Seema Aziz.
Bareeze is Pakistan's most recognized brand and offers high-quality fabric. It has a huge collection of casuals and formals with exciting winter-wears! You can also check the look-book with their ultra-modern collection.
You can shop online from Pakistan and even internationally! Just go to their website and enjoy the amazing sale offer!
Baroque Official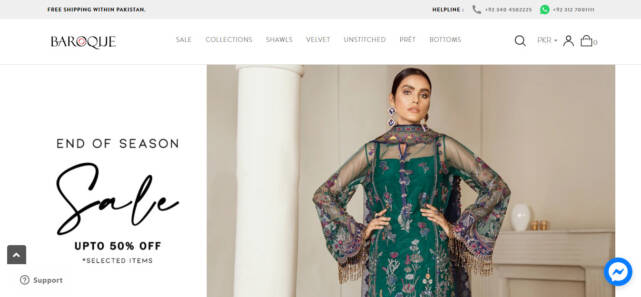 All in one – stylish, fashionable, and timeless trendy outfits.
Aesthetically designed clothes with cultural artwork to be worn by modern women.
Baroque has raised its standards in the fashion world and has become a fast fashion women's wear brand. Get the finest fabric now by placing your order online!
Buy What You Love – With One Click
No one knows when we will get over this pandemic but what we know is, the world has made some major advancements in the digital world – therefore it is necessary for every brand to make its place in the market by providing the best of all and working on some extra-ordinary strategies.
We have listed above top 10 women's online clothing brand, hope you will get a lot of help from it if you are not willing to go out to shop in this pandemic or you are having an extremely busy schedule. Just go for the best online clothing store and shop till the mike drops!
Happy Shopping!