In today's modern world, watching a live game on your TV is almost reminiscent of watching a game at the stadium. Modern technology has literally allowed us to fully immerse in the experience. With more than a dozen cameras attached to the field, nothing goes by unnoticed or unrecorded.
Regardless of the nature of sports, the internet is full of funny and feisty moments that occurred during a game. We have literally seen players abusing, doing unthinkable funny stuff or just enjoying themselves. Everything gets recorded. One thing is for sure however, these moments sure do entertain us, just like the sport itself.
So with this in mind, every game has its fair share of moments that stay in our minds for a long time. The ongoing series between Pakistan and Australia is no exception. We are only entering the second day of the first test that is being played in Australia. Already, we have plenty to talk to about. From the unfair decision regarding Muhammad Rizwan's dismissal to the lighter moments. We all know that the game of cricket gets covered from literally every angle. Even the stumps that light up when the bales go off. Or the mic attached to them, that is there for recording edges. However, things got hilarious when the mic recorded a comment from the Aussie keeper.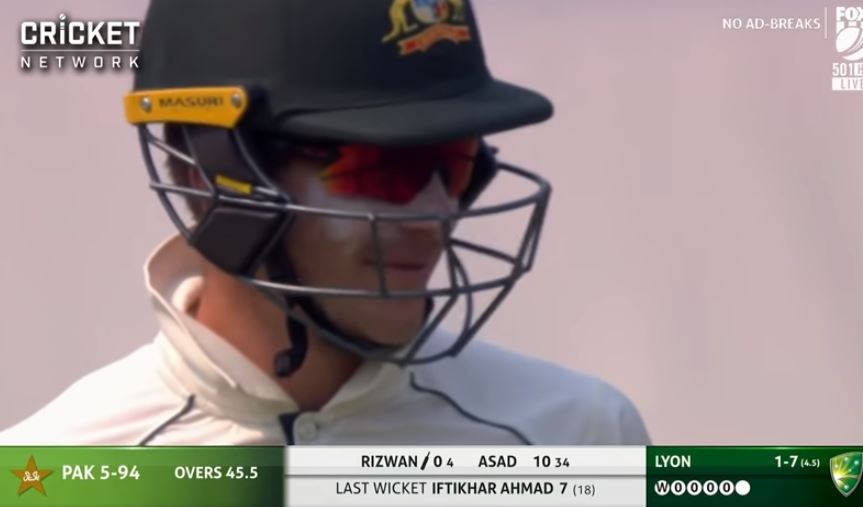 Here's Exactly What Happened:
So as usual Pakistan was having a bad day in the field. With a measly performance and early dismissals, Muhammad Rizwan came in to bat when we were 5 down for only 94. You could imagine Aussies being in a comfortable mood. Enjoying their game as they were in full control of it.

So just as Rizwan was about to face his second delivery an unusual comment was heard from the Aussie Keeper and captain. Overjoying with confidence and in a lighter mood Tim pain said: "he smells very nice". The hilarious comment showed how confident he was feeling at the moment. Obviously Rizwan had just come in to bat, our players could forget to perform but they will not forget about smelling good.
It may also be an intimidation tactic. Maybe, Rizwan was trying to put pressure on his opponents by smelling good. Let's talk about the other side too, such remarks in Australia also have a history. The mic has recorded even worse, we all remember that incident between Symonds and Harbhajan. but let's not get controversial here, shall we?. Well, as we enter the final phases of the game there are still many more moments that could occur. The match itself could get very interesting and hopefully, Pakistan wins.