By now, we have all learned how low these TikTok stars can stoop only for the sake of views and virality. It is no more surprising to see them pull off ridiculously absurd stunts but somehow they always find a way to leave us aghast.
The Punjab police on Tuesday arrested two youngsters who were filming a TikTok video by closing a railway crossing in the limits of the Raiwind area of Lahore.
According to SP Railway Police, the two suspects filmed the video in the limit of railways jurisdiction. In addition to this, they used offensive language in the video. He said strict action will be taken against both for recording a video while closing the railway crossing.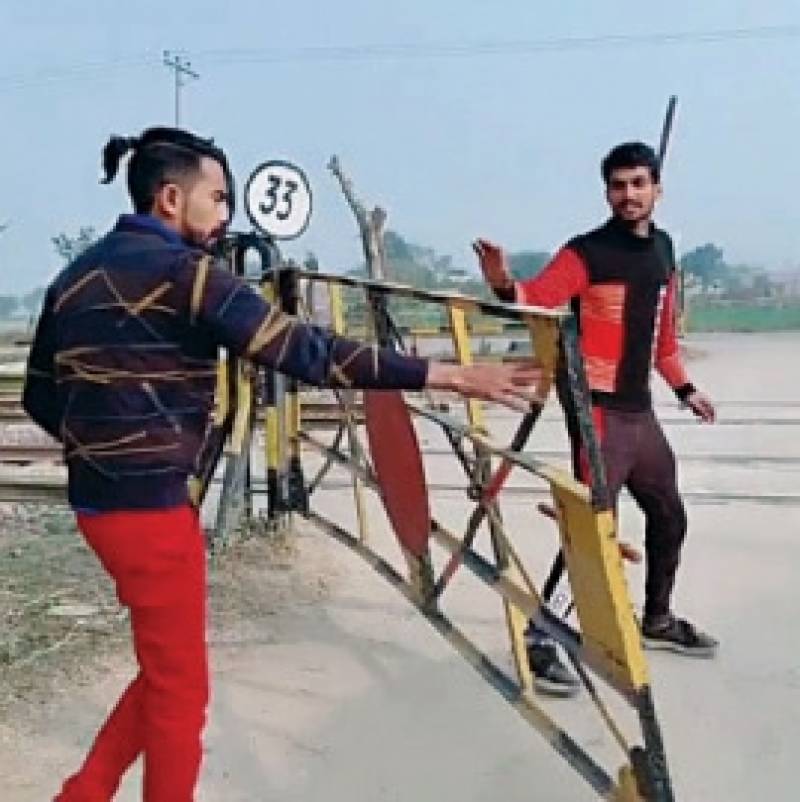 Police identified them as Israr Gondal and Zohaib. They were shooting videos for TikTok at a level crossing (No-33) on the Raiwind-Jia Bagga section. He also revealed that they were threatening to kill whoever dared to pass their spot.
"They were busy uploading the clips on the social media platform when police approached and arrested them," Railway Police Assistant Inspector General (Admin) Malik Attique told in a press conference on Tuesday.
"We have also registered a case against the suspects under sections 186, 290, 120, 121. 129."
Both the suspects were presented before the media. As can be deduced from the video, apparently, TikToker Nadeem Mubarak has not paid some rent to Gondal. In order to protest against Mubarak, he made a video at the railway, challenging him to pay the rent.
Watch the video here
It must be noted that this is not the first time Gondal made such a video, asking Mubarak for rent. There have been a dozen more.
Mubarak is a semingly popular TikTok star, who has often been considered as one of the few decent social media celebrities. He has over 6.6 million followers on social media.
Earlier, a short clip of him in bed with an unknown woman leaked online. It did not take long for the video to go viral. In the video, the TikToker seemed to be elated and could not help but brag about his happiness with a snap. Meanwhile, the naked woman could be seen on a call with someone while she covered her face.
Every now then some new TikToker emerges in the headlines. But for all the wrong reasons each time. From performing brainless life-threatening stunts for views to faking your death instead like Adil Rajput, these TikTok stars will do anything for fame these days.
What do you think of this story? Let us know in the comments section below.