Prime Minister Imran Khan announced that the Tiger Force would now help in controlling the prices of essential items in the country.
His remarks came on Saturday during an address to a Tiger Force convention in Islamabad. But, how it will work? Pakistanis are curious!
Turning to the Tiger Force, Prime Minister Imran said they had an important role to identify the hoarders. They would be helping in checking the prices of essential commodities.
He said their responsibility would only be to report the matter of hoarding and price hike on the Tiger Force portal launched today. Then it would be the responsibility of the administration to take action.
"There was a shortfall in wheat in Pakistan because in the last two years it rained at the wrong time due to climate change," he said.
Referring to the inquiry conducted into the sugar and wheat scam, PM said a plan had been framed. This plan, he added, would bring down the prices of the sugar. He said wheat had also been imported to meet the deficit.
"I have called you today because there is inflation in our country and there are many reasons for it. The rupee has fallen against the dollar because when we got the government, we had the largest trade deficit." 
PM Imran's Tiger Force & inflation
"There was a $40 billion trade deficit. When the rupee falls, whatever we buy from outside, the price of it increases — such as gas, petrol, and electricity — all of this increases. I'm not referring to diesel on purpose," he said. 
PM said, "It rained when the wheat was supposed to be thrashed. That decreased the supply of wheat, and we saw a deficit. We needed 7.2 million tonnes of wheat. When there was a deficit, the price of wheat increased."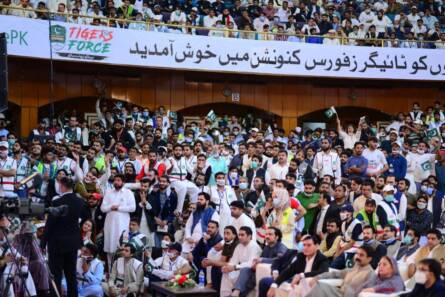 "We found out about the shortage late, because the systems we had were not right. We have countered that deficit by importing [wheat]."
"I need your help to counter hoarding. What you have to do is that you will not intervene yourself. You all have a mobile phone. You have to take a picture and put it up on the portal that we have launched." 
"It is the job of the administration to take action, the responsibility of [finding who is] hoarding is on you," he said. 
PM Imran Khan also thanked the Tiger Force, which is largely comprised of youth volunteers, for its services since it was formed. Do you wish to become a PM's tiger?
Later, PM also lashed out at former premier Nawaz Sharif for maligning the top army leadership.
Earlier, Jamaat-e-Islami (JI) leader Senator Siraj-ul-Haq had suggested that PM's Tiger Force should be sent to Kashmir for jihad. According to him, it cannot control increasing prices in the country.
What do you think of this story? Let us know in the comments section below.