Sometimes you come across such things in life that changes your perspective of everything you have been doing up until now. It makes you ponder over the blessings that you take for granted your whole life. Mentally and physically disabled people's lives is a challenge in itself however, if you have no one in this world to take care of you – it just makes things even more difficult to cope with.
This video of a mentally and physically disabled man in Peshawar will make you realize the height of helplessness. During the distribution of lunch boxes, the distributor came across this man who had no hands and was in a devastating state as he perked up as soon as he saw food.
Have A Look At The Video;

The way this man lit up at the sight of food is just heart-wrenching. Not only does he seem mentally unstable, he is physically handicapped as well which is just making things even more difficult for him. He couldn't even open the lunch box as he asked his helper to do that for him. This man looked up at the distributor who gave him food as if he was some angel sent just to aid him. It also seems like that this poor man hasn't eaten anything in a while.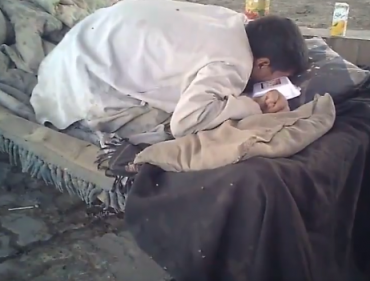 Soon after this video got viral, this homeless man was identified as Muhammad Alam and was reunited with his family who found him through this video, after 8 long years. Even before the reunion with his family, CDRS an international NGO offered to aid this man in their shelter house. However, Muhammad Alam refused to leave his place under the bridge as he identified it as his 'home'. People also started coming to his help from all over the place to offer him food and help.
This is what the power of internet and compassion does to people. Undoubtedly, Allah chooses His best men to support those in need. In the holy month of Ramadan, if we start feeding and helping the less unfortunate ones, this world would become a much better place to live in. Even in the end we'll be rewarded for or goodwill and compassion over everything else.