Clearly, not all heroes wear caps. Some drive rickshaws! Arab Khan hails from the city of Peshawar in Khyber-Pakhtunkhwa, this rickshaw driver recently gone viral on social media for setting his priorities correctly giving free ride to schoolgirls.
According to reports, this generous rickshaw driver gives free rides to more than 100 girls to their school, and that too every day. Isn't it cool!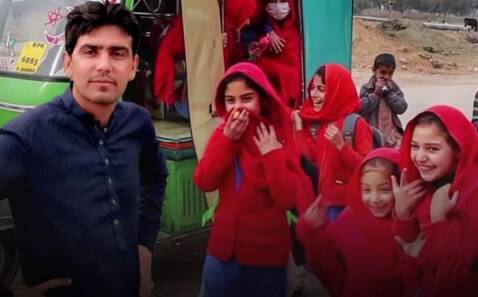 And, guess what they call him in Peshawar? Khan is famous as 'Bhaijaan' (brother) in his area in Peshawar. We all want one such bhaijaan in our lives, don't we?
Khan is a graduate himself. However, he had to discontinue his education due to financial problems. But now, he wants to promote girls' education in his area. In a bit to support and promote the cause, he gives free rides to more than 100 girls to their school every day for the last five years.
Schools in Peshawar are often far away from kachi abaadis, where most of these girls hail from. Some of the girls' parents can't even pay their tuition fees, let alone provide rickshaw services. Shah believes that it is every girl's right to pursue education so this rickshaw driver gives a free ride to schoolgirls.
Another promotor of girls' education is our very own Malala Yousafzai. In 2017, United Nations Secretary-General Antonio Guterres appointed Nobel laureate Yousafzai a UN Messenger of Peace.
Malala graced the cover of Vogue UK's July 2021 issue, stunning fans in a red and royal blue ensemble while donning another supple plain white ensemble for the pictures. Recently, Malala donated to support Palestinian families in Gaza. She donated $100,000 (£71,000) to Save the Children, $25,000 to KinderUSA, and $25,000 to DCI Palestine.
What do you think of this story? Let us know in the comments section below.