First Pakistani woman to win an Oscar, Sharmeen Obaid Chinoy had an intense one-on-one conversation with the Bollywood prodigy, Karan Johar at the World Economic Forum (WEF).
Two legends of the Entertainment industry sat down together in Davos in a face-off that was anticipated to produce nothing but golden words. In fact, we were absolutely gearing for it when it was announced that Sharmeen and Karan will have a conversation together.
A conversation spun around happenings in both the industries, art, society and film saw a landmark meeting between them. Their conversation took heights on the topic of controversies and tension between Pakistan & Indian with regard to the film industries.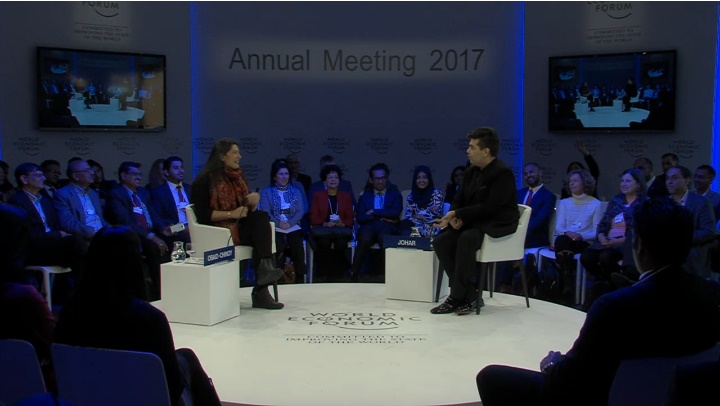 He tip-toed around questions after questions with reference to the latest events in both industries, but that is not we are going to talk about.
We are talking about the best things Karan Johar had to say about Sharmeen Obaid Chinoy and her notable works. 
We managed to compile some outtakes from their conversation that reveal his noteworthy acknowledgment of Sharmeen's work and the good things he said about her.
So, let's find out what he said:
Karan on Sharmeen winning the Academy Award:
"Even though I have yet to see your films, I am sure they are outstanding. I felt so proud hearing your speech at the Oscars. The impact which your work has is amazing, my work is just appreciated at a national level but you have made an impact internationally and I am so honored to be sharing this space with you."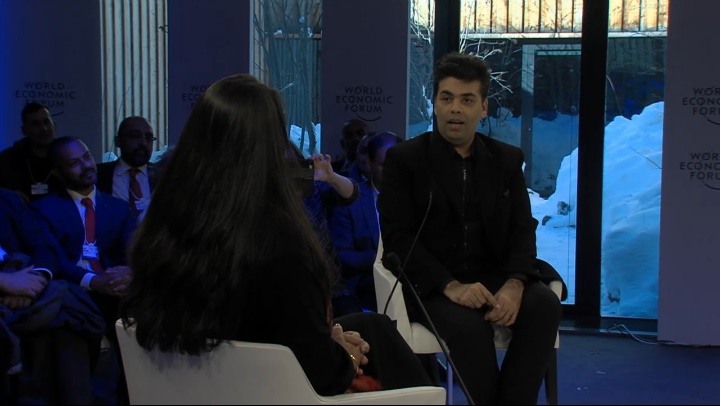 "I remember the speech you gave after accepting the Oscar. I remember the feeling it gave me. As a filmmaker, it felt really proud that your film traveled the way it did, the point and perspective it asserted, most importantly. Every artist inspires for the result, the impact of his or her credible work."
Followed by, Sharmeen told a beautiful story of her background:
"I am the eldest of 6 children, 5 of them are girls. My father was always one the ambiguous chase for a son. I think I was a pain the ass since I was 10 years of age. I asked tricky questions all the time that baffled my family, my mother was occupied in raising us so she did not want to answer all of my questions.
"My mother encouraged me to give it a shot on newspapers, write for them when I was very, very young. By the time I turned 17 years old, I was pretty much engaged in what I am doing now, which is exactly pissing a lot of people off.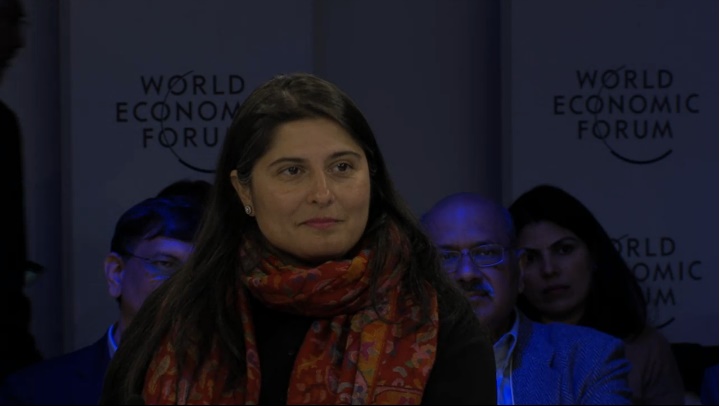 "My initial encounter with that when I did some article for which I went undercover. The article was released on the morning of Eid, my father was up and rushed to offer prayers. He returned and said, 'What the hell have you done today?'
"It was clear that the people I wrote about had wanted to teach me a lesson. My name and my families' were spray painted all across my gate and my house. But my father told me it was 'OKAY' to speak the truth and that I will always face opposition if I chose that path."
A climatic moment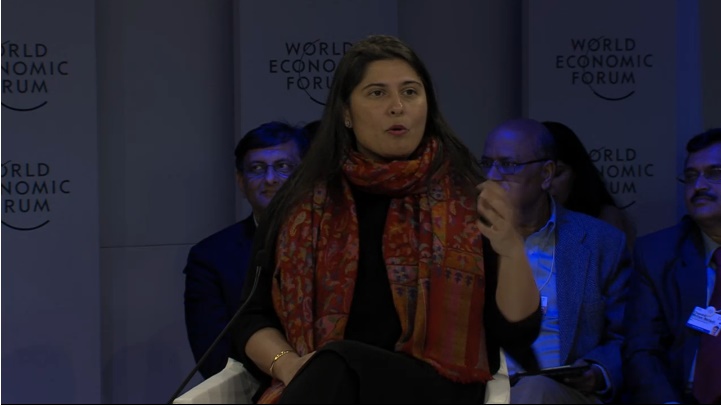 Sharmeen: "My greatest asset is that I am a woman."
Karan: "But I think you do not play that card – the woman card?"
Sharmeen: "Hell yes! Of course, I play the woman card! When you can play the woman card, play the woman card."
Karan: "I think it is amazingly honest that you said that. Very few women admit to that."
The inevitable: Fawad Khan and Bollywood ban came to the topic
Sharmeen initiated the subject in the following words: "We as artist need to be honest with our hearts and do the things we want to do. I really hope that someday I can go on the big screen & watch Fawad Khan directed by you again."
While Johar openly mentioned, "I am trying to process how to answer that. You do know what I went through. It was a difficult time for me. I have a great regard for talent and I have a great regard for Fawad Khan's talent which is why he has been in 2 of our films.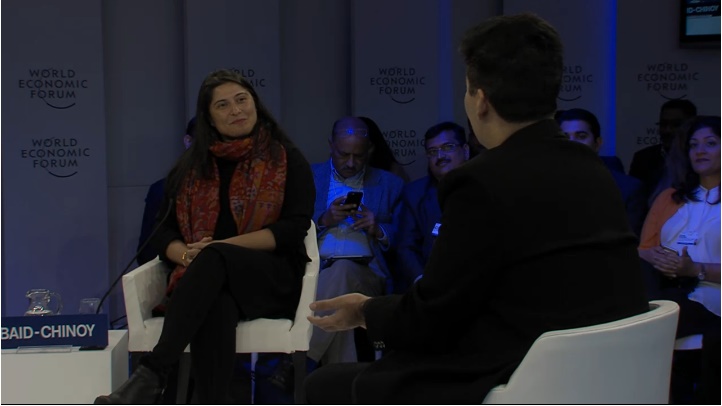 The circumstances, we do not know where we are heading, and I think all great actors should find the best platforms and just like you I hope Fawad Khan finds the best platform because he is one terrific actor. Neither the situation, the circumstances, nor the apology. None of that is what made me feel comfortable. I felt weak, vulnerable, victimized, and as a filmmaker, I don't want to feel that. I just want to feel creatively liberated."
Followed by, Sharmeen ended the conversation in style by saying, "I would love to work with you as I feel that a boundary does not make one an enemy. We need to go beyond boundaries as it is up to us to make a peaceful future for our children."
Here you can watch the entire conversation between Sharmeen Obaid and Karan Johar: