Being part of controversies, that too in social media has now become a common thing and there are savages just waiting to take their chance on bashing the celeb and it is not surprising at all. It is tempting for celebrities to keep their fans updated at all times – be it their new hair cut, a new up coming project, or maybe just enjoying a weekend. But, what they don't realize is that there millions of fans who might just misinterpret a certain post.
The bubbly, rising star Sajal Ali, has been part of a few controversies in the past as well, and we all know that this isn't the first time – especially for her! Sajal has starred in a number of serials, commercials, and films and has achieved a lot at a very young age. We know that the starlet is good friends with the famous star, Feroze Khan which has also raised a lot of question in the past allegedly claiming that the two are dating each other.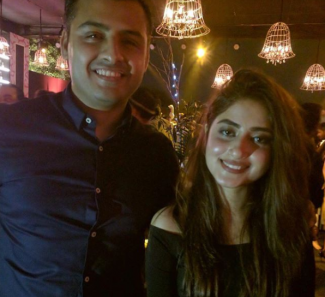 Sajal's recent picture has been circulating around on social media and it sure has sparked a controversy amongst many. She was seen with partying with a friend in Karachi when this picture (below) was clicked. Now, it seems like Sajal wasn't ready for the click, but a majority claims that Sajal seems to be 'drunk' or 'high' in the picture.
What do you think? Does she look drunk? Or was she not ready for her picture? Let us know in the comments!