Disclaimer*: The articles shared under 'Your Voice' section are sent to us by contributors and we neither confirm nor deny the authenticity of any facts stated below. Parhlo will not be liable for any false, inaccurate, inappropriate or incomplete information presented on the website. Read our disclaimer.
This article is about my exciting tete-a-tete with British writer and editor Thomas Roueche at LLF 2018 (Lahore Literary Festival 2018) on the same day when I had my fan moment with Shobhaa De. Thomas grew up in London and studied medieval and Islamic history at Cambridge and Turkish Studies at The School of Oriental and African Studies. He is currently working as the editor of famous UK-based TANK magazine (a quarterly publication covering almost everything from contemporary culture to Politics since 1998), and his team there is also currently in the process of developing and producing their summer books issue.
He's been working at TANK magazine for four years, before that as he told me he was a freelance writer and editor. He has also lived in Istanbul for some years where he worked as a contributing editor of Cornucopia magazine (a magazine about Turkish culture, art, and history, published jointly in the United Kingdom and Turkey since 1992).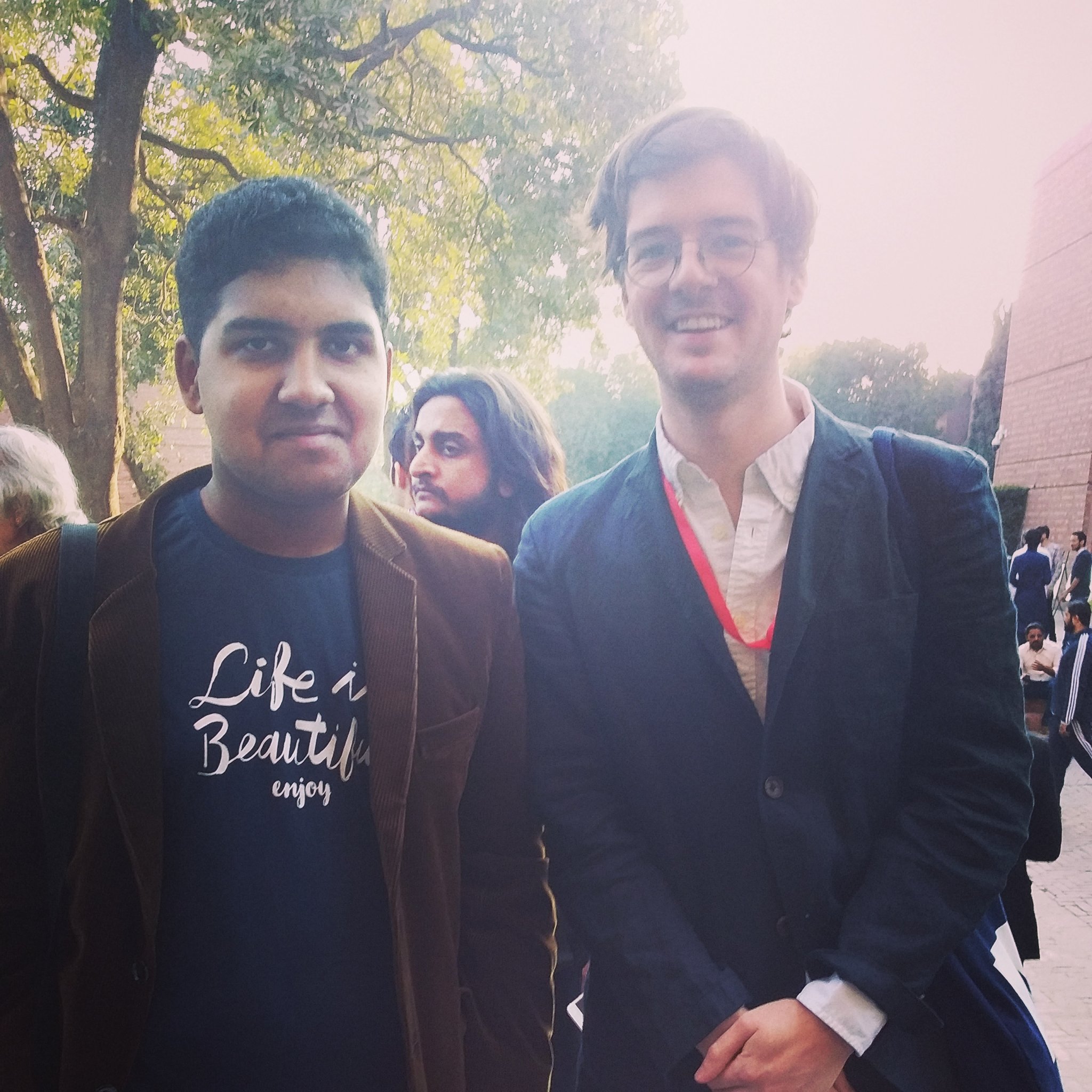 So I had the pleasure of meeting Thomas right after I was done with attending the first session of Shobhaa De (mentioned in Aqram's article "Pakistani blogger Sarmad Iqbal flabbergasted famous Indian author Shobhaa De during her recent trip to Lahore") and also with the video- recording, media talk and the usual selfie-taking and autograph signing. Thomas's session on Day 2 of LLF 2018 was scheduled from 3:45 – 4:45 pm and it was titled as "Writings from Today's Turkey". In this session, Thomas was supposed to talk with Turkish writer Ciller Ilhan as well as with British journalist Christopher de Bellaigue about a literary landscape of modern-day Turkey.
I attended that session as it was already on my list of prioritized sessions at LLF 2018 (On the top of that list was obviously the Shobhaa De session which was being discussed in detail in Aqram's article) and I didn't at all regretted my decision at the end of the session and after the tete I had with Thomas after the session ended. During the session, Thomas talked about his experiences in Turkey and particularly in Istanbul and about his exposure to Turkish culture with Ciller and Christopher who retorted by sharing their own experiences which were different from each other as Ciller is a Turk herself and Christopher has got an Anglo-French background.
The session was in the same Hall no 4 of Alhamra Arts Centre where Shobhaa De's first session took place from 1 till 1:30 pm. People of almost all ages from several senior citizens to several young ones like me flocked to the hall even before the aforementioned session on writings from Turkey kick started out of their interest in Turkish Literature and Turkish society in general. At the end of the session, I also had the pleasure of asking questions though not from Thomas but from Ciller.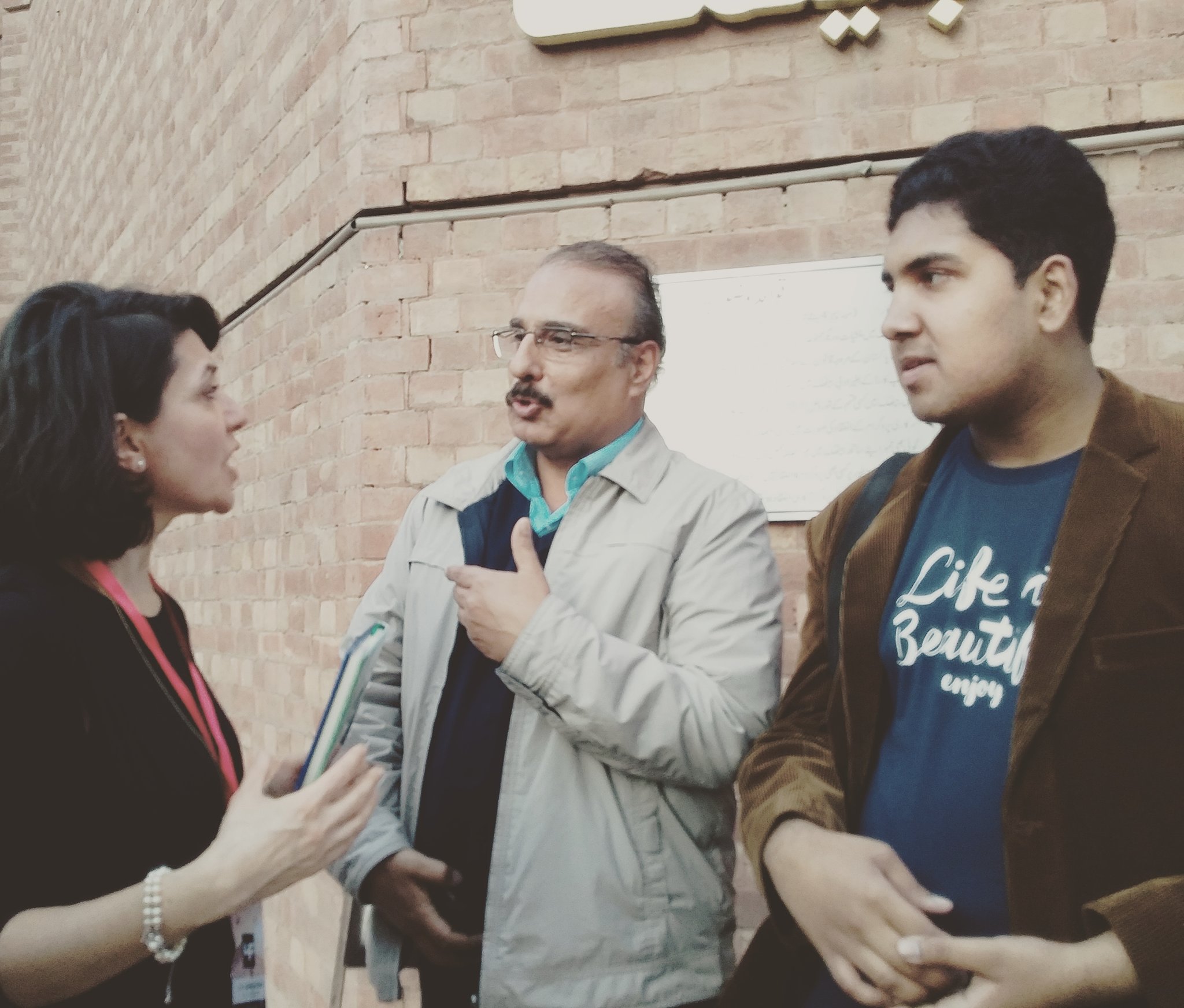 After the Q and A session ended, everyone started leaving the hall along with the panelists including Thomas Roueche and I too now proceeded to move out of the hall and during the course of vacating the hall I met Thomas and I introduced him to myself and whatever I've been doing since few years and also about my interest in Turkish culture as well as my proficiency in Turkish language.  When we finally together went out of the hall into a small lawn outside it, where he told me about his various ventures and I also brought to his notice some interesting parallels between Pakistan and Turkey (which I have thought on my own as someone who fervently follows modern-day Turkish affairs) like how both countries are torn between Muslim Middle East and their "other" neighborhood which in the case of Turkey is Europe obviously and in the case of Pakistan is India and other South Asian states.
I then also went on to ask him about his experience in Lahore during LLF 2018 and also inquired from him whether this was his first visit to Pakistan or not. Thomas responded to my questions by first telling me how this was his first visit to Lahore and Pakistan. Then he went on to tell me about his experience in Lahore by saying "I very much enjoyed my time in Lahore and at the LLF. I found the festival very interesting and excellently programmed and produced. I didn't have much of a sense of what to expect in Pakistan or Lahore but I found it beautiful and charming and a wonderful city to visit. I found everyone extremely friendly and welcoming. I can't wait to come back".  Thomas also praised all the attendees of the LLF 2018 by saying "I was extremely impressed by the knowledge and education of all the attendees at the festival".
While we were talking with each other we were also joined in our conversation by BBC Special Correspondent Razia Iqbal. Razia told me about India's Jaipur Literature Festival also known as JLF and is being also revered as "Kumbh of Literature". She was in awe of JLF and especially in an awe of Jaipur's royal vibes but simultaneously she also didn't forget to praise my city Lahore. After a brief chatter, both Thomas and Razia departed together and bid adieu to me. And how can I forget about the video message of good wishes Thomas recorded for me before departing.